The Sustainable UF Intern Experience
This is the only thing you need to know about our Sustainable UF interns – they do incredible work!
The entire staff relies on help from student interns to support the mission of the Office of Sustainability here at UF. The student interns assist with daily tasks, idea generation, research projects, communication pieces, and more. Their work is crucial in improving the reach and engagement of sustainability-related programs at UF.
For this reason, it's time to celebrate the work of our interns this past year!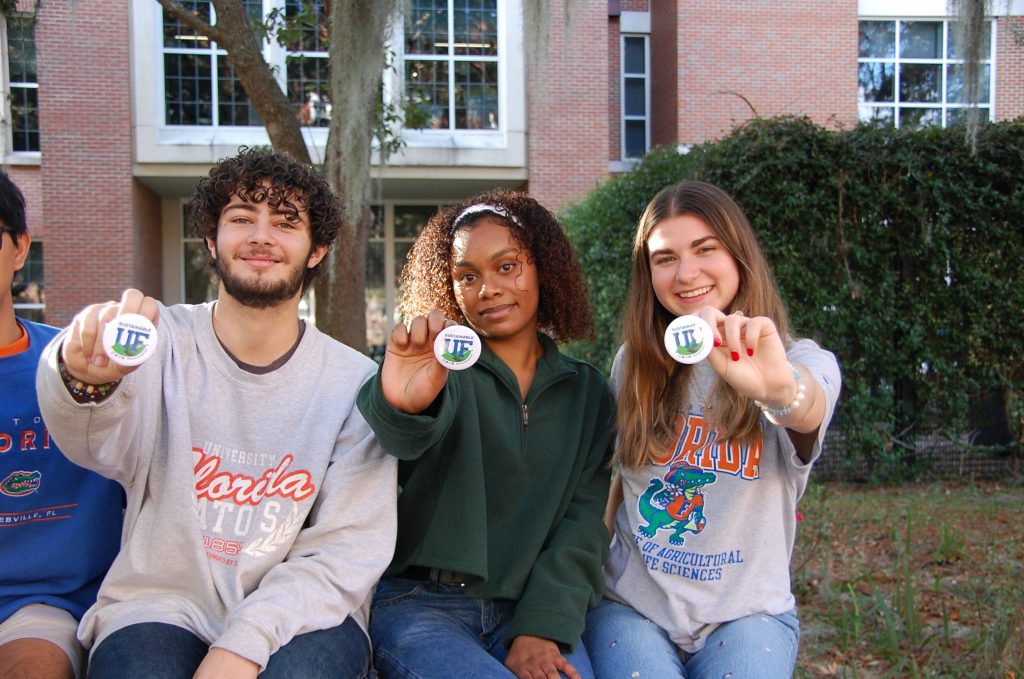 Communication Is Key
Sustainable UF communications interns have a broad range of responsibilities in any given semester, including university-wide announcements and events, engagement opportunities, social media, and writing assignments.
In 2022-2023, we had as few as three and as many as six interns working on the communications team. Each one of them played a unique, instrumental role in contributing to the team and in creating the materials and features you have seen on our channels all year.
First up, they completed a redesign of our Sustainable UF e-newsletter. This included the addition of a brief sustainable news section, an introductory note written by student interns or staff each month, a streamlined design, and an improved alignment with UF brand guidelines.
Next, the launch of the Green Gator of the Month series! This new series highlights two outstanding Gators each month – one student and one faculty/staff member. Interns contributed by interviewing the Green Gators, writing articles, and designing the corresponding social media posts that caught your eye!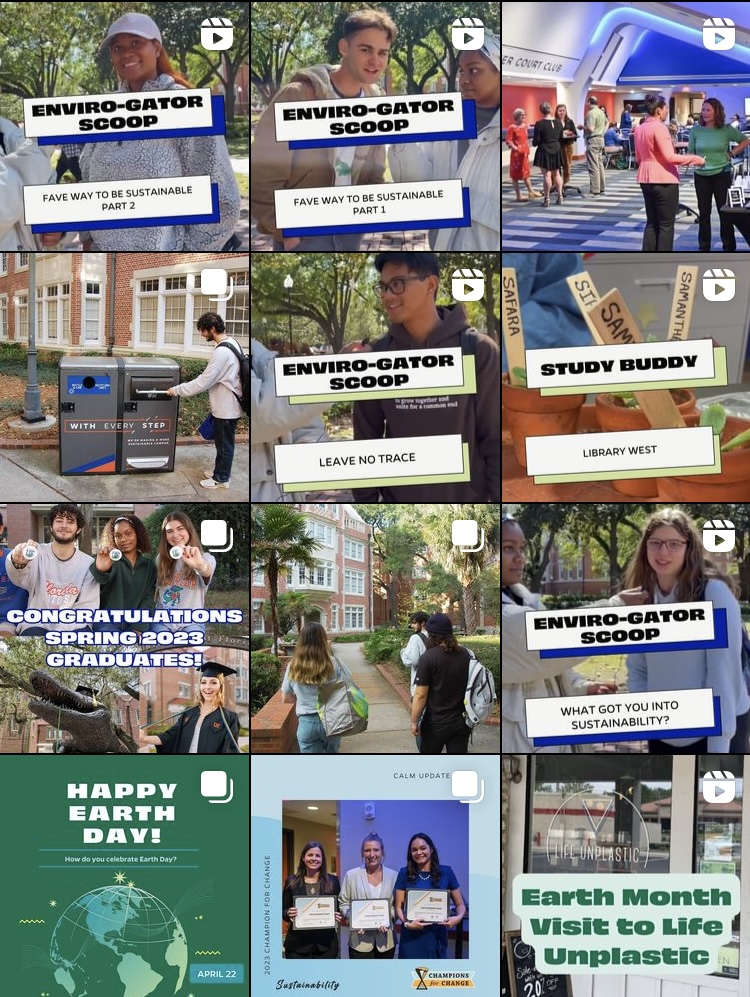 We also heavily rely on our student interns when it comes to event marketing and planning. Interns networked with student organizations and designed promotional materials to share the virtual AASHE Global Conference on Sustainability in Higher Education opportunity. 87 UF participants registered! The interns were also there to make the 2023 Champions for Change ceremony a stand-out event. Additionally, they chose to host three tabling sessions in Plaza of the Americas in Spring 2023. Perhaps you've seen some footage they captured for our Enviro-Gator Scoop Instagram series while tabling?
Behind the scenes, the intern team participated in meetings with each Office of Sustainability staff member during the year to learn more about the different campus initiatives driving sustainability at UF.
Interns contributing to these communications projects and accomplishments include Kendall Brockelman, Chloe Dill, Naiyla Durand, Mohammed Faisal, and Aleisha Palmer.
Uncovering The Facts
Our student interns keep the momentum going – in all areas. Due to their vast range of interests in the sustainability field, we are able to have interns complete preliminary explorations of the possibility of select projects, plans, and initiatives.
The work of Will Daniel, a Sustainability Studies major and student intern, was also highly helpful in data collection and advancing internal Office of Sustainability general projects.
Will researched carbon offset opportunities and developed a draft carbon offset project description. He also gathered background information on tree and land offsets as part of a mock carbon offset program. His work will help inform future campus initiatives and evaluate the viability of plans to support carbon neutrality goals.
Future Intern Openings
Inspired by our interns' accomplishments? Think you would be a perfect fit for the team? Job opportunities are listed on our website when available.
While we typically look to hire new interns at the start of the semester, opportunities can arise at any point. Stay tuned to our website and social media for any announcements about future openings. Follow us @SustainableUF so you don't miss out!