Life Unplastic: "Reduce, Reuse, Refill, Rethink"
April 2023
Written by Sustainable UF intern Kendall Brockelman
In celebration of Earth Month, I visited Life Unplastic, a local zero waste refillery, to learn more about its mission and how to enhance my daily sustainability routine. I often hear about this store and its concept and wanted to try incorporating its services into my life in Gainesville finally.
The Unplastic Way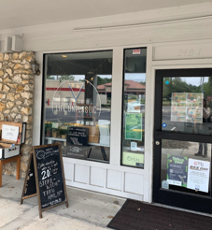 You may wonder what a zero waste refillery is (I wasn't quite sure myself!).
It's a store where you can buy a range of everyday products filled into reused containers and return them for refills whenever you run out.
At Life Unplastic, bulk products are put into the categories of cleaning supplies, laundry essentials, pantry staples, personal care, dog and cat treats, and miscellaneous. They have boards clearly showing all of the options within each category and their prices. I was blown away by the wide variety of goods that they carry and realized how many items I could be refilling there instead of buying prepackaged.
I loved the idea that you can fill the container of your choice and choose the right quantity for you because sometimes I need less or more than what prepackaged products offer.
Having the power to choose how much you buy can save you money – as well as waste.
Filled With Benefits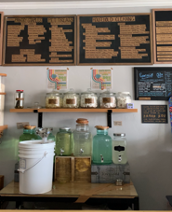 Utilizing a refillery like Life Unplastic can help us all reduce our waste as individuals and as a community. Refilleries often create a closed-loop packaging system, where containers are returned to product manufacturers to be refilled just as customers refill their containers at the store. This system is an effective way that we can combat the excessive amount of single-use plastic that is purchased and disposed of every day.
Also, since only a small percentage of plastic actually gets recycled, reusing and refilling are more sustainable approaches to take with your old containers. That is why Life Unplastic's motto is "Reduce. Reuse. Refill. Rethink" because they want to encourage people to reconsider how they approach shopping and to try incorporating sustainable swaps into their lifestyle.
First Hand Experience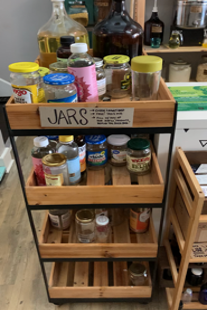 While I explored Life Unplastic for the first time, I was impressed by the other sustainable products they have stocked in the store. They have all the goods you could need when ready to invest in reusable product replacements, and they even feature products from other local businesses.
The amazing employee who assisted me, Wendy, explained all of the products to me and even highlighted a closed-loop hand soap powder that I choose to buy. I valued how the store does not push you to overconsume or make excessive changes to your life in one day.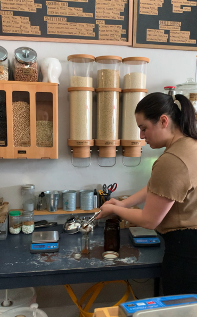 I also picked out a small container from their "free jar" section to fill with paprika since I knew I had just run out at home. Even though I was excited and wanted to fill up on everything, I made sure to only get what I needed and will wait until I run out of what I already have at home to come back and bring my own containers for refilling.
Remember that small steps can make a huge difference, especially when we take them together!
---
As an added bonus, Life Unplastic is having a sale all Earth Month long. Take an inventory of your household needs and check them out for 20% off all products and 10% off all in-store refills when you bring your own container (April 2023).