Congratulations to the 2023 Champions for Change!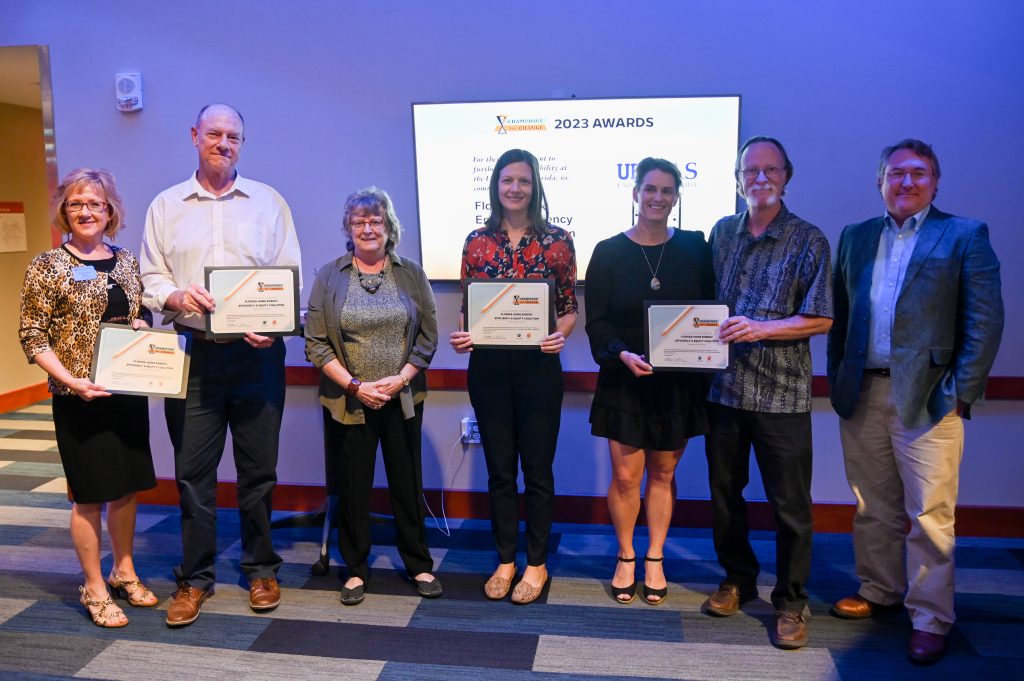 The following people and programs were selected in 2023 to receive Champions for Change awards for their significant contributions in the areas of Sustainability or Health & Well-Being.
In the category of Sustainability
CALM Update Team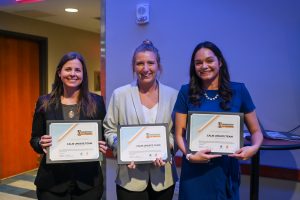 The University of Florida is responsible for the oversight and management of 31 conservation areas totaling over 450 acres. In February 2022, campus staff advocated for an update to the CALM (Conservation Area Land Management) plans, which hadn't been readdressed since their original adoption in 2004.
A steering committee of approximately 30 members with various professional backgrounds participated in 22 site visits, 10 site visit follow-up discussions, 11 working sessions, and several outreach events. In addition, the project leaders organized more than 10 stakeholder meetings, met with multiple student organizations, hosted tabling events, and received over 200 user survey responses. The project team then identified eight common themes which were incorporated into the updated management plan which will benefit the campus community for years to come.
Additionally, the steering committee identified the following needs, many of which have already been produced or will soon be available to the campus community:
A dynamic, web-based management plan containing several interactive elements;
An actively maintained, research-grade Biodiversity Inventory platform.
Data-based and ground-verified conservation area boundary map utilizing LiDAR technology.
Connectivity & Accessibility Map.
Sean Trainor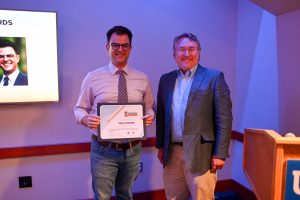 Sean Trainor, Instructional Assistant Professor at the Warrington College of Business Management Communication Center, teaches undergraduate and graduate classes on professional writing. Additionally, Sean is a leading advocate for non-tenure track faculty through his leadership role on related committees.
His efforts have focused on the following three initiatives:
Creating a more equitable progress-to-promotion process that provides non-tenure track faculty with a progress-to-promotion process similar to the midterm review for tenure-track faculty, ensures non-tenure track faculty are on the path to attain promotion, and guarantees non-tenure track faculty a voice in defining their units' promotion criteria.
Replacing the Lecturer title series with the more equitable Instructional Professor series to reflect the teaching-intensive realities of many non-tenure track faculty.
Transitioning non-tenure track faculty to more secure multi-year contracts to ensure academic freedom.
McCarty Woods Restoration Team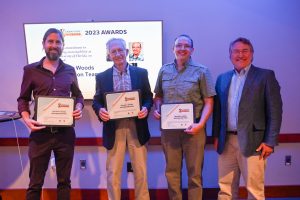 The McCarty Woods Restoration team leads a community effort to restore the McCarty Woods Conservation Area. McCarty Woods is home to a unique and diverse community of flora and fauna. The restoration team aims to restore the conservation area to its original state by removing invasive species and reintroducing native plants specific to that area. The success of their restoration efforts heavily depends on collaboration with the UF and the greater Gainesville community, including volunteers ranging from age 3 to over 70 years old.
Since their first clean-up in 2021, the team has done an exemplary job of educating others about the ecological restoration and diversity found within this natural area. They also plan to incorporate more educational signage into the natural area through a new kiosk. The model created by the McCarty Woods Restoration Team will serve as an example for restoring campus natural areas because of its successful community engagement and sustained maintenance of invasive species.
Solar Gators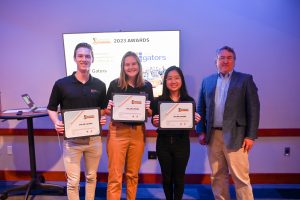 Solar Gators is a student-run engineering team dedicated to designing and racing solar power electric vehicles to provide students with valuable experience working in the field of sustainable transportation.
After a 3-year design cycle and hundreds of hours of work, the Solar Gators team debuted their record-breaking car, Sunrider, in 2022 at the Formula Sun Grand Prix. Sunrider traveled over 200 miles on solar power! They have upgraded all the major systems within the car and will continue to compete in the future. Because of the hands-on engineering experience received, their members have gone on to intern at companies such as Tesla, Blue Origin, and Jacobs. Additionally, they hope to inspire the greater Gainesville community through after-school workshops designed to teach students about basic STEM concepts and their relation to solar concepts.
Florida Home Energy Efficiency & Equity Coalition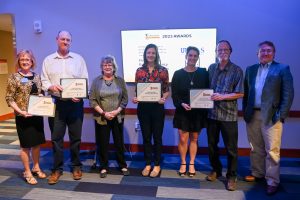 The southern United States has the highest percentage of the population to report energy insecurity in the 2020 census at 30%. Because of this, Florida's Energy Equity Coalition was formed in 2020 with faculty and staff from several UF programs and the non-profit Community Weatherization Coalition (CWC). In 2021, the CWC and the Institute of Food and Agricultural Sciences Cooperative Extension Service (UF-IFAS) formally collaborated to improve housing security, financial stability, resilience, and overall quality of life for Floridians.
For the past 15 years, the CWC has developed a model of home energy efficiency tune-ups to help more than 1500 residents in the Gainesville area. This coalition model has combined the strengths of non-profits, extension professionals, and UF faculty/staff to expand the model's reach to all interested counties in the state through the IFAS Extension program.
---
In the category of Health & Well-being
UF-GAU Family and Childcare Committee & UF-GAU Bargaining Committee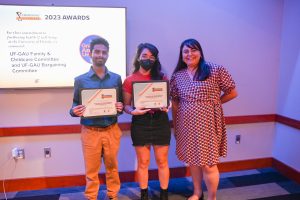 In 2022, the University of Florida Bargaining team and the UF-Graduate Assistants United (UF-GAU) changed the amount of paid leave graduate assistants are eligible to take from zero to eight weeks. Members of the UF-GAU Bargaining and Family & Childcare Committees have been working on the goal of adding paid leave to graduate student contracts since 2017. The committees spent hundreds of hours researching to create a 38-page report detailing the need for paid leave for graduate assistants and a 15-page report demonstrating the need for family leave, comparing UF's current policies to other top public institutions.
UF is now the first university in the State of Florida to provide paid leave to graduate assistants and provides more paid leave to graduate assistants than any other Top 5 Public Institutions. This new benefit will protect UF graduate students during unexpected life circumstances, expand recruitment, and retain current students. Ultimately providing paid leave to graduate students will continue the success of the University of Florida and create an environment where all members of the community can thrive.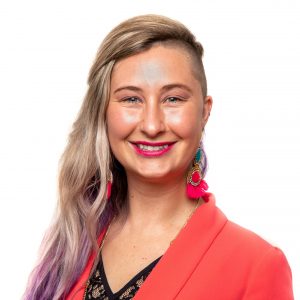 Manda Wittebort
Manda Wittebort, a Brown Center for Leadership & Service Program Coordinator, utilizes her role to profoundly impact students, faculty, staff, and the Alachua County community. She has created programs that build skills for human connection while teaching others how to engage in meaningful action and impact their communities, which is essential to students' social, spiritual, and emotional well-being. Her Change Makers' Dialogue program facilitates participants' development of both individual and collective skills, knowledge, and capacity for human connection, social identity, intergroup communication, and strategic change. This program has impacted over 300 students with over 15 partners across campus.
Manda brings intentionality and care to each program she creates. She is purpose and values-driven in each decision she makes to ensure that the UF community is knowledgeable and equipped to create sustainable change in their communities.
---
Learn more about the Champions for Change Awards and the winners from previous years here.