Note: Information on this page may not be used for commercial or marketing purposes.
If you would like to request an interview, please visit the interview request page.
---
Kaylee August is a Sustainability Program Coordinator for the Office of Sustainability. She is responsible for collaborating with students, faculty, and staff to integrate sustainability into campus programs and communicate outcomes of campus- and community-wide initiatives regarding GHG emissions, energy, natural resources, and waste management. Kaylee has a BS in Environmental, Soil, and Water Science from the University of Arkansas with a minor in Sustainability and an MS in Soil and Water Sciences from the University of Florida, where she focused on wetland biogeochemistry. Before this role, she worked as an environmental consultant. Her expertise includes environmental resource permitting, wetland ecology, hydrologic management, soil biogeochemistry, and data management. Kaylee spends her free time enjoying the outdoors, rock climbing, and spending time with her family.
---
Corey Farmer is a Sustainability Coordinator for the Office of Sustainability, with a focus on climate. He is responsible for GHG inventories, carbon footprint mitigation tactics, evaluating efficiency upgrades, and related data analysis. Corey has a BS in Mechanical Engineering from Auburn University with a focus on design, and a MS in Mechanical Engineering from the University of Colorado Boulder where he focused on energy storage and policy. Prior to coming to UF, he worked in the US Navy's nuclear power program. He has experience in construction estimating, power production, operational management, and casualty preparedness. When not at work, Corey is busy traveling, hosting gatherings, and "nerding out".
---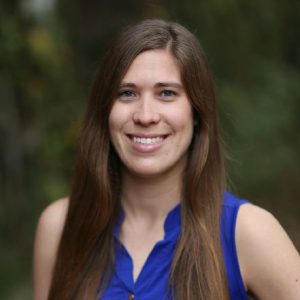 Lauren Stefan is a Design & Marketing Assistant for the University of Florida Office of Sustainability. Her role involves improving the graphics and messaging of current and upcoming programs across campus, social media, and the Office of Sustainability website in addition to managing the Sustainable UF intern program. Prior to this role, Lauren worked in international education and advised students seeking intercultural experiences. Outside of work, she loves to travel, play beach volleyball, and enjoy the Florida weather! 
---
Liz is a Program Coordinator for the Office of Sustainability. She is responsible for programs and initiatives related to waste, transportation and water, and enjoys working with students, faculty and staff on these and other topics.  Liz has a BA in Environmental Biology and Environmental Science from Dartmouth College (NH), as well as a BS in Engineering and a Master's in Engineering Management from the Thayer School of Engineering at Dartmouth College. Prior to coming to UF, she worked as the Engineering Technician for a small city in the suburbs of Portland, Oregon and as a wetland consultant. She has experience in natural resource management, transportation system planning, stormwater engineering, mapping, and data management. When not at work, Liz is busy running, biking, and chasing after her toddler.
---
Kristiina Thompson is the University of Florida Office of Sustainability's Campus Bicycle Program Assistant. Her role supports the Campus Programmer in the campus-wide student rental and department bicycle share programs, cycling education and outreach events, and management of the UF Bikes Intern Team. With previous experience in a management role at a local nonprofit bike shop and a Professional Bicycle Mechanic Certification from United Bicycle Institute, they are equipped with the expertise and passion to empower cyclists in the UF community, making cycling better for Gators. Much of their free time involves cycling the many trails of Gainesville or trying the latest vegetarian food across town.
---
Matthew I. Williams is the Director of UF's Office of Sustainability. He holds a B.S. and M.S. in Wildlife Ecology and Conservation from the University of Florida, and has been a certified Energy Auditor. Prior to joining the office at UF, Matt worked in campus sustainability for seven years as Auburn University's (Alabama) first full time sustainability coordinator.  In addition to a focus on climate and energy programs, Matt has worked on sustainability in campus food systems, transportation, procurement, waste prevention, stormwater education, inclusion and diversity, and community engagement. As a foundation to his work in campus sustainability, Matt has professional experience as a tropical field research biologist, an instructor in formal university courses on sustainability and biodiversity, and in the national non-profit realm working with public and private institutions to provide resources to make sustainably responsible procurement decisions. Matt's approach recognizes the combined roles of individuals and institutions in creating a sustainable future, and the need for higher education to take a leadership role in both educating students for sustainability, and incorporating sustainability practices into day-to-day campus operations.