The Return of Campus Earth Week Highlights Positivity and Collaboration
After a two-year hiatus as an in-person celebration, Campus Earth Week was hard to miss in 2022. In addition to being back in person, this year the UF Thompson Earth Systems Institute (TESI) & the UF Office of Sustainability partnered to co-host the 2022 UF Campus Earth Week events. Throughout the week, attendees were invited to learn more about, celebrate and contribute to sustainability initiatives on campus and in our surrounding community.
"Our Community, Our Planet" Panel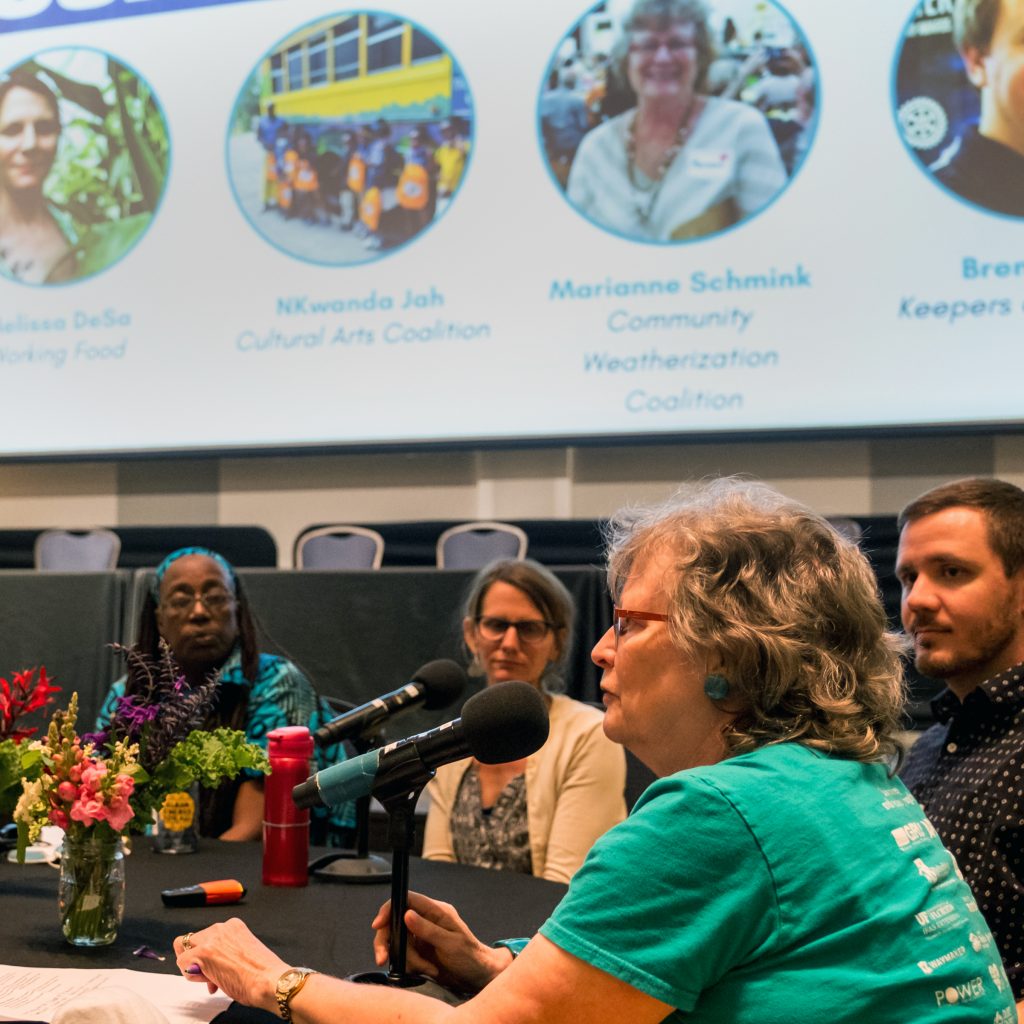 The marquee event was the Campus Earth Week Panel on April 12th, titled "Our Community, Our Planet." The panel featured Gainesville and Alachua County area leaders who work to find local solutions to looming environmental problems, including Melissa DeSa of Working Food, NKwanda Jah of Cultural Arts Coalition, Marianne Schmink of Community Weatherization Coalition, and Brent Fannin of Keepers of the Springs. 
In the Rion Ballroom at the Reitz Union, the four panelists opened with details about their organizations and sources of motivation. The majority of the panel centered on community engagement-related questions from moderator Matt Williams, Director of the UF Office of Sustainability. For the final 20 minutes of the event, audience members had the opportunity to ask their own questions and seek advice from the experts.
The takeaway was clear at every moment. The key to engagement around sustainability issues is to focus on inclusive activities, cultivate a positive mindset, and rely on community-building fundamentals.
Collaboration Powers Results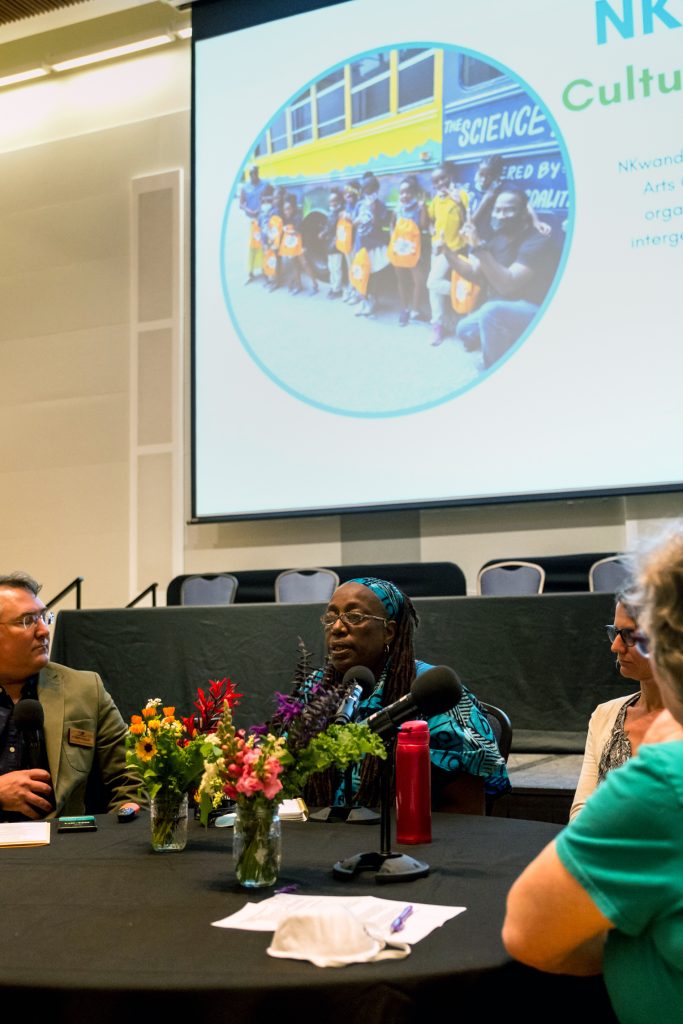 All panelists were adamant that partnerships are essential to success. "Nonprofit work is about working with your community," shared Melissa DeSa.
As each individual spoke about their organization's initiatives and examples of community impact, it was easy to hear how each has helped one another in small ways. From support on a grant project to co-creating educational opportunities, these local groups are already working together to leverage their strengths and identify areas of collaboration despite having separate missions.
As Brent Fannin put it, there are "too many problems for one person or one group of people to solve." This reminder put the intersectionality of regional socioeconomic and environmental issues at the forefront of the conversation. Continuing to grow connections across networks is essential to tackling these challenges—and the pathway towards these relationships starts with the messaging.
Positive Messaging Plants The Seed For Positive Change
The panelists have been working on difficult environmental and community issues for decades, but their messages were uplifting and hopeful.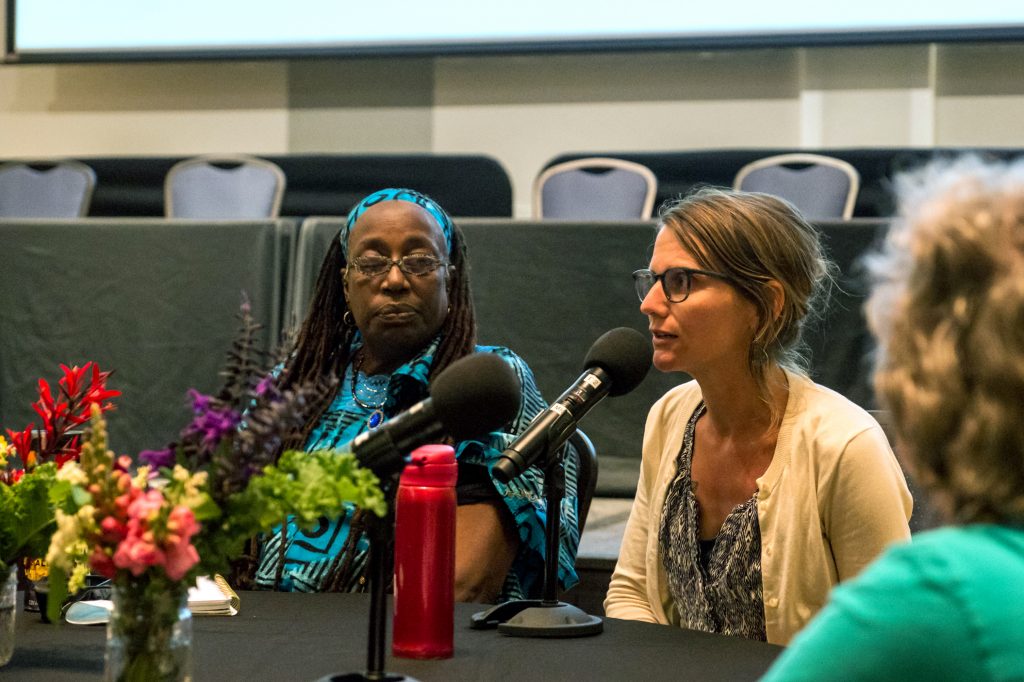 Brett Fannin highlighted a "framework of positivity" as a guiding principle in his work advocating for water. For instance, many are unaware of the main water sources in Florida, despite the essential role of the Florida aquifer in providing clean water to the entire state and beyond. He shared how negativity and shame can cause people to be defensive and less open to learning. As all panelists echoed, impact usually occurs when you can meet people where they are by initiating welcoming conversations to build curiosity about urgent environmental issues.
Awareness is a common first step for sustainability initiatives, but the frameworks discussed by the panelists are what help communities move forward into action. NKwanda Jah reminded attendees of the need for innovative, fun, and practical applications of the issues and wonders of the world around us. Marianne Schmink emphasized the importance of creating the space for volunteers and collaborators to truly take useful action.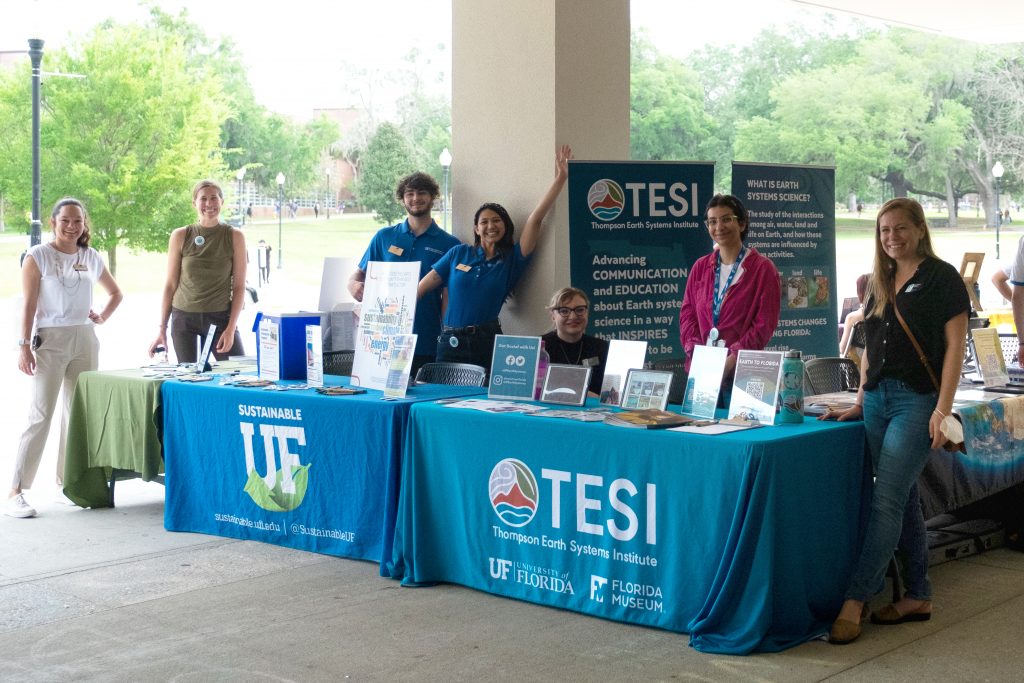 Upon reflecting on the panel, Sustainability Communication Coordinator Hannah Ulloa commented: "The insight shared by these local leaders really gets at the heart of sustainability communications. Much of it resonates with our approach at Sustainable UF – Inclusive messaging encourages connection across groups, values and goals, which leads to a stronger campus community and the potential for larger positive impact."
The theme of collaboration was present in the planning of the event as well. Thanks to the partnership between the Office of Sustainability and TESI, UF anthropology student Angie Pinilla was able to help coordinate the panel as part of her participation in TESI's Environmental Leaders Fellowship program – another example of the ways educational engagement on sustainability and environmental topics was brought to new levels across campus throughout the week.  
Recapping Campus Earth Week's Other Main Events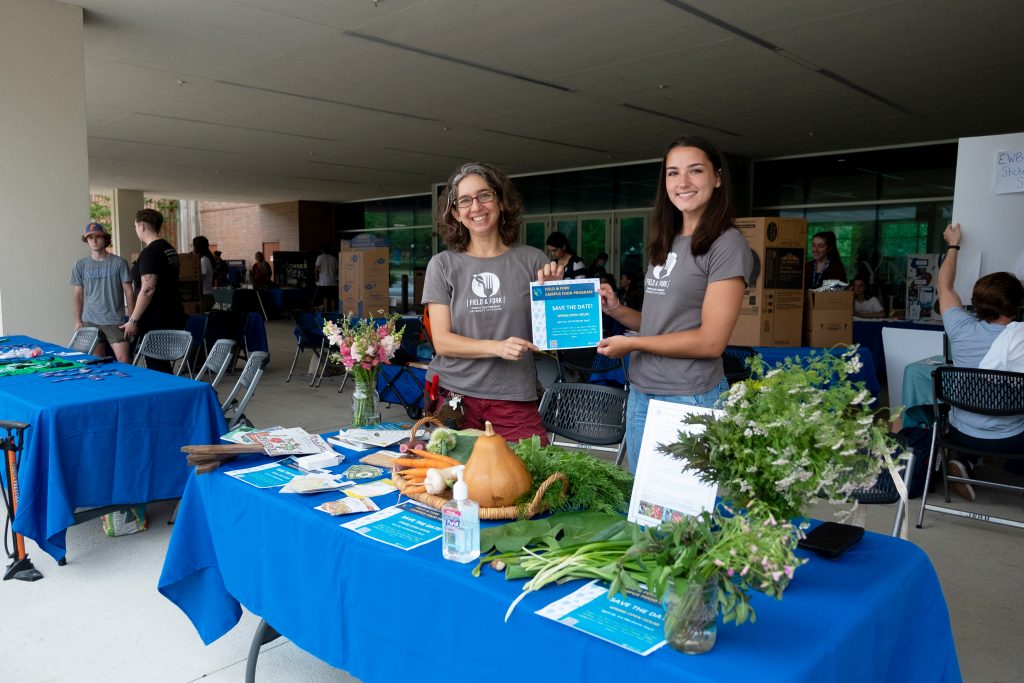 The week began with 25 campus and community organizations hosting tables at the Sustainability-in-Action Showcase on April 6th. Activities included free giveaways, farm produce taste-testing, recycled bottle cap art, plant sales, and informative demonstrations. The Office of Sustainability had a chance to answer questions about the ongoing update to the UF Climate Action Plan and TESI shared numerous opportunities to learn more about the importance of Earth systems science. In a true display of increased community collaboration, sustainability student orgs were joined by multiple non-UF organizations looking to build new relationships with UF students, faculty, and staff. Additionally, the showcase provided the space for many students to plan their next steps in sustainability efforts as internship and volunteer opportunities were a common topic of conversation throughout the event.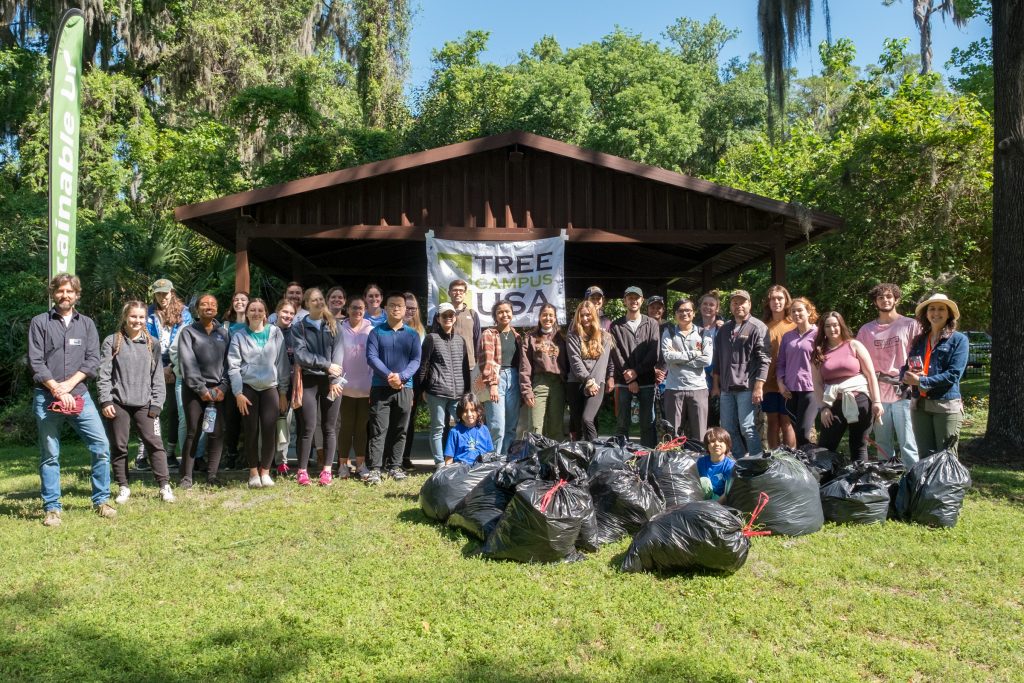 On Saturday, April 9th, the Green & Clean volunteer event featured an educational presentation from several campus collaborators about the Bartram-Carr Woods and Conservation Area planning efforts on campus. Lucas Majure, Curator of the University of Florida Herbarium, shared his expertise on the impact of invasive plants in the area to help prepare volunteers for their clean-up experience. Building off of this, Sadie Mills and Becca Burton with TESI demonstrated how volunteers could use the iNaturalist app to identify plant and animal species with the phone camera, as well as contribute to citizen science projects on the app (such as the Insect Effect with the Florida Museum). After spending time exploring the area with iNaturalist, all Green & Clean volunteers worked in teams to collect litter and remove invasive species from the conservation area. The Green & Clean event was an open opportunity for all individuals and groups to participate in the protection of natural areas on campus. With over 40 volunteers and over 220 lb of litter and invasive plants removed, it proved to be yet another success for students and organizations looking to make new connections across campus sustainability events!
Building A Lasting Vision for Sustainability On Campus
The collaboration and positivity from UF Campus Earth Week 2022 will drive forward the initiatives of sustainability-focused departments and units across the university. In the coming months, the updated UF CAP 2.0 will move through phases of review and pave the way to enhanced partnerships that support the university in future leadership on emissions reductions, academic excellence and climate resilience.
For more highlights of Campus Earth Week 2022, follow @SustainableUF and @UFEarthSystems on Facebook, Twitter, or Instagram!
---
During Campus Earth Week, UF also recognized the 2022 Champions for Change Award recipients. This program celebrates individuals and groups who have made significant contributions to sustainability or health & well-being during their time at UF. Learn more about the winners here!