Our Community, Our Planet: Campus Earth Week 2022 Panel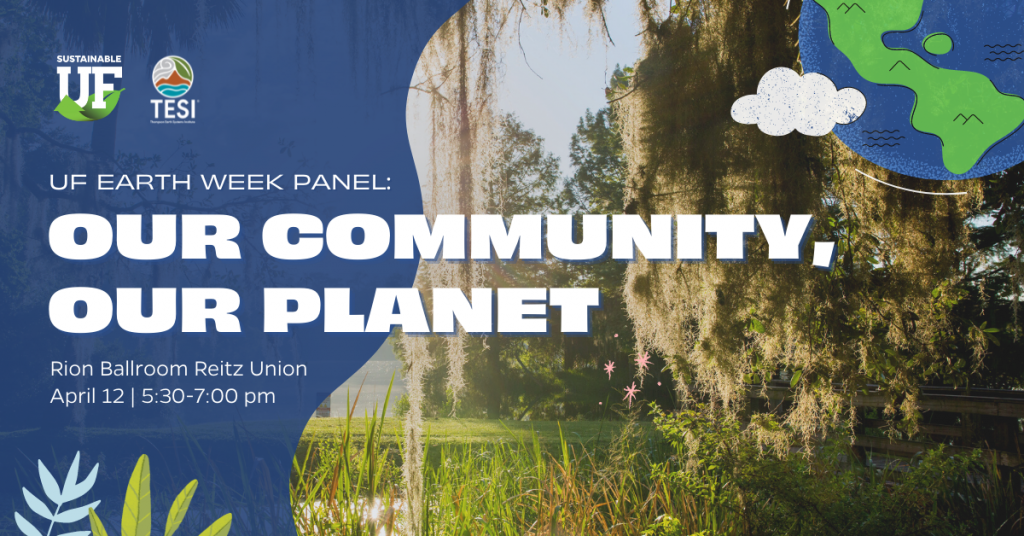 Campus Earth Week Panel: Our Community, Our Planet
When it comes to the future of our planet, it's not all doom and gloom. To find reasons to be hopeful, we don't need to look far.
Join Office of Sustainability and Thompson Earth Systems Institute for the Campus Earth Week Panel to learn more about how community organizations, agencies, and people right here in Gainesville and the greater Alachua County area are working to find local solutions to looming environmental problems! Attendees will leave with concrete ways they can contribute to the betterment of our planet by getting involved.
The Campus Earth Week Panel: Our Community, Our Planet Event will take place on Tuesday, April 12th from 5:30pm-7:00pm in the Rion Ballroom in Reitz Union. This event is free and open to all UF students, faculty, and staff. No registration required!
Check out the incredible speakers at this year's event!
This year's panel will be moderated by the Office of Sustainability Director, Matthew Williams.
---
Learn more about the other events happening as part of UF Campus Earth Week!