UF Campus Earth Week Is Back & Better Than Ever!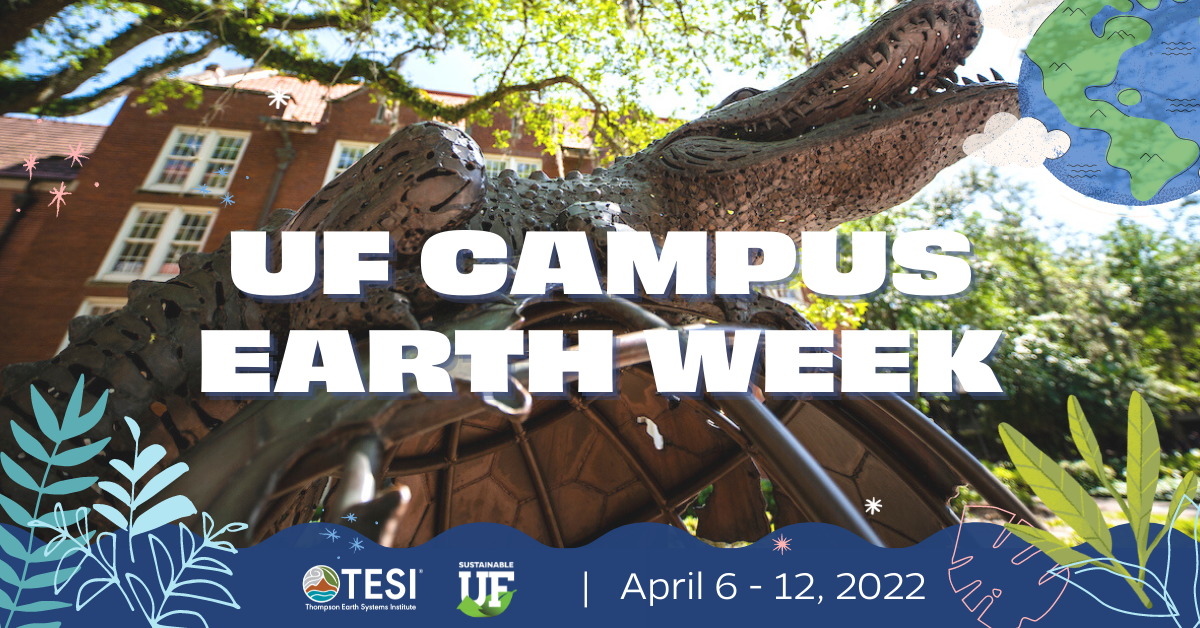 UF Campus Earth Week is back this year and better than ever! Join the Office of Sustainability and the UF Thompson Earth Systems Institute in April to celebrate UF Campus Earth Week 2022!
Celebrate Campus Earth Week from April 6th to 12th
This annual celebration is an opportunity for students, faculty, and staff to engage with sustainability-related events, initiatives, and volunteer opportunities on campus. This year, we are excited to offer multiple ways for the campus community to get involved with sustainability and climate action efforts on campus!
Schedule Of Events
Wednesday, April 6:
Sustainability-In-Action Showcase: 10:00 am – 2:00 pm | Reitz Union Tabling Area
This tabling fair highlights campus and community organizations that focus on sustainability issues and solutions. Stop by to learn more about these organizations and how you can take action for sustainability this semester! Learn more or register your sustainability-related organization here.
Saturday, April 9:
Green & Clean Volunteer Event, 9:00 am – 11:00 am | Bartram-Carr Woods
This volunteer event features an educational walkthrough of one of the key conservation areas on campus – Bartram-Carr Woods, followed by a litter clean-up and invasive plant removal. Volunteers will play an essential role in UF's ongoing Tree Campus USA efforts to keep the natural areas on campus free of litter and invasive species. Learn more and sign up to volunteer here.
Tuesday, April 12:
Earth Week Panel – Our Community, Our Planet: 5:30 pm – 7:00 pm | Rion Ballroom, Reitz Union
This speaker panel features community organizations, agencies and people right here in Gainesville and the greater Alachua County area who are working to find local solutions to looming environmental problems. Learn more about the event and add it to your calendar here!
More Details To Be Announced For Campus Earth Week
Stay tuned for when we announce more details and opportunities to be involved! Follow our Facebook or Instagram (@SustainableUF) or sign up for our e-newsletter.
---
Have a sustainability-related event during this week on campus that you would like us to know about? Submit your opportunity through the form on our website for consideration in our e-newsletter.