Sustainability-in-Action Showcase: Campus Earth Week 2022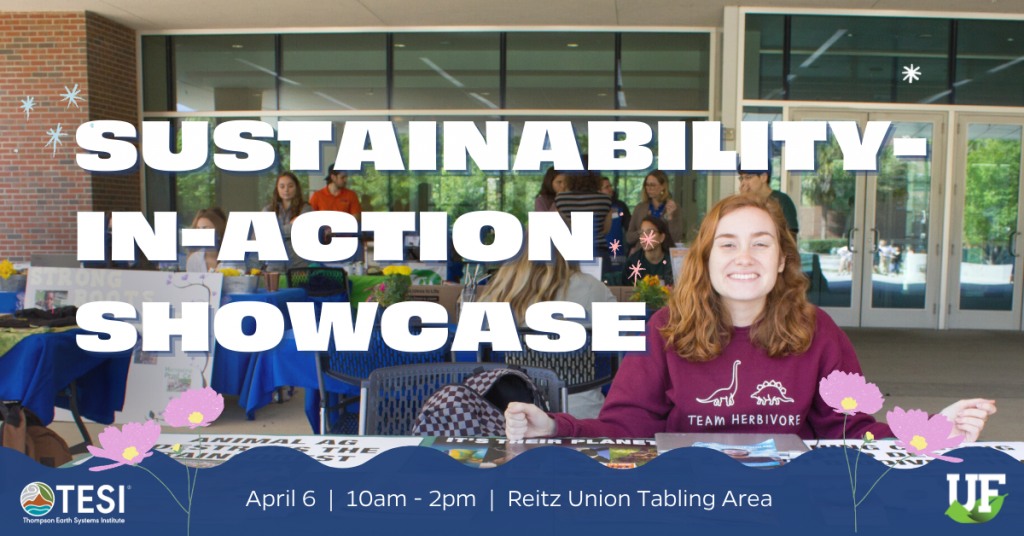 Sustainability-in-Action Showcase
The Office of Sustainability and Thompson Earth Systems Institute will host the Sustainability-in-Action Showcase to kick off UF Campus Earth Week on Wednesday, April 6 from 10 am – 2 pm in the Reitz Union breezeway/tabling area. This tabling event will provide visitors like you with the opportunity to learn more about sustainability on campus and connect with organizations with a strong commitment to sustainability. This event will feature a tabling expo, interactive displays, games, hands-on activities, and more!
This event is free and open to all students, faculty, and staff. Visit our Facebook event for additional information and updates.
If your organization is interested, please submit the tabling request form to reserve your table for the event: https://forms.gle/T5KFijREESwBYFKv7. The deadline to submit a reservation request is April 1st, 2022.
Check out the organizations registered to table!
Sustainable UF (that's us!)
UF Thompson Earth Systems Institute
Society for Conservation Biology Florida Chapter
Packaging Club
Sustainable Ocean Alliance UF
Zero Waste Gainesville
Suwannee St Johns
Sierra Club
UF CORE (Center for Outdoor Recreation and Education)
Community Weatherization Coalition
Florida Forward
Take Action Florida
Days for Girls International
Strong Roots Movement
Student Animal Alliance
#unlitter
Field & Fork Campus Food Program
Climate Action Gator
We Are Neutral
UF Green Greeks
Cinema Verde
Engineers Without Borders Nepal
Students for New Urbanism
Enactus
---
Learn more about the other events happening as part of UF Campus Earth Week!