Campus Bicycle Program Coordinator rolls out new cycling resources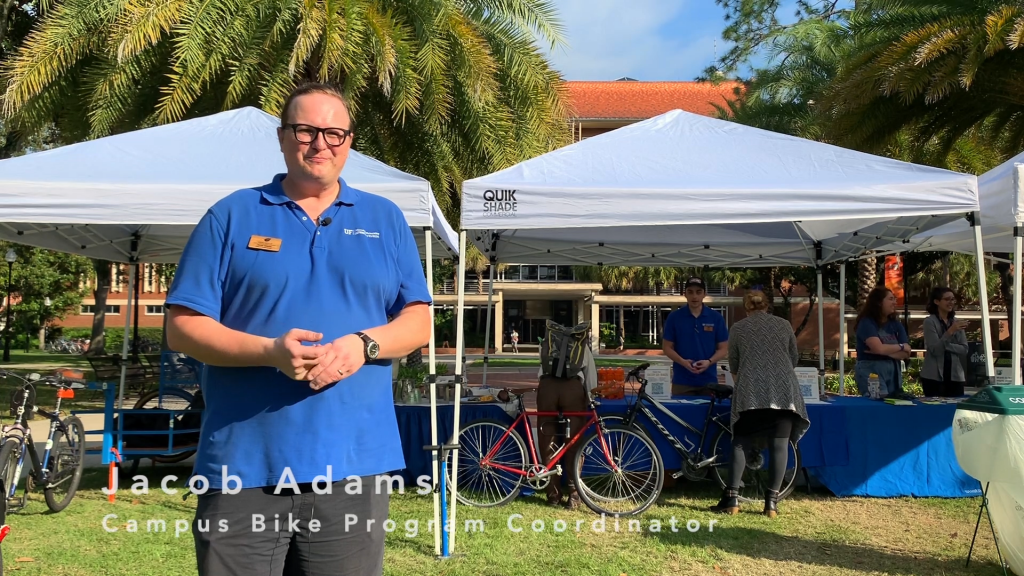 Meet Jacob Adams, the Campus Bicycle Program Coordinator for the University of Florida. Jacob's responsibilities include improving cycling accessibility on campus by providing access to bikes, creating educational programs and developing hands-on experiences for students and employees to learn about bike maintenance and cycling safety.
Jacob's love for cycling started when he was a kid, and biking remained his favorite form of transportation throughout his adolescence. Jacob started mountain biking and road riding while in college and found himself working as a bike mechanic at a local bike shop where he honed his repair skills and eventually became a manager.
Jacob joined the Office of Sustainability in 2014 as a program assistant, and soon after began working on improving the existing Department Bike Share program, evaluating the potential for a student rental program, and exploring other innovative opportunities to increase bike ridership on campus. In 2019, Jacob moved into his current position as the campus's first Bicycle Program Coordinator.
In his current role at UF, Jacob has developed resources including an Intro to Commuter Bicycle Maintenance Course, Bike to Campus Day event, and bike workshops in partnership with CORE at RecSports.
Outside of the office, Jacob is involved in the Gainesville music community as an audio engineer with SoFar Sounds GNV and musician in the local band Palimony.
Interested in getting into cycling but do not have a bike? No problem! The university has a variety of bike programs to help students and staff access bicycles and related resources:
UF Bike Month 2020: March is Florida Bike Month and UF is celebrating with a variety of events aimed to provide resources, classes and support for bicycle commuters on campus and in Gainesville. Events planned for UF Bike Month include Bike to Campus Day, Intro to Commuter Bicycle Maintenance Class, Cycling Savvy Bicycle Safety Course and more. See the full schedule here.
Gators Gears Student Bike Rental Program allows registered students to rent bikes on a semester-by-semester basis, starting at $40 for one semester, $70 for two semesters, or $100 to rent a bike for an entire academic year. The fee includes a bicycle, lock, helmet, and free on-call maintenance and repairs.
"The program is very popular and is aimed at helping to reduce abandoned bikes on campus in addition to providing an inexpensive transportation solution for students," Jacob said.
The Department Bike Share is a program that refurbishes reclaimed abandoned bicycles and loans them out to departments at the university for no cost. The goal is to reduce the use of motor vehicles for department trips and commutes. The program also includes free locks, helmets, and free maintenance and repairs.
Gator Go: Bikes is another program offered by UF that provides personalized bicycle counseling services to current cyclists or individuals interested in implementing cycling into their daily commutes. The program offers a full range of support for all levels of cyclists, from bike purchasing recommendations to customized commute or route planning.
"Gator Go: Bikes is intended to directly address specific barriers to riding, which are often unique to individual riders. Those who have participated in the program have been very pleased with it," Jacob said.
To learn more about these and other bike-related resources, students and employees should visit www.bikes.ufl.edu or reach out to Jacob directly at jacobadams@ufl.edu