UF student re-defines what it means to be fashionable & sustainable.
By Noura Al-Rajhi
Sustainable UF Intern & Contributing Writer
Mia Crisostomo has turned her passion for thrifting into a purposeful business.
Crisostomo, a UF marketing and sustainability junior, learned how to sew at age 9 and soon after started thrift shopping as a way to source inexpensive, unique clothing that could be repurposed as fabric.
"I realized that buying old clothes and using the fabric from that clothing is way more cost effective than buying raw cloth, and using fabric already cut and sewn into clothes was a bit more interesting," said Crisostomo.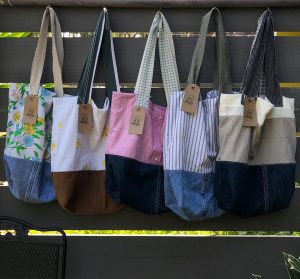 A year ago, Crisostomo launched her new business, Redefined Goods, where she produces women's clothing out of thrifted goods.
As her customer base started to grow, Crisostomo discovered her newfound passion for making a difference through sustainable living and encouraging others to do the same. Soon after, she incorporated repurposed tote bags into her business.
"I wanted to create a product that was not only sustainable but had a use that pushed customers towards living more eco-conscious lives. I decided that a tote bag would be perfect because it could be used in place of single-use plastic at the grocery store," said Crisostomo.
According to the Environmental Protection Agency, American consumers use over 380 billion single-use plastic bags, wraps and sacks each year.
Crisostomo made her first tote bag in February out of a mix of thrifted denim, blouses and scrap fabric. Since then, she has been following the same design method and has been selling her totes to her Instagram followers through her account, @redefinedgoods.
"I often just gather whatever I think has the potential to be a nice bag. A men's shirt with a nice print, some old baggy jeans, a bed sheet – all fair game," said Crisostomo.
Once she has her supplies ready, Crisostomo gets to work and begins the manufacturing process. She creates the totes during the week and on Fridays at 5 p.m. lists all the totes she made on Instagram for her followers to purchase.
Running the business on her own has not always been easy, she said.
"It can be extremely time consuming, but I'm more than happy to do it because it is what I love to do."
Crisostomo hopes to continue growing Redefined Goods by expanding to more products that are completely made from upcycled materials.