Become an Ambassador for the #GatorsBEATWaste Station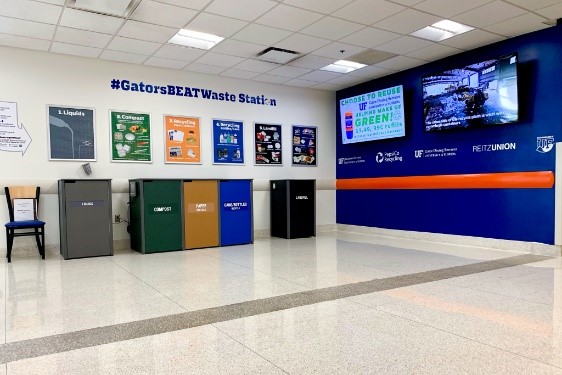 The #GatorsBEATWaste Station, a partnership between PepsiCo, Business Services, Gator Dining and the Office of Sustainability, was unveiled in the summer of 2019 in the Reitz Union Food Court across from Starbucks and Pollo Tropical. The station is outfitted with easy-to-follow instructions and graphics to help guests navigate the disposal process in a few simple steps. This station is the first post-consumer composting location on UF's campus and will serve as a pilot for future waste station opportunities.
In the Fall of 2019, the #GatorsBEATWaste station team started working with a small team of student researchers to collect and analyze waste data at the station, helping to identify opportunities for improvement. Learn more about the station and the research project here.
The #GatorsBEATWaste Station research team is looking for volunteer ambassadors to help with different aspects of the project this semester. Below are brief descriptions of the different ways that volunteers can be involved: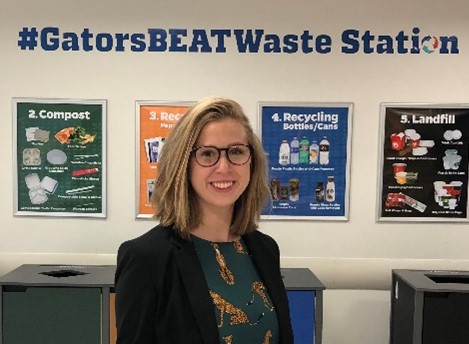 Lunch time volunteers: We are looking for volunteers to be at the GBW station during peak lunch hours (11 AM – 2 PM) to ensure that people are using the station correctly. Volunteers will be trained to help familiarize station visitors with the station and to answer any questions about waste reduction and recycling.
Data collection volunteers: We are also looking for volunteers to help Michelle and Alex collect data from the station. This entails meeting Michelle and Alex at the Reitz Union on Tuesdays and Wednesdays (times will be decided based on volunteer availability) to help them sort through and weigh trash. Gloves, hand sanitizer, and wipes will be provided!
---
If you are interested in volunteering, please sign up through the form below and provide your information and general availability.
---