Redefining Inclusive Outdoor Spaces at UF CORE
Written By Alexis Irvin, Communications and Outreach Intern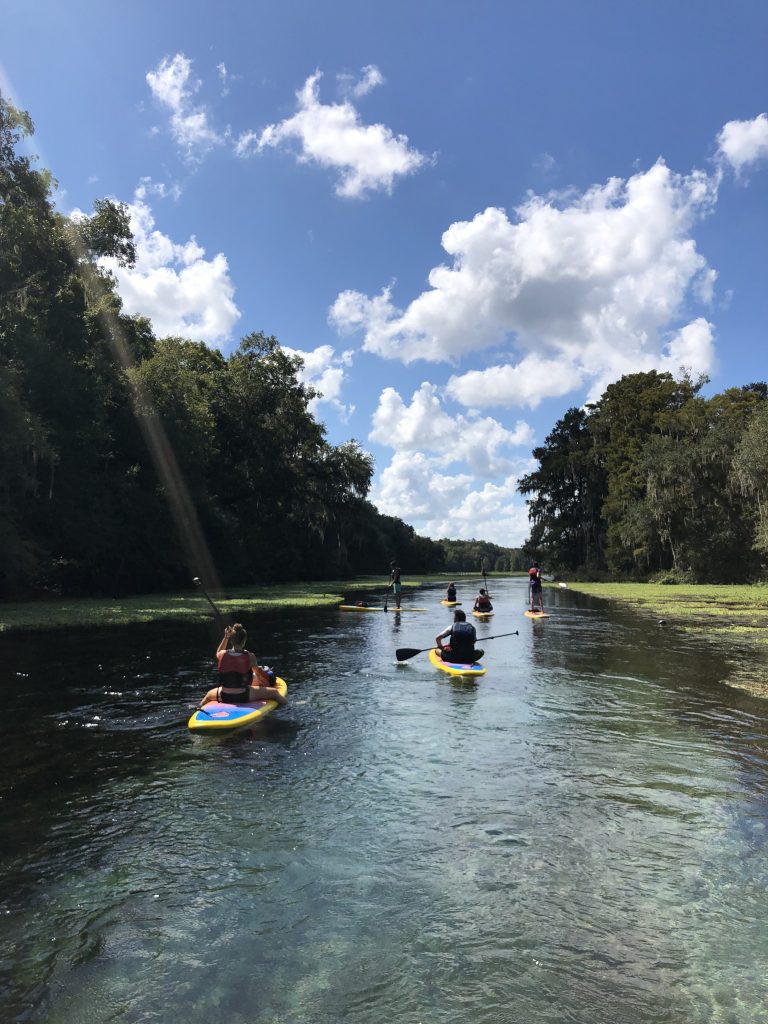 As scientists continue to unpack the impacts of climate change, recreational organizations are looking to address yet another issue: removing socio-economic barriers to the outdoors. In policy, these conversations are often centered around climate, public land, and physical experience. But for organizations like CORE (Center for Outdoor Recreation and Education) at the University of Florida, diversifying the outdoors – and the program – meant addressing equity and inclusivity at its core using an intersectional approach.
Intersectional theory, developed by Kimberlé Crenshaw at Columbia University and University of California, Los Angeles, was originally coined to address blind spots that allow for the persistence of racial and social injustices, including environmental justice. As a university office, CORE looked inward to see how renting outdoor gear and leading adventure trips could address these issues. 
All adventure trips, such as multi-day backpacking trips and moonlight paddles at Lake Wauburg, are officially led by CORE's TRiP leaders, undergraduate students that are trained to not only lead each trip but also manage risks and ensure the safety and wellbeing of all participants. In order to become a TRiP leader, students enroll in a semester-long outdoor learning course (OLC), navigating both technical and interpersonal skills through hands-on learning. Compared to previous years, the spring 2021 semester marked a monumental evolution in programming for CORE with the implementation of a Diversity, Equity, and Inclusion workshop in the OLC schedule and integrated conversations around environmental justice.
"Diversity, Equity, and Inclusion (DEI) training allows our guides to examine biases and stereotypes and become better facilitators by creating a safe atmosphere for all participants on adventure trips," stressed Braja Smith, Assistant Director of Outdoor Recreation. "CORE has wanted to add DEI training to the Outdoor Leadership Course for a while; the interest of students and staff in this topic was particularly high the past year and helped to bring the idea to implementation."
Intentional training in academic atmospheres such as the OLC helps leaders to address some of the barriers that prevent many minority groups from equitably enjoying the great outdoors. Research shows that in addition to cultural barriers like historic discrimination and lack of representation in leadership, minorities often face socio-economic challenges including proximity and ease of access to natural areas. For some, there may even be historical trauma associated with the outdoors, including the fact that many Black communities were banned from outdoor recreation sites prior to the Civil Rights Act of 1964.
Prior to the Diversity, Equity and Inclusion seminar being added to the OLC, CORE addressed environmental injustice through land acknowledgements. At the beginning of each trip, time was dedicated to talk to participants about the indigenous land they were on and the important resources now used so casually by many. The acknowledgments often revealed mistreatment and removal of native communities from land, emphasizing the impact still felt today by descendants visiting those spaces.
In response to these impacts, leaders within CORE recognized that representation in outdoor spaces is a crucial part of managing risks and maintaining the wellbeing of guests. The addition of the DEI workshop, the Education Program Assistant Chadwick Gaff to continue expanding the conversation in upcoming OLC semesters by addressing language and communication, identifying biases and creating emotionally safe spaces. As recruitment for the 2021-2022 OLC classes begins, Chadwick has made intentional efforts to improve representation within the program with the goal of introducing a diverse student population to the outdoors and the incredible impact outdoor recreation can have on students' physical and mental health.
---
LEARN MORE
To learn more about CORE and environmental justice initiatives that have impacted the program, be sure to navigate through the following resources: