E-Bikes: UPD and Commuters Benefit from Convenience, Speed and Accessibility
By Noura Al-Rajhi
Sustainable UF Intern & Contributing Writer
Electric bikes are sparking interest across campus as an innovative form of sustainable transportation that combines the convenience of cycling with the ease of a scooter.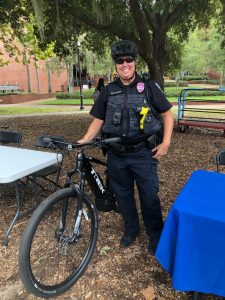 Unlike traditional bicycles, e-bikes have an integrated electric motor which is activated by either pedal or throttle assist, depending on the type. Most e-bikes are pedal assist, meaning riders must still pedal to move, but the motor gives the bike an extra boost. While less common, throttle assist bikes function similar to the operations of a motorcycle or scooter: the motor will power the bike whether the rider is pedaling or not.
At the UF Sustainable Transportation Fair on October 9, 2019, students and employees were able to test out a variety of e-bikes and experience firsthand the benefits of these motor-assisted bikes. The models featured included the Vilano Pulse which is an entry-level commuter style bike retailing at $799, the  Fuji E-Crosstown which is a basic townie style cruiser retailing for $1699, the Fuji E-Travers which is a dual sport hybrid style retailing for $1699, and the Faraday Cortland S which retails for $2499.
E-bikes have many benefits for a wide range of commuters. They are user-friendly and handle nearly identically to a traditional bike, while allowing for an easy, quick ride. These are perfect for individuals who may have longer commutes, want to get around with the ease of a bike but without the extra cardiovascular effort, and they are make pedaling up hills and inclines a breeze. E-bikes may also be great alternatives for individuals with mobility issues that prevent them from using traditional bikes.
And of course, they are just as easy – and free – to park as traditional bikes, and are a zero-emission option for students, staff and faculty looking to green their commutes.
The University Police Department has also incorporated e-bikes in their fleet of transportation methods on campus.
Officer Dianna Ullery attended the fair to showcase the department's e-bikes which have been in use for nearly three years.
"On the turbo mode, it takes me two to three strokes and I am going about 20 miles per hour," said Officer Ullery.
E-bikes have allowed for officers to easily access sections of the campus that are harder to reach with regular UPD patrol cars, especially during gamedays or big events, she said.
E-bikes are considered the same classification as traditional bicycles, so riders can take them anywhere a regular bike can ride, including on campus, roadways and on bike trails. Most e-bikes have a range of about 20 – 35 miles depending on the assist level, and batteries can be charged up to full capacity in a matter of hours. Pedal-assist e-bikes can reach top speeds of anywhere from 16 – 24 mph.
UF Bike to Campus Day is a great opportunity to learn more about e-bikes or biking in general, as well as other cycling-focused programs offered at UF. The event will be held on Thursday, October 24 at the Plaza of Americas from 7:30 a.m. to 11:00 a.m. where student and employee cycle commuters can enjoy free breakfast, register their bikes and receive free helmets, lights and more.
If you have any questions regarding UF's Bike to Campus Day or want to learn more about cycling, e-bikes or general bike programming, contact the UF Bike Program Coordinator, Jacob Adams at jacobadams@ufl.edu.