UF Physical Plant Division receives Environmental Sustainability Award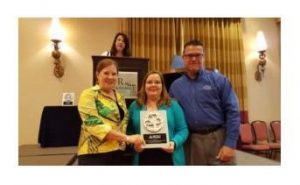 The University of Florida Physical Plant Division (now Facilities Services) was awarded the 2016 Recycle Florida Today (RFT) Environmental Sustainability Award for its Organics Diversion program at the annual conference in St. Augustine on June 14. Over the past year, the university invested in extensive planning and routing revisions, as well as new equipment, to ramp up food waste collection to 27 dining facilities, several sorority houses, the Hare Krishna's daily vegan lunch program, and some special events on campus.
At the same time, UF launched a collection for another big organic waste stream – the 500,000 lbs. of paper towels used each year in campus restrooms (featured in RTF Renewable News, 2015 Summer Edition). The brown, unbleached towels, made from recycled paper mix well with food waste to absorb liquids and add a source of carbon. By the fall of 2016, all campus buildings served by the PPD will have the paper towel composting in place. These organics are transported three times per week to a large commercial composting facility that sells a high-quality finished product to farms, landscapers and developers, and even to UF Grounds and Gators' Stadium.
Finally, UF is delving into some compost experiments of its own using organics from conservation areas, grounds, recreational sports fields, greenhouses, and agricultural plots on the 2000 acre campus. In 2015, the PPD composted 455 cubic yards of this waste (estimated at 110 tons) which is now being used to restore recreation sports fields. A new windrow of about 50 tons of material is testing an inoculant to reduce the need to frequently turn the row.