History of Climate Action at UF
History of Climate Action at UF
Over the past few decades, UF has continued to build on a long legacy of sustainability research and lead among universities in advancing sustainability and climate action. With robust administrative support, staff and faculty from across UF have worked to set and reach sustainability goals, as well as develop ongoing initiatives to support future climate action. Below are some of the significant milestones that help give a better understanding of the context of UF climate action goals and future planning.
Recent History of Climate Action at UF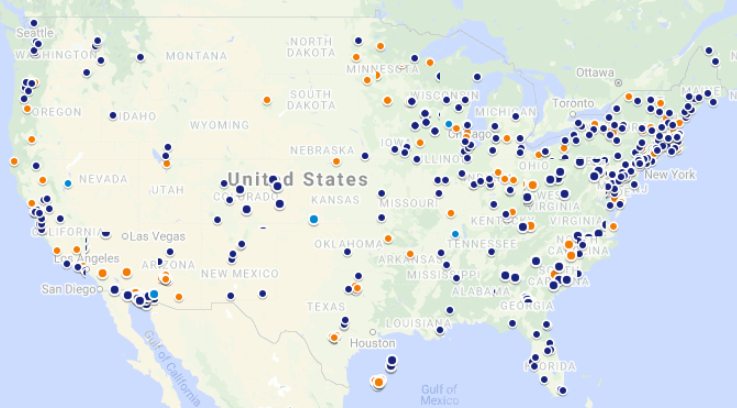 2006
UF became one of the 1st universities to sign on to the "American College & University Presidents' Climate Commitment", under President Machen. This effort is managed by national climate action reporting organization, Second Nature, and is now known as the Presidents' Climate Commitment.
In addition to this, UF was among the first higher education institutions to begin assessing the university's greenhouse gas emissions with a carbon accounting partner. In 2006, UF moved this to an internal tracking process that kept up with national carbon and greenhouse gas accounting policies and would inform UF's climate action planning.
2007
After forming the university Office of Sustainability in 2006, UF began a high-level visioning process for campus sustainability and created the Vision for Sustainable UF report. This report led to the creation of several strategic implementation plans including multiple aspects of campus the "Energy Conservation & Climate Change Implementation Plan".
2009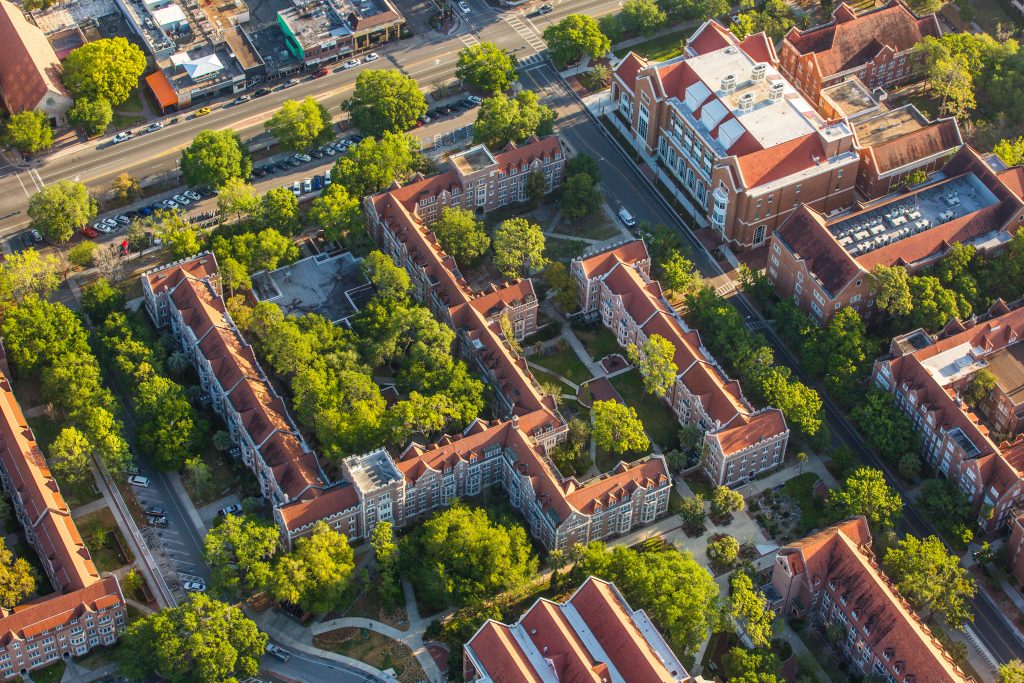 In 2009, the Energy and Climate Change Task Force published the UF Climate Action Plan v1.0. This plan proposed several high-level campus goals for reducing and mitigating UF's greenhouse gas emissions.
This Task Force was made up of passionate and respected staff and faculty across UF, many of whom are supportive of or directly involved with the ongoing UF CAP v2.0 planning process. Special recognition to the late Dr. Charles Kibert (1947-2021), who made significant contributions to climate action during his time at UF and beyond.
2009-2019
In addition to reaching several goals as outlined in the UF CAP v1.0, UF has implemented a wide variety of programs across campus that help to improve energy efficiency, reduce greenhouse gas emissions and support more sustainable infrastructure.
Meeting CAP v1.0 Goals:
Though total campus emissions have increased by 0.21% from a 2005 baseline, emissions per square foot have been lowered by 18% – a goal set in UF CAP v1.0. This takes into account the addition of over a million square feet of new buildings added since 2005.
Ongoing Initiatives:
Support for energy efficiency projects as outlined in campus planning processes (such as the Vision for Sustainable UF) continued to grow, including significant financial commitment from the UF Office of the Vice President for Business Affairs.
In 2009, UF Planning, Design and Construction moved from LEED Silver to LEED Gold minimum standard for all new construction on campus.
Starting in 2010, UF has been involved with a variety of solar energy projects on campus and has seen a 78% increase in solar energy generation from 2015 to 2020.
In 2010, UF also hosted the first carbon-neutral commencement ceremonies, made possible by purchasing local offsets through Neutral Gator (now We Are Neutral) This effort that has continued and grown each year to include other large events, contributing to UF's goal of carbon neutrality.
In 2016, UF launched the Carbon-Neutral Commuter Program, a first-of-its-kind initiative that allows employees to offset the carbon emission from their daily commute to/from campus through voluntarily payroll deductions.
In 2019, UF increased Electric Vehicle parking on campus to 38 spots and set a campus goal for 10% of the UF Fleet to be Electric Vehicles.
UF Facilities Services has continued to implement innovative and aggressive initiatives to reduce energy consumption by re-commissioning buildings, retrofitting the chilled water loops and replacing lighting systems.
The UF Office of Sustainability, Facilities Services, and other campus partners worked to improve the Greenhouse Gas Emissions Inventory in order to inform carbon neutrality goals and climate action planning.
2019
In Fall 2019, the UF Office of Sustainability partnered with City of Gainesville and Alachua County Environmental Protection Department staff to host a 1-day Resilience-Building Workshop. This 1-day workshop brought together experts and practitioners across UF and the local community to discuss Alachua County's most pressing climate-related hazards and ways to improve community resilience to these hazards. Read the workshop report here.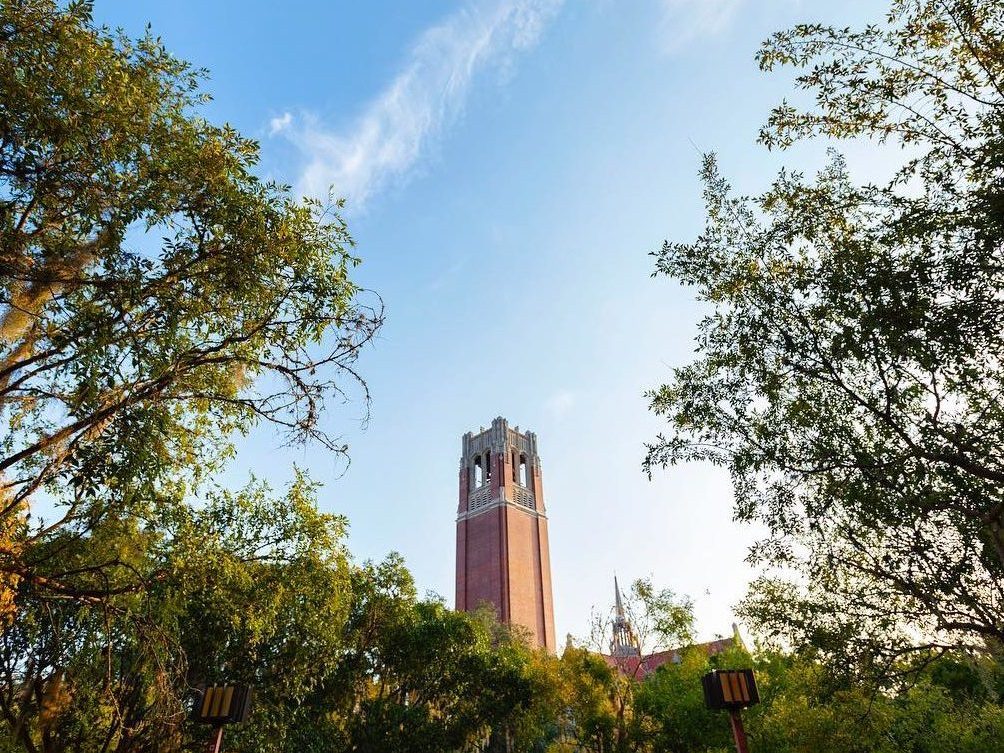 2020
As part of ongoing efforts to gather input from peer institutions and the UF community, the UF Office of Sustainability (with support from the Florida Climate Institute) hosted 2 public listening sessions in February and December of 2020. These sessions were highly attended and engaging, resulting in 156 comments across several areas including Energy & Built Environment, Transportation, Offsets & Finance, Academics, and Resilience.
2021
At the beginning of 2021, the Office of Sustainability started collaborating with strategic planning consultant, TRUST, to launch the process to update and revise the UF Climate Action Plan. This process is focused on developing a shared strategic framework for reducing and mitigating UF's Greenhouse Gas Emissions (GHG) in order to reach carbon neutrality, as well as improving the university's resilience to related climate change impacts. Learn more about this ongoing process here.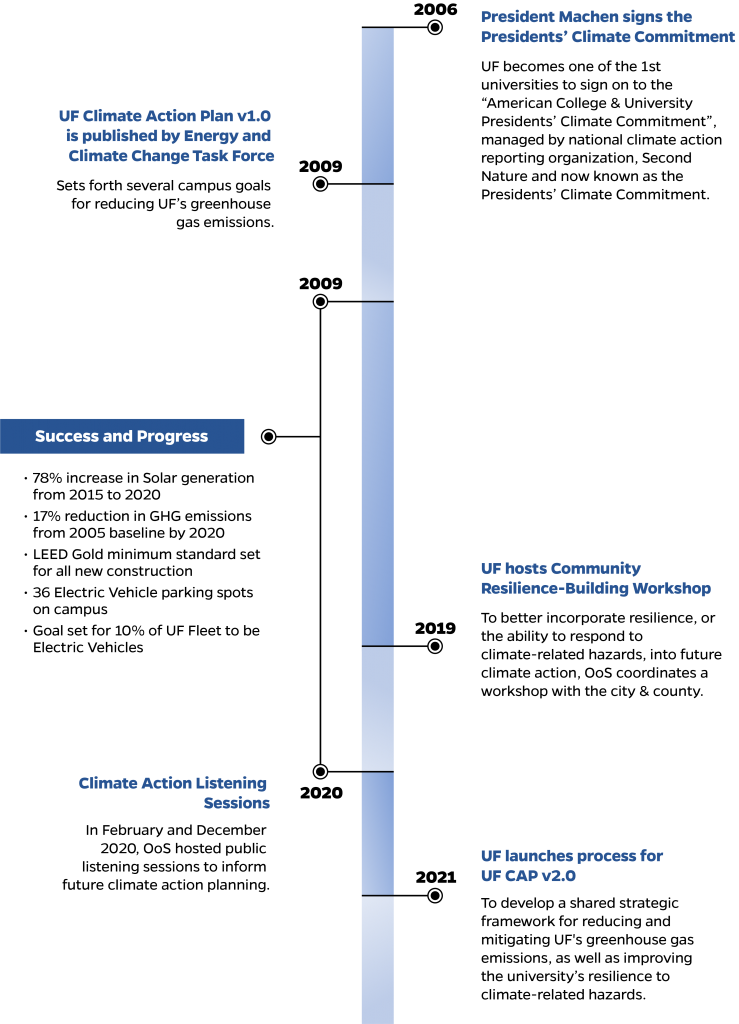 ---