How to Get Involved
The most effective way for you or your department to address energy conservation at work is to consider the Green Recognition for Office and Workspaces (GROW) program. This initiative outlines several devices and habits that UF employees, offices, and departments can use to address energy conservation in the workplace.
To promote full participation in this energy conservation effort, manuals and campaign materials to promote best practices for energy savings are available through the Office of Sustainability.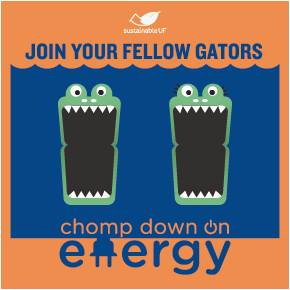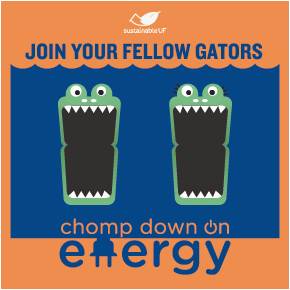 Part of the campaign includes light-switch stickers that serve as reminders for individuals to turn off lights to rooms when not in use, and encouraging designation of a "Last To Leave: Turn Off" person or group to ensure lighting and qualified office equipment is powered down at the end of the day.
Need light switch stickers for your office, residence hall or home? E-mail us!
General Tips for Energy Conservation
Turn off lights to rooms when not in use.
Shut down your computer and other equipment at the end of the day and when you will be gone for extended periods.
Turn off your computer's screen saver and instead, turn off the screen when you leave the office for meetings, errands, etc.
Turn off commonly used office equipment (printers, copiers, coffee makers) at the end of the day.
Unplug equipment that is not used regularly.
---
You may also be interested in:
What is Sustainability? ᛫ Sustainable Event Guide ᛫ Green Recognition for Offices and Workspaces (GROW) ᛫ Press Releases ᛫ UF Research Centers & Institutes