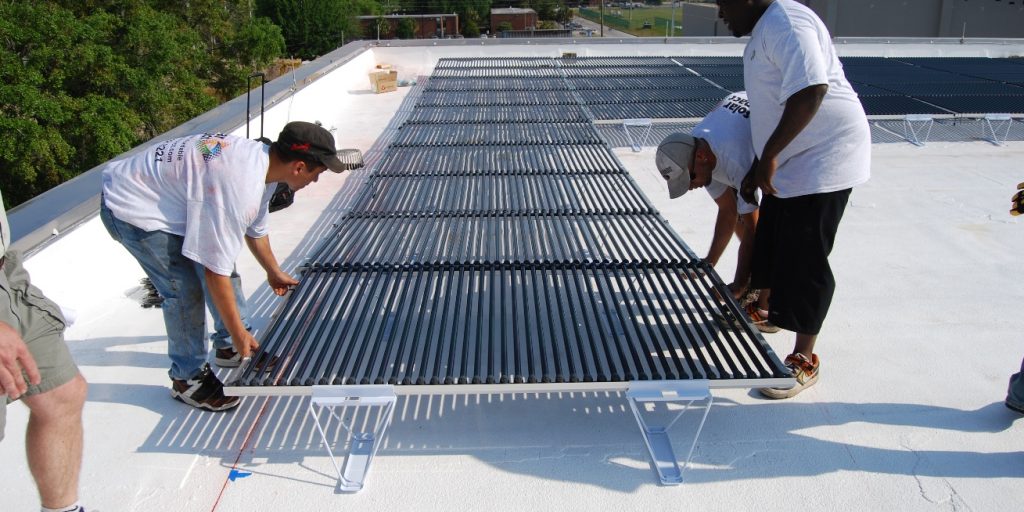 UF installed its first photovoltaic system on campus in 2010. The 75kW solar array on Powell Hall generates roughly 1/3 of the energy consumed in the building. The museum installation is enhanced by a permanent exhibit, "Our Energy Future," which educates the public about energy conservation strategies and renewable energy technology that they can implement in their own lives.
UF has also completed two installations as part of Gainesville Regional Utility's Feed-in-Tariff program: a 214kW solar installation on our Eastside Campus and an installation at UF Hillel. This is the first Hillel in the US to produce electricity through solar. In spring 2012, panels were added to the Beta Theta Pi house, funded largely by Progress Energy rebates. The UF Department of Housing and Residence Education has also installed a SolarDok table as a pilot project at Diamond Village Commons. Residents use the solar energy collected and stored within the unit to power small electronic devices as they enjoy the outdoor commons of the area.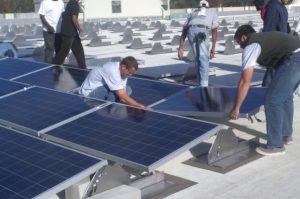 The most recent addition of 100kW was made possible by Progress Energy Florida's SunSense Solar Schools Program and was divided among three locations on campus in the fall of 2012: 70kW was placed at the Energy Research and Education Park, 20kW was placed upon the Microbiology and Cell Science building, and 2kW was set aside as part of the Rinker Hall Solar Education Lab as a teaching tool. Real-time energy production data of campus solar installations can be viewed through the Weil Hall Solar Kiosk portal here.
While these projects are important, UF's first and foremost concern is reducing energy use. From raising building standards, starting with a LEED Silver minimum in 2006 and increasing to LEED Gold in 2009 for all new buildings and existing building renovations, to retrofits and upgrades to lighting and Heating and Air Conditioning infrastructure, UF is working hard to maximize the efficiency of our buildings across the board.