Green Gator of the Month: Valentina Padron-Rasines
November 2023
Written by Sustainable UF intern Alexandria O'Donovan
Each month, the Office of Sustainability will feature members of the University of Florida community who are making a sustainable impact on a daily basis. Keep reading to meet our featured student for November!
Meet Valentina Padron-Rasines
Valentina Padron-Rasines is a Sustainability Studies student here at the University of Florida. She is a senior graduating in Fall 2023.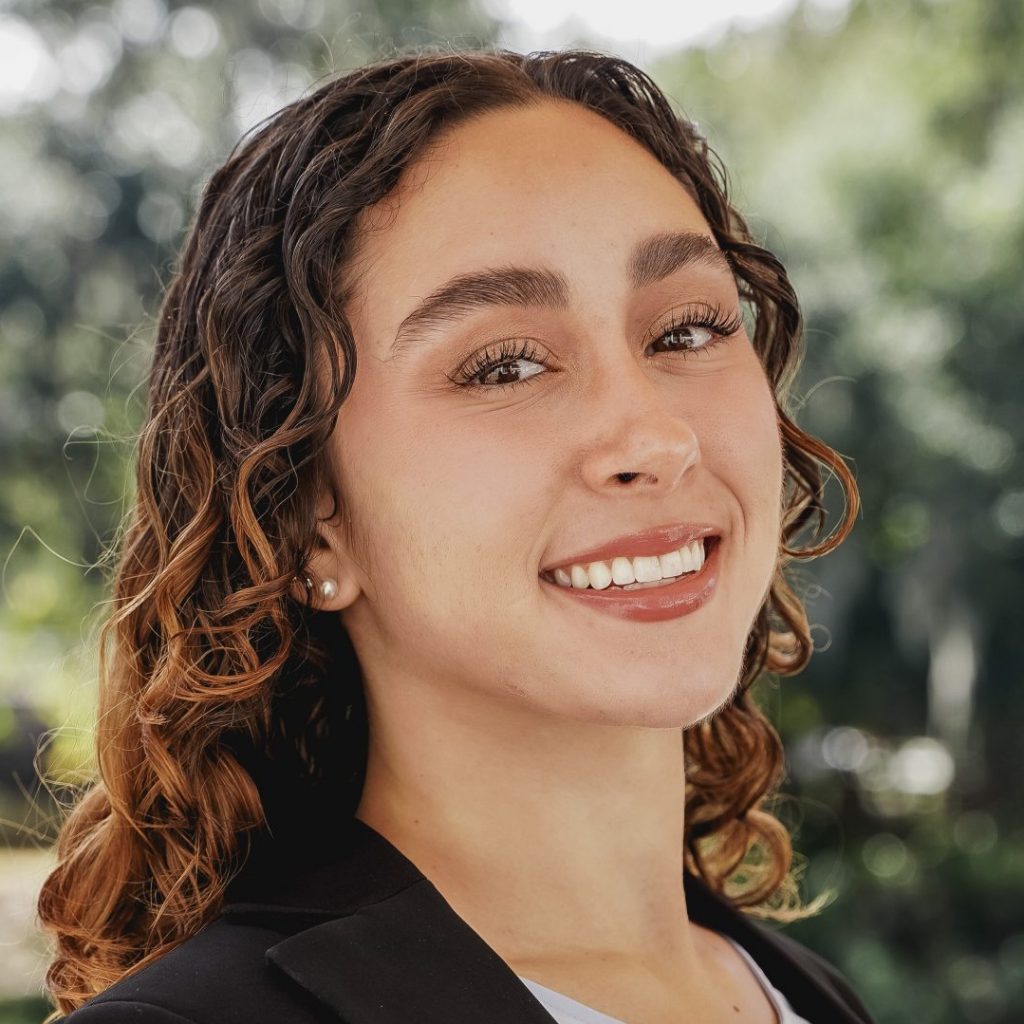 After graduation, Valentina will pursue different interests surrounding biodiversity, conservation, and field work before returning to school for a Master's program.
Valentina is also a first-generation American with family from Venezuela. Her experience pushed her to help other first-generation students throughout her work at UF, acting as a mentor and role model to several students across campus.
She believes everyone deserves to feel accepted and welcome.
Sustainability is a Community Effort
LEED for Cities
As a Sustainability Studies student, Valentina learned the importance of preserving and conserving the environment for future generations to come. Although originally unsure about the built environment, she had an incredible experience as the LEED for Cities Intern with the Sustainability Division in the Ft. Lauderdale Public Works Department.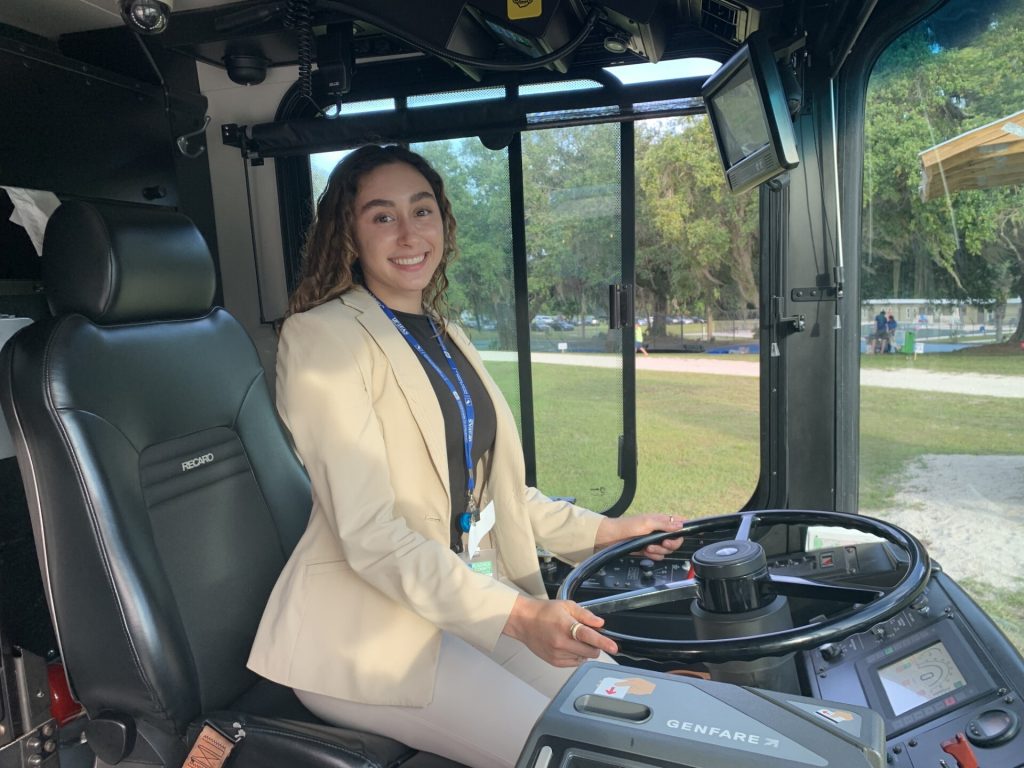 LEED, or Leadership in Energy and Environmental Design, is a green building certification that emphasizes using sustainable choices throughout the entire design and construction process.
Through her internship, Valentina used her understanding of natural systems, ecology, and climate change to achieve different credits. She says that this broadened her understanding of sustainability and the associations it has with architecture.
In the end, she helped Ft. Lauderdale become a gold-certified city!
Alachua County Climate Change Summit
In February of 2023, Valentina became the Sustainability Intern through the Alachua County Sustainability, Equity, Economic, and Strategic Development (SEEDS) office. Assigned to the new Sustainability Manager, she was tasked with assisting in organizing the county's inaugural climate fair and workshop in early June.
Leading outreach and planning committee meetings for the summit allowed her to gain experience engaging with different stakeholders, including officials, organizations, and developers. She shared that this helped her gain more confidence in her leadership capabilities.
Through her work, Valentina also realized her passion for social justice.
Combatting discrimination and the unbalanced effects that climate change has on different members of the community was something Valentina tried to focus on throughout the internship.
Broadening Her Horizons
If there was one thing Valentina could recommend to other undergraduates, it would be to do a study abroad program.
After her work with Alachua County ended, Valentina participated in the Environmental Ethics and Sustainability Politics study abroad program with Professor Leslie Thiele.
"I wanted to gain exponential experience when it came to a global perspective to see how countries in Europe – leaders in combating climate change – do it."
One of the biggest things that Valentina realized was the importance of follow through when it comes to public policy. In Europe, waste management rules for trash and recycling are implemented and enforced through fines. She says that this enforcement has led to a shift in social norms where everyone is appreciative of spaces and considerate of how they create and dispose of waste.
"You need to have a good set up to be sustainable… it's a lot of work but these countries are giving people the framework and foundation to make living sustainably easier."
Valentina hopes to implement more sustainable practices here through better transportation networks, walkable cities, and having organic products readily available and affordable with local producers.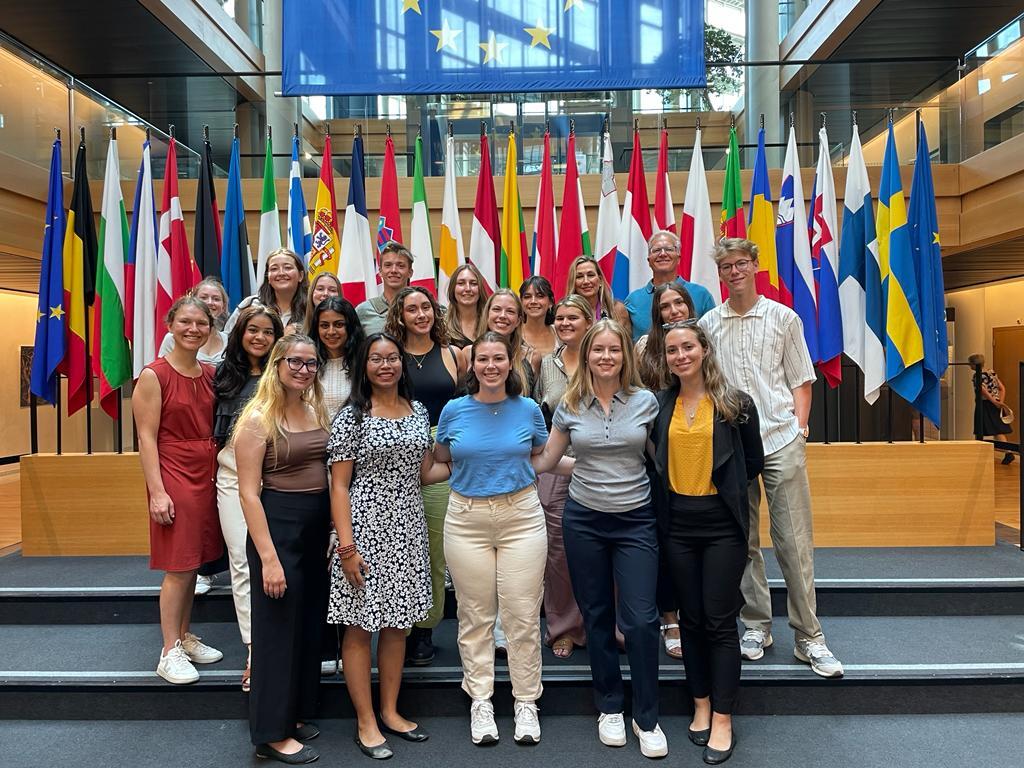 Sitting in on a meeting at the United Nations in Geneva is an experience Valentina describes as unforgettable. It was awe-inspiring to see so many different groups of people and countries coming together to collaborate on issues. She also says it was inspiring to see someone around her age speaking during the meeting, remarking it showed her "I can do this too."
"This is happening now, and it is possible to create change."
It's the Little Things
Learning about sustainability and the climate can oftentimes be overwhelming for those who are not in the field.
Valentina recognizes this negativity exists, so she promotes a positive, collaborative mindset that we can all do our part.
She has these five tips for friends and other college students looking to incorporate sustainability into their lifestyle: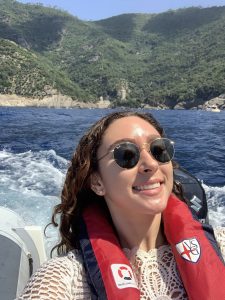 1. Enjoy nature and do activities outside.
2. Buy reusable products, such as totes, cleaning rags, silicon bags, and coffee cups.
3. Thrift at local stores and markets around town to avoid contributing to fast fashion trends.
4. Carpool with friends or use public transportation.
5. Avoid plastic straw and utensil use.
"We're influenced by those around us, it just takes one person to change someone else's actions."
---
Submit your recommendation for a student, faculty, or staff member to be featured in a future Green Gator of the Month article!