Green Gator of the Month: Elizabeth Walker
April 2023
Each month, the Office of Sustainability will feature members of the University of Florida community that are making a sustainable impact on a daily basis. Keep reading to meet our featured student for April!
Meet Elizabeth Walker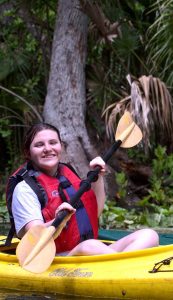 Elizabeth Walker, who also goes by Rocket, is a transfer student from Santa Fe College. Her current major at UF is Natural Resource Conservation.
Rocket is a Gainesville native, which has given her an added appreciation for local flora and fauna.
She was inspired to pursue sustainability and activism after attending an environmental education camp when she was 16 years old. Five years later, she is a co-director of the camp, "sharing the excitement and curiosity of our local environment with teens in Alachua County." She also adds, "It is incredibly rewarding and makes me excited for the future."
Supporting the Local Community with Local Activism
That background and surrounding have truly come to define Rocket's involvement and activities outside of the classroom.
In fact, Rocket was peer-nominated for this Green Gator feature due to the fact that she has "done so much for the local environmental scene."
Rocket is passionate about a variety of issues intertwined with the local community. She shares that her current focus has been on the local Ginnie Springs bottling plant. She's also interested and involved in supporting science education in schools with limited resources.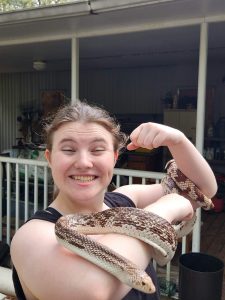 Though it's been challenging to fit it into her busy schedule recently, Rocket has also spent time advocating for the springs, fighting gentrification, and addressing environmental pollution in Gainesville. She believes it's very important to educate people on how these issues impact the greater Gainesville community and its future.
Additionally, Rocket has an internship with Ashton Biological Preserve where she works on habitat restoration and land conservation. The preserve itself focuses on preserving and managing the local ecosystems and houses endangered herptiles (both reptiles and amphibians). This opportunity has taught Rocket tons of new things, but also provides the balance she needs to avoid burnout!
Combining Well-being with Sustainability
Rocket learned an important lesson about how to balance sustainability in our lives the hard way.
"My freshman year I was so focused on sustainability that I would skip lunch if it produced plastic, or I wouldn't run my A/C even if I was sick and miserable," she shares.
These actions had negative consequences and delayed Rocket's ability to put forth her best efforts in the bigger picture of combatting environmental issues.
In the end, Rocket realized, "You are much more useful in fighting climate change when you take care of your well-being first."
That may mean that from time to time, you have to produce waste or perform an action that isn't super sustainable. That's okay!
Health and well-being are incredibly important aspects of sustainability initiatives everywhere, so be sure to review healthy ways to manage eco-anxiety for support when dealing with the challenges and pressures of climate impacts.
---
We are taking the summer off from the Green Gator of the Month series! During the break, please continue to submit your recommendations for a student, faculty, or staff member to be featured in a future Green Gator of the Month article!