Green Gator of the Month: Dustin Stephany
March 2023
Each month, the Office of Sustainability will feature members of the University of Florida community that are making a sustainable impact on a daily basis. Keep reading to meet our featured staff member for March!
Meet Dustin Stephany
This month, we connect with Dustin Stephany, Sustainable Building Coordinator in Planning, Design, and Construction.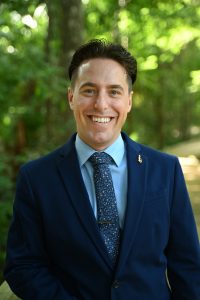 Dustin has a B.A. in Architectural Engineering and a B.A. in Construction Management. His After graduating, Dustin traveled to Europe on a fellowship to learn simple building design techniques for minimizing construction and demolition waste.
He followed that up with a Master's in Building Construction with a Sustainability focus here at UF. Dustin's early career work included building hospitals. He also held a position as an engineer in downtown Chicago designing military buildings and providing sustainability design concepts to international clients. Wow!
But, let's get back to Gainesville.
Sustainable Building Coordinator
Dustin's primary responsibility these days is administrating green building certification for UF's new construction and major renovations.
He assists project teams in project-specific sustainability action plan development. He also educates groups and organizations on the necessary protocols for reporting requirements on green buildings.
Green building certifications help with efficiency and keep everyone involved safe and healthy. At the same time, these green principles aid in minimizing environmental impact in the immediate vicinity, ensuring that all conservation attempts at UF can continue successfully.
Dustin adds, "Architectural design is often a reflection of our culture and I am happy to represent the green building movement."
Thus, Dustin is a big proponent of the role green buildings can play in meeting larger sustainability goals. He shares that green buildings promote energy-efficient utility usage which aligns with ease of maintenance. This is reflected in his support during the planning and implementation process of the UF Climate Action Plan 2.0.
Just like the Climate Action Plan, the results of green buildings go well beyond just the physical structure itself. "Green buildings optimize the learning environment by promoting health and well-being," Dustin states.
"Green buildings are investments for improving productivity while attracting and retaining top global talent."
Sustainable Accomplishments
Though Dustin's position as Sustainable Building Coordinator is new to the industry, he has certainly made an immeasurable impact that reaches well beyond UF. With Dustin's help, "UF has blazed a green building path that other universities can follow."
Dustin reflects that "understand [ing] and apply [ing] various green building techniques has been a wonderful opportunity and I am grateful to work with talented and supportive teams."
Dustin provides an incredibly helpful perspective that helps us remember that sustainable opportunities are sometimes overlooked. For example, Dustin encourages people to consider just how much time they spend indoors over the course of their day. Chances are, it's pretty high.
Dustin sees buildings and shelters as a necessity of life, but also as an area where minimizing environmental impact can make a significant difference. Because of this, he continues to be inspired by the role of buildings and "how we feel about the world and relate to one another.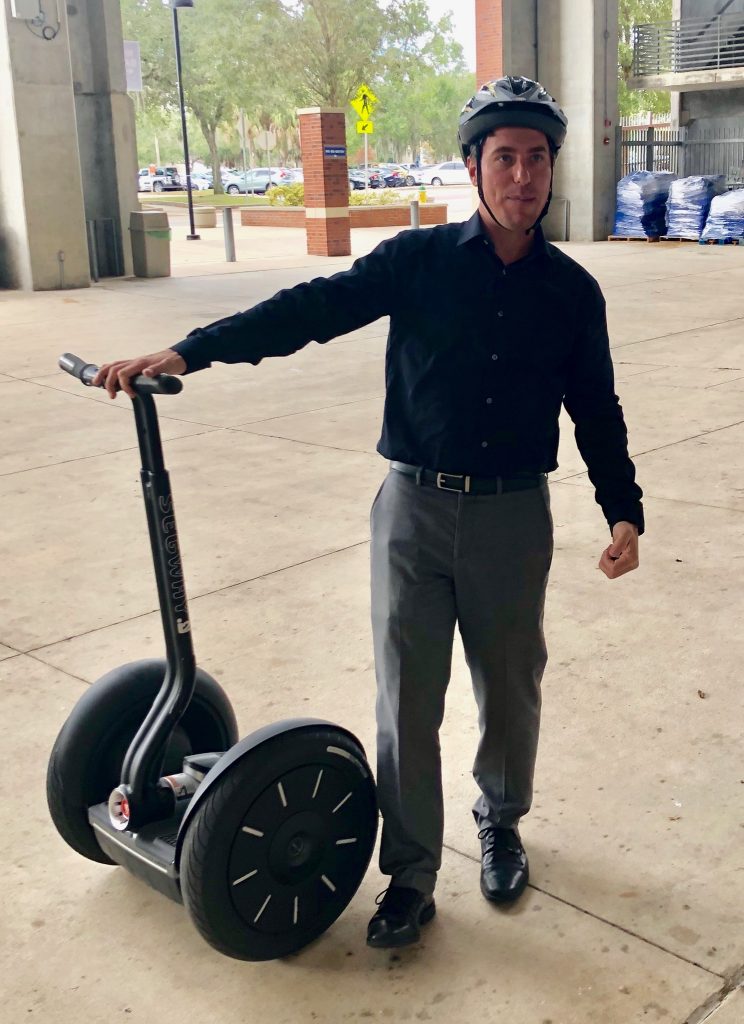 But Dustin's attention to sustainability practices is not just about buildings.
Dustin is driven by those who are hungry to learn and loves the supportive learning environment he finds at UF. He thrives off of people who search for new ideas and new concepts that can help improve the community.
"Education is one of the most important things we can do for our own health and well-being," he shares.
In fact, Dustin helped draft a college textbook on sustainable construction! He also received a Duke Energy grant to install solar on campus.
Furthermore, Dustin played a pivotal role in UF receiving the first Florida Green Building Coalition (FGBC) Platinum certification.
Dustin was also the first WELL-accredited professional at UF and he is completing the certification process to get UF's first WELL certification.
We can't wait to hear about the next accomplishment Dustin adds to this list!
Shaping the Future
When asked what advice he would provide to someone interested in a career in sustainability, Dustin shares some uplifting inspiration.
"The work that you all do is more important than you can imagine. The more time and effort you spend in this career, the more valuable you will become later in life."
Dustin also adds key observations that identify some of the top skills that sustainability careers will require. He believes that those with sustainability backgrounds will have an advantage in:
Chunking information
Understanding cause and effect relationships
Discovering new solutions to our current societal problems
Weaving Sustainability Into His Existence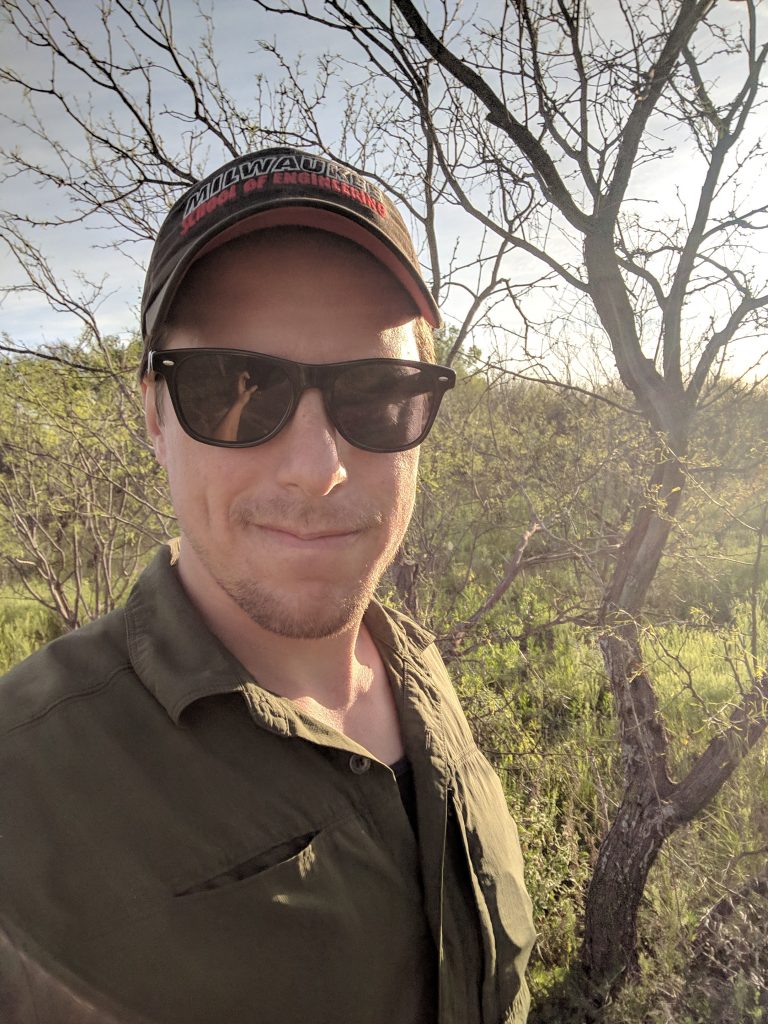 Outside of his work as a Sustainable Building Coordinator, Dustin is heavily affiliated with, and heavily influenced by, the Oneida Nation of Wisconsin. He identifies as a "new-aged Native American who is responsible for making our world more resource-efficient." 
Dustin credits his Native American background for showing him a life that prioritizes sustainability first.
He is inspired by many wise souls including the eagle, bear, wolf, and turtle. Dustin continues to champion the principles of sustainability as he remembers to hold space for those who have no voice – "we all have more in common than what can be seen at first glance."
Dustin leads by example in his life, incorporating sustainable ideals even in his leisure activities.
Dustin is a CSA shareholder and he composts. For fun, he plays disc golf. He is really interested in passive technologies such as gardens that grow themselves or what we can do with shade from a tree.
---
Submit your recommendation for a student, faculty, or staff member to be featured in a future Green Gator of the Month article!