Earth Day: It All Began With College Students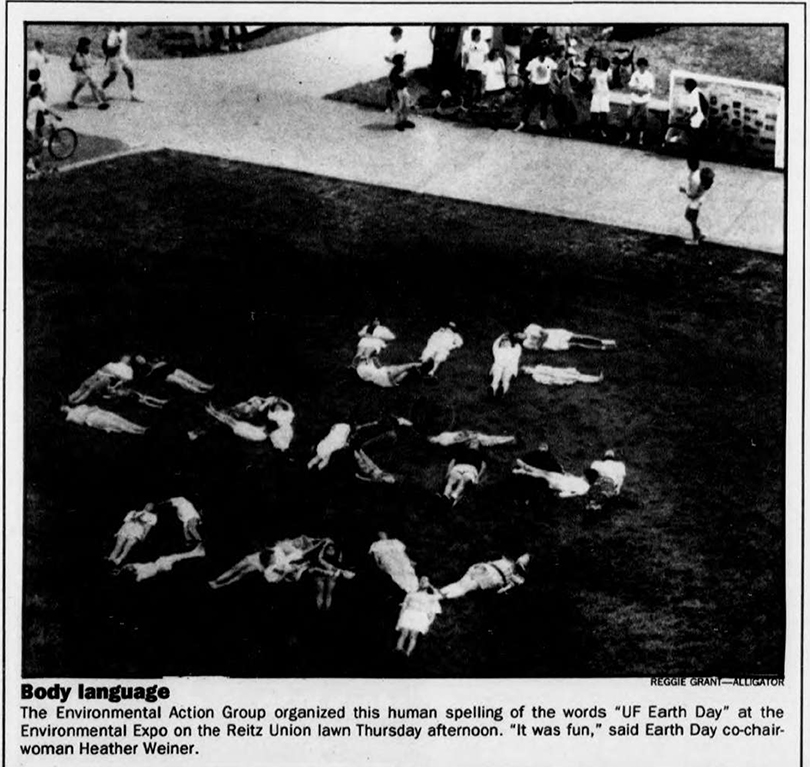 By Christi-Anne Weatherly
Sustainable UF Intern and Contributing Writer
Earth Day is just around the corner, and this year marks the 50th anniversary of its inception.
Looking back on Earth Day celebrations of the early 70s tells us that it was primarily college students to drive the agenda and eventual adoption of sustainable legislature by the government.
"One thing about students is there's a lot of energy and, I'm not saying this in any derogatory manner, there's a lot of idealism as well," said Will Callaway, the National Campaign Director for Earth Day Network, an international mission-driven organization around environmental campaigns.
In the decades leading up to the first Earth Day, most Americans were oblivious to the danger that pollution could pose to the environment and human health. Cars were inefficient and large businesses were polluting the air and waterways without fear of government pushback.
A turning point came in 1969 after the Santa Barbara oil spill, where 3 million gallons of oil leaked off the coast of California. It is currently the third largest oil spill in American history, after the 2010 Deepwater Horizon and 1989 Exxon Valdez spills. Thirty square miles of ocean became covered in oil within days, and birds and sea lions washed ashore covered in it. It was known as the environmental "shot heard around the world."
Around this time, many college students were active and vocal in their protest of the Vietnam war. Earth Day founder, Senator Gaylord Nelson of Wisconsin, saw an opportunity to channel that energy into a growing consciousness about air and water pollution. According to Callaway, Nelson decided college campuses would serve as the best location for Earth Day events.
With the help of Representative Pete McCloskey of California and Dennis Hayes (who was a college student himself at the time), teach-ins, rallies and demonstrations were organized on campuses across the U.S.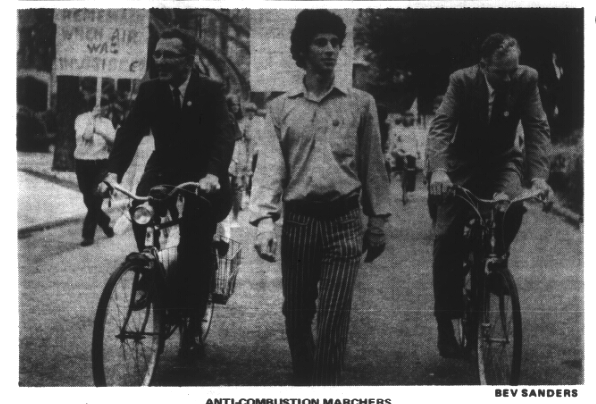 "That brought about a movement that I think has been sustained on campuses across the country, and globally now to some extent," Callaway said.
Then, on April 22, 1970, 20 million Americans showed up to participate in the world's first Earth Day.
College students were a large population of the audience that turned out. About 1,500 college campuses hosted some form of an environmental teach-in.
These teach-ins were large gatherings of community members and speakers to discuss the issues that were affecting their local area. The goal was to come away with tangible actions that one could use to mitigate these issues.
Some campuses hosted events like "trials against the automobile" to protest air pollution in the transportation sector.
Many of the students involved in planning these events went on to form their campus' first environmental clubs. Soon after was the development of environmental majors, programs and courses that hadn't existed before.
"What we've really been seeing from the youth movement is that they're really excellent at turning interests into action," said Sam Hunt, Earth Day Network's Global MobilizeU Campaign Manager. MobilizeU is a university outreach campaign as part of the Earth Day Network that unites students around Earth Day.
According to Hunt, there is a trend of sustainability being more closely linked with the university experience, and it's starting to influence how students are applying to schools.
Over half of college applicants have been found to say that environmental issues are a significant factor in their decision-making process, "and I think this number is only going to continue to grow," Hunt said.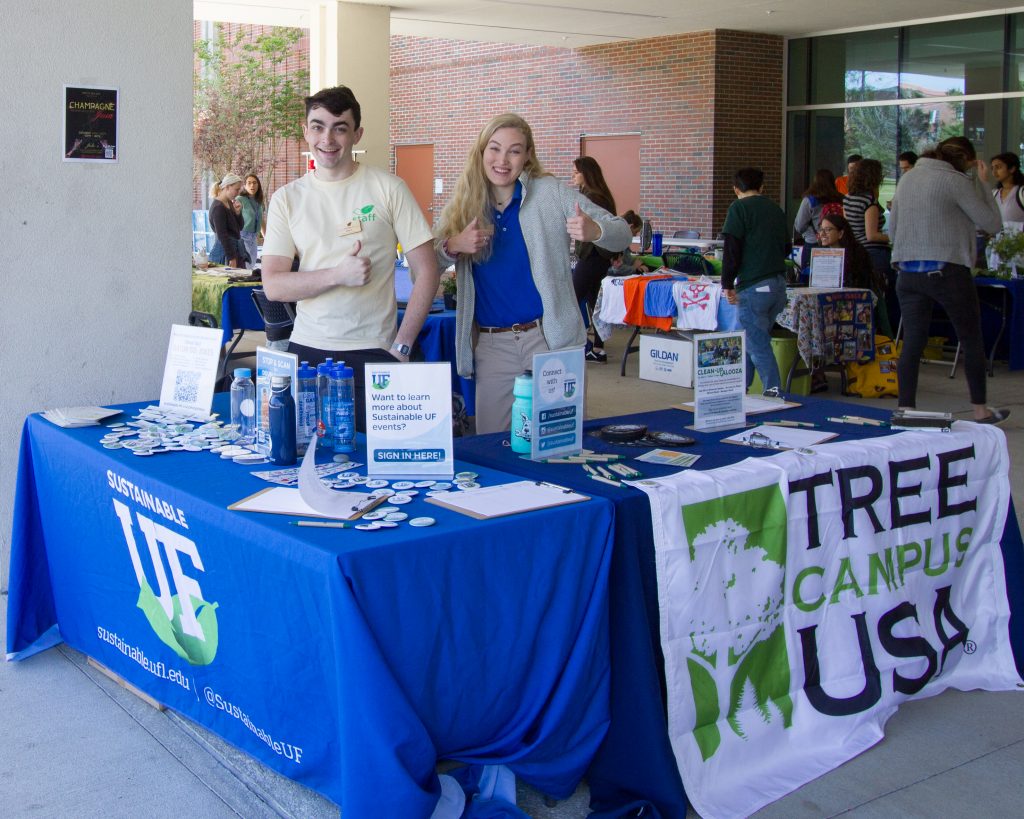 Today, we see more campus administration and sustainability offices take on the educational component of Earth Day. Many campuses host events during the week of Earth Day, and some even have programming for the entire month of April. But more and more student-led efforts are shifting the conversation to climate action, and the politics that come with it.
Hunt says that the students of today are faced with a lot of the same "environmental villains" as the students of 1970, with the addition of climate change being an overarching issue. One of the only differences now is the scale and the urgency, which are far greater now.
"We're looking at the 50th anniversary of Earth Day as…the quintessential platform to call for this change," Hunt said.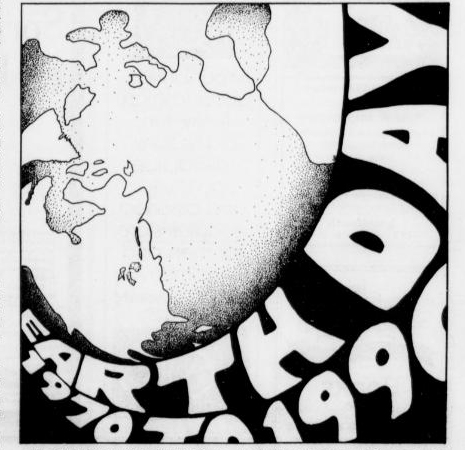 The efforts of students in 1970 led to huge legislative progress within just a couple of years; with the creation of the U.S. Environmental Protection Agency (EPA), as well as the passage of the Clean Air, Clean Water and Endangered Species Acts.
"The first Earth Day saw the passage of all of these different bills, and the creation of the EPA that's been so influential to the protection of our environment in the United States," Hunt said, "But you know, we're not there yet. We need to keep going now bigger and badder than we have in the past."
Hunt shared some advice on how students can still remain active in their celebration of Earth Day and their fight for environmental action during this time of social distancing:
"My advice to students is to, you know, just keep going; figuring out what you can do today, or tomorrow, or how you can rely on your peers," Hunt said, "Even if we're all isolated in individual homes in different parts of the world, there's still a community that is working dedicatedly on the environmental movement."
To learn more about Earth Day Network and the history of Earth Day, feel free to visit their website. If you're interested in learning more about the history of Earth Day at the University of Florida in particular, please visit our recent article featuring Dr. Bill Seaman.