UF CAP 2.0: Planning Process
UF CAP 2.0: Planning Process
A Shared Strategic Framework
The CAP 2.0 planning process was designed to identify common goals & values to build lasting buy-in across key stakeholder groups – bringing together staff in implementation roles, faculty with research knowledge, highly-involved students, & aspirational leaders to create a plan that is led by vision, grounded in expertise, and supported by action.
Through multiple rounds of facilitated sessions, the CAP Working Groups (comprised of about 80 stakeholders) developed a set of draft recommendations for visions, goals, & strategies across five major categories: Energy & Buildings, Transportation, Education & Research, Resilience, and Offsets & Finance. After several stages of review by the Advisory Group and key stakeholders, a strategic framework emerged:

The Planning Process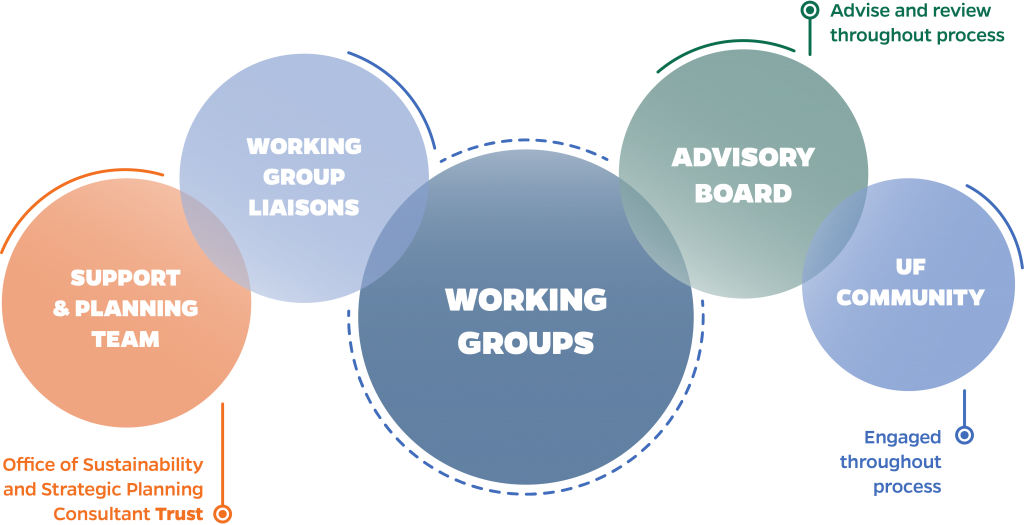 The Support/Planning team worked with six Working Groups and coordinated with Liaisons in each of these groups to identify and develop shared goals across the major areas of interest for climate action at UF.
In addition to core stakeholders, each Working Group includes four "open call" seats (a faculty, staff, undergraduate, & graduate student seat) – determined through an application process in January of 2021.
The cross-sectional Advisory Group provided guidance throughout the draft and review process to ensure the draft plan met the long-term vision of implementation across campus.

Community Listening & Learning
Parallel to the planning process, the campus community was invited to engage through multiple platforms that allowed for a better understanding of the most common questions & concerns and provided opportunities for students/staff/faculty to learn more. CAP Community Engagement opportunities included: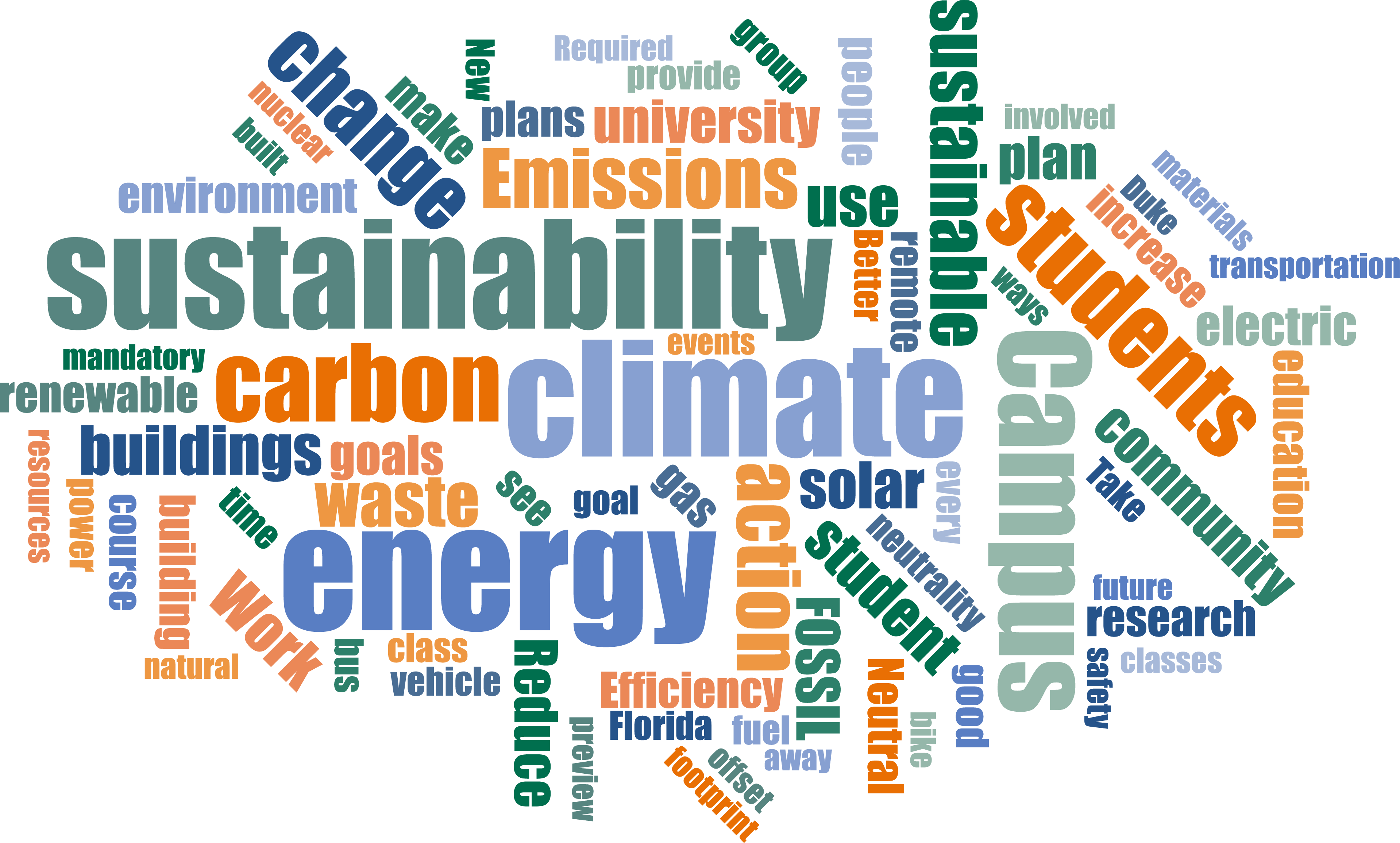 Guest attendance at the 2021 Working Group sessions
Climate Action Listening Sessions: 175+ comments & questions received over three large sessions
Interactive presentations for student organizations, UF departments, classes – 6 CAP Talks, 2 Faculty/Staff Lunch & Learns, 1 Student Conversations event over six months
Online Comment Form promoted throughout process
Regular monthly updates via Sustainable UF e-newsletter
Educational resources shared via website & social media
Planning Process Timeline

Review & Refresh
CAP 2.0 is designed to be revisited on a bi-annual basis for regular reporting, benchmarking, and evaluating for new targets. The action plans that support each strategy outline tangible next steps while remaining flexible to changing resources and opportunities. Strategies and action plans will continue to be evaluated for impact and resources required. In this way, strategies and actions with the highest potential for impact will be brought to the forefront of UF's Climate Action efforts.
Each refresh will involve key campus stakeholders and implementers to ensure UF Climate Action efforts continue to be aligned with campus planning, taking advantage of new opportunities, and fulfilling the university's mission & values.
---
You may also be interested in:
What is Sustainability? ᛫ Energy & Climate Action ᛫ Greenhouse Gas Inventory ᛫ Press Releases