Green Gator Graduation Cord Challenge
Green Gator Graduation Cord Challenge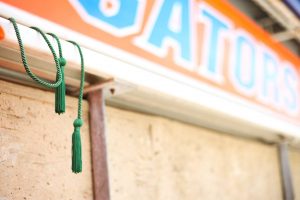 The Green Gator Graduation Cord Challenge is a program run by Gators Going Green at the University of Florida. Students who successfully earn at least 10 points and complete the required application form will be eligible to receive a green cord to wear during the commencement ceremony. For specific questions about the challenge, please e-mail Jerome.Scott@ufl.edu and president@sg.ufl.edu.
If you are graduating in SUMMER 2023, the application deadline is Wednesday, August 2nd. We suggest that you complete the application at your earliest convenience. Once approved, cord pick-up will be at the SG office from Monday, August 7 to Thursday, August 10. 
---
How the Challenge Works:
10 points are required to receive a green graduation cord
Points earned for "sustainability-related courses" cannot be combined with points earned for Sustainability Majors or Minors
Points can be earned throughout all undergraduate years of study at the University of Florida
For more information on events and their respective dates, "Like" Gators Going Green and Sustainable UF on Facebook. These pages will post the event calendar at the beginning of each month!
If you participated in an event, activity, or initiative that is not included in this point system that you believe should be worth points towards your cord, please email gggoperations@gmail.com and CC greengators@sg.ufl.edu with your request. Be sure to include information about the event, initiative, or activity, and Gators Going Green will review it for the possibility of being awarded points.
Point Scale:
1 point:
Volunteer at a sustainability-related event/through a sustainability organization (up to 3 points)
Attend a sustainability conference
Write a sustainability-related article that is published in the Alligator, Sun, WUFT, etc.
Volunteer at a large (minimum of 50 attendees) event that is green-certified by Sustainable UF (up to 2 points)
3 points:
Enroll in a sustainability-focused course (one point only)
Participate in a 5-day sustainability-related alternative break experience
Serve as an IRHA Eco-Rep for at least one semester
Present at an on-campus sustainability conference
Serve as an officer of a sustainability-related organization
Complete a sustainability-focused internship or externship for at least one semester
Serve as a member of the Joint Sustainability Committee
Undergraduate research in a sustainability-related field
5 points:
Present at an off-campus sustainability-related conference
Complete a sustainability-related minor
Participate in a 5-6 week sustainability immersion experience (study abroad or comparable)
Earn a Champions For Change Award
7 points:
Complete a sustainability-related major