Green Gator of the Month: Chloe Schwab
March 2023
Written by Sustainable UF intern Kendall Brockelman
Each month, the Office of Sustainability will feature members of the University of Florida community that are making a sustainable impact on a daily basis. Keep reading to meet our featured student for March!
Meet Chloe Schwab
We are blooming into a sustainable springtime with our March "Green Gator of the Month," Chloe Schwab!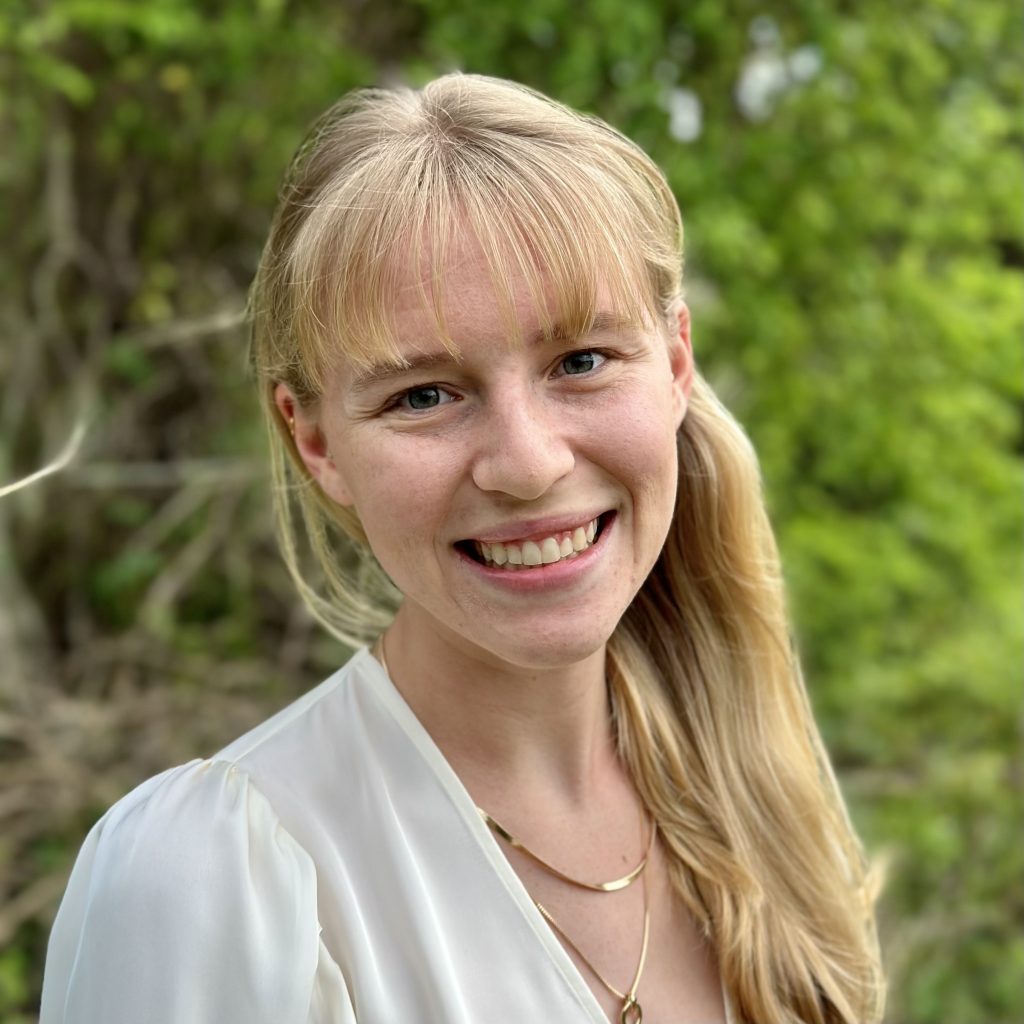 Chloe is a fourth-year Marine Sciences major with a minor in Zoology. She has found a way to combine her passions for animals and sustainability while pursuing every opportunity she can while at UF.
Hands-On Learning Experiences
Chloe loves her Marine Sciences major and values the program's small size and one-on-one relationships.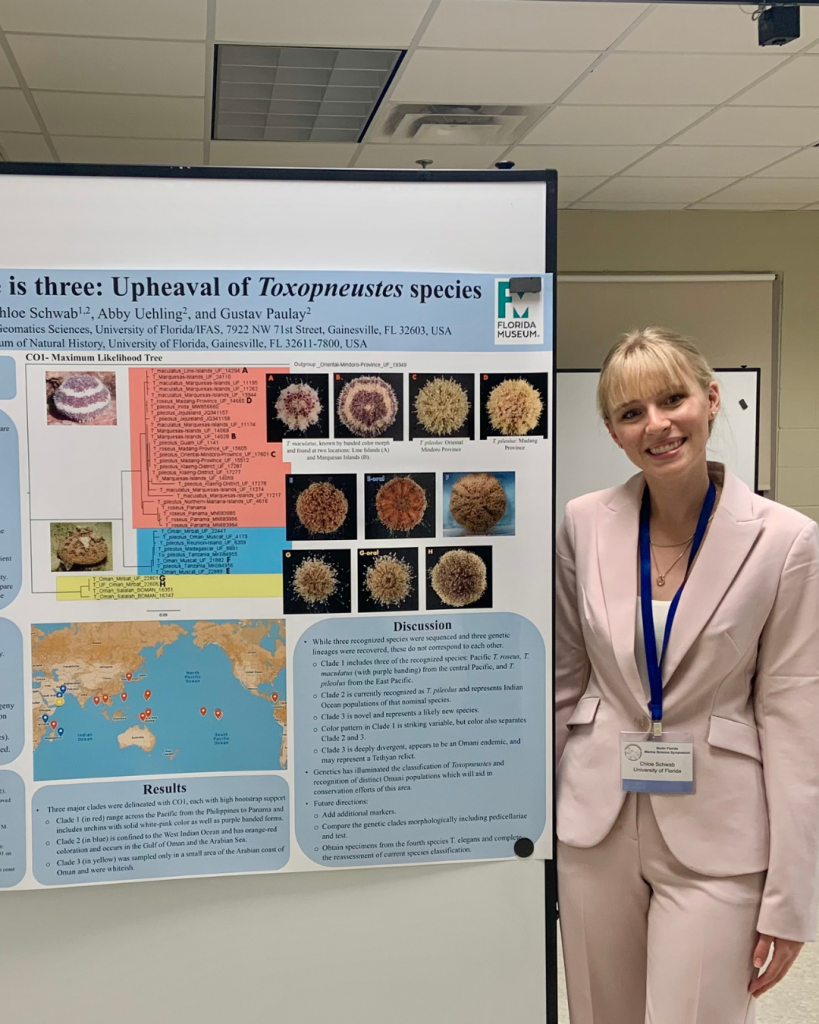 The most impactful academic experience she has had was a semester-long immersion program in 2022. Throughout the program, Chloe gained hands-on fieldwork experience in marine science – she even spent a month working at a biological field station in Curaçao!
Her program instructor there was Gustav Paulay, the Curator of Marine Malacology for the Florida Museum of Natural History. Chloe recalls him sharing the importance of documenting marine biodiversity before it's gone forever. This sentiment resonated with her as she believes "documenting biodiversity is essential for understanding and appreciating the natural wonders all around us." 
Research Strides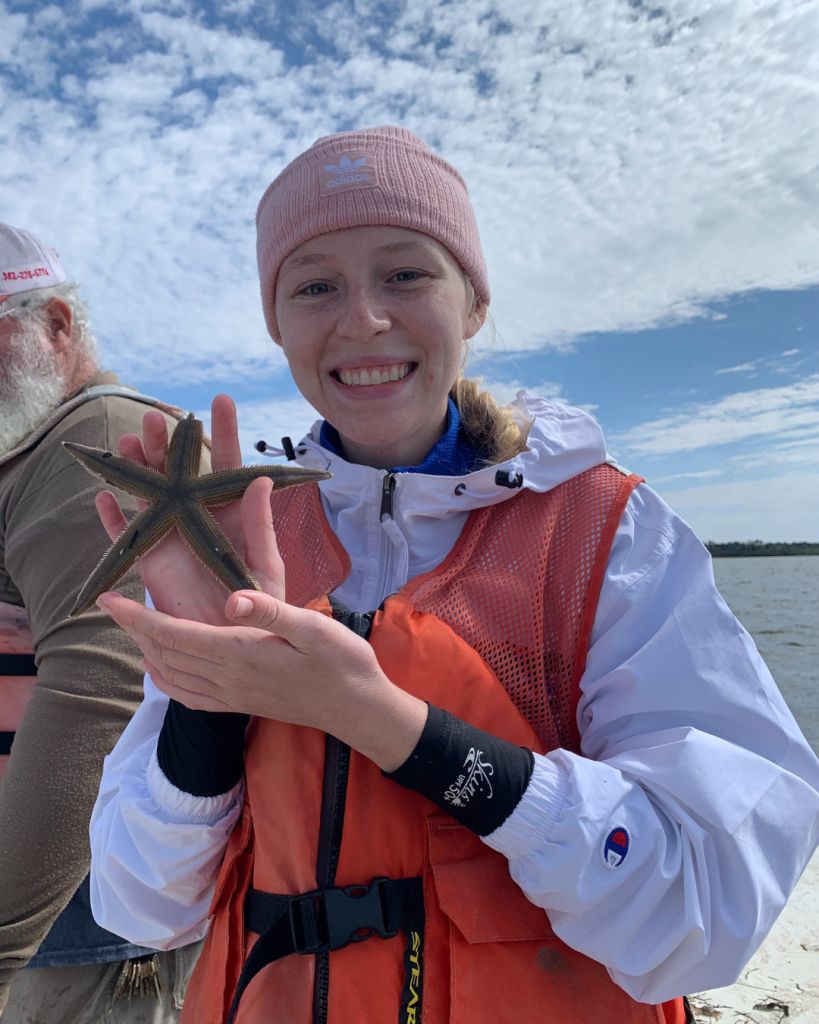 Another way Chloe has gone above and beyond in the marine sciences field is through working as a lab assistant in the invertebrate zoology department at the Florida Museum. While there, she completed an honors thesis on genetically sequencing sea urchins to create a better biodiversity baseline.
Chloe was even the sole undergraduate invited to assist with biodiversity sampling research in Ilo, Peru. She went with a research team and worked towards the goal of cataloging the local marine life. Chloe has set herself apart through her dedication to research that helps sustain biodiversity.
Recently, Chloe was recognized for her success at UF by being named a Top Ten Senior in the College of Agriculture and Life Sciences. She was chosen based on her accomplishments in academics and leadership. It is clear to see why Chloe was chosen as she dedicates herself both in and out of the classroom. She has been involved in many campus organizations such as the Marine Biology Club, Student Animal Alliance, and Unlitter.
Sustainability Wisdom
Despite being busy with all of her achievements, Chloe still makes time to practice and promote sustainability in her day-to-day life. She loves finding new ways to be sustainable in Gainesville such as composting at Beaten Path Compost and other local compost drop-offs.
The sustainable action that best aligns with her personal goals is veganism. Chloe has been vegan for four years now and is very proud of this accomplishment. She thinks it is important that people understand that a plant-based lifestyle doesn't have to be intimidating.
She encourages others to not feel pressured to change their lives overnight and to instead start with small changes, sharing, "any small step still makes an impact."
Chloe encourages us all to question what we can do in our own lifetimes that will make an impact on the environment. She is motivated by her gratitude for natural spaces and explains that "once you truly realize the beauty of life around you, it's natural to try to conserve it."
How will you shape your environmental impact?
---
Submit your recommendation for a student, faculty, or staff member to be featured in a future Green Gator of the Month article!