Action of the Month: Plastic Free July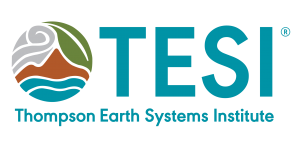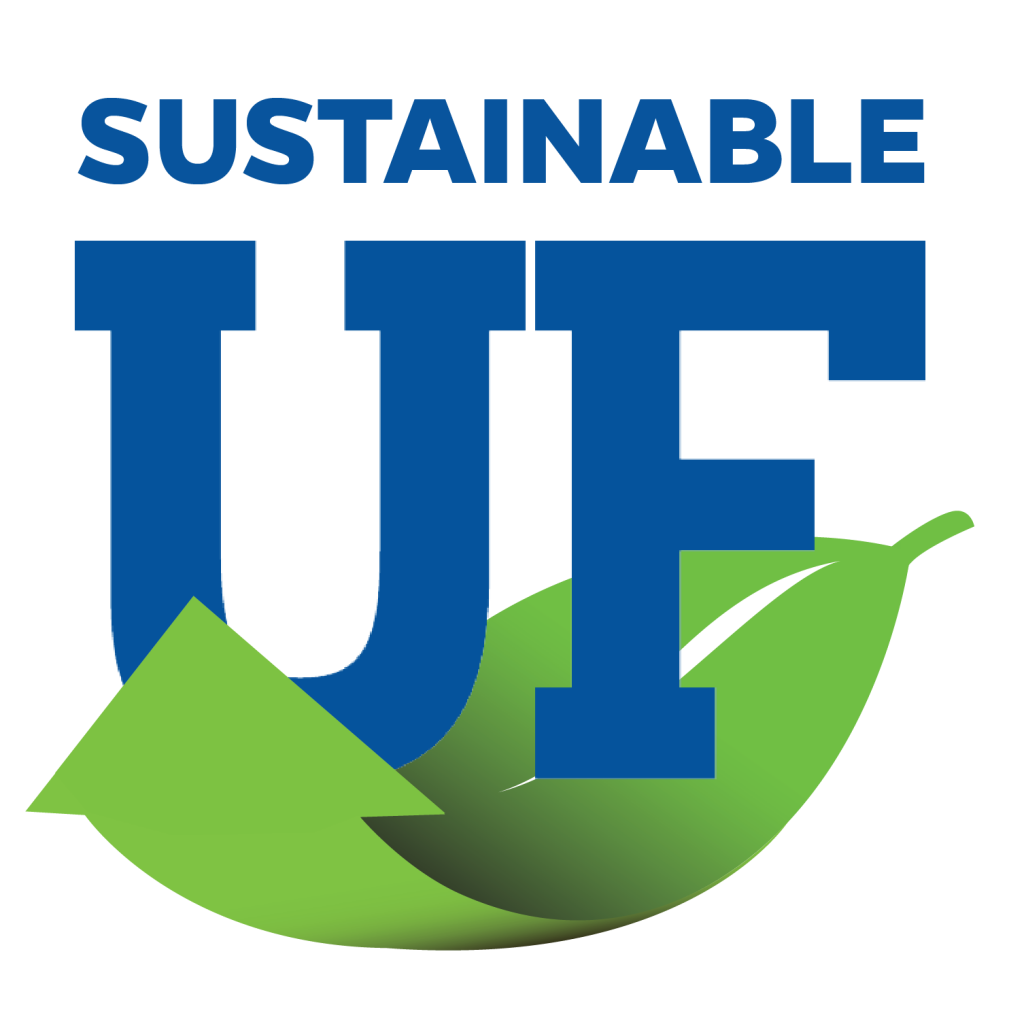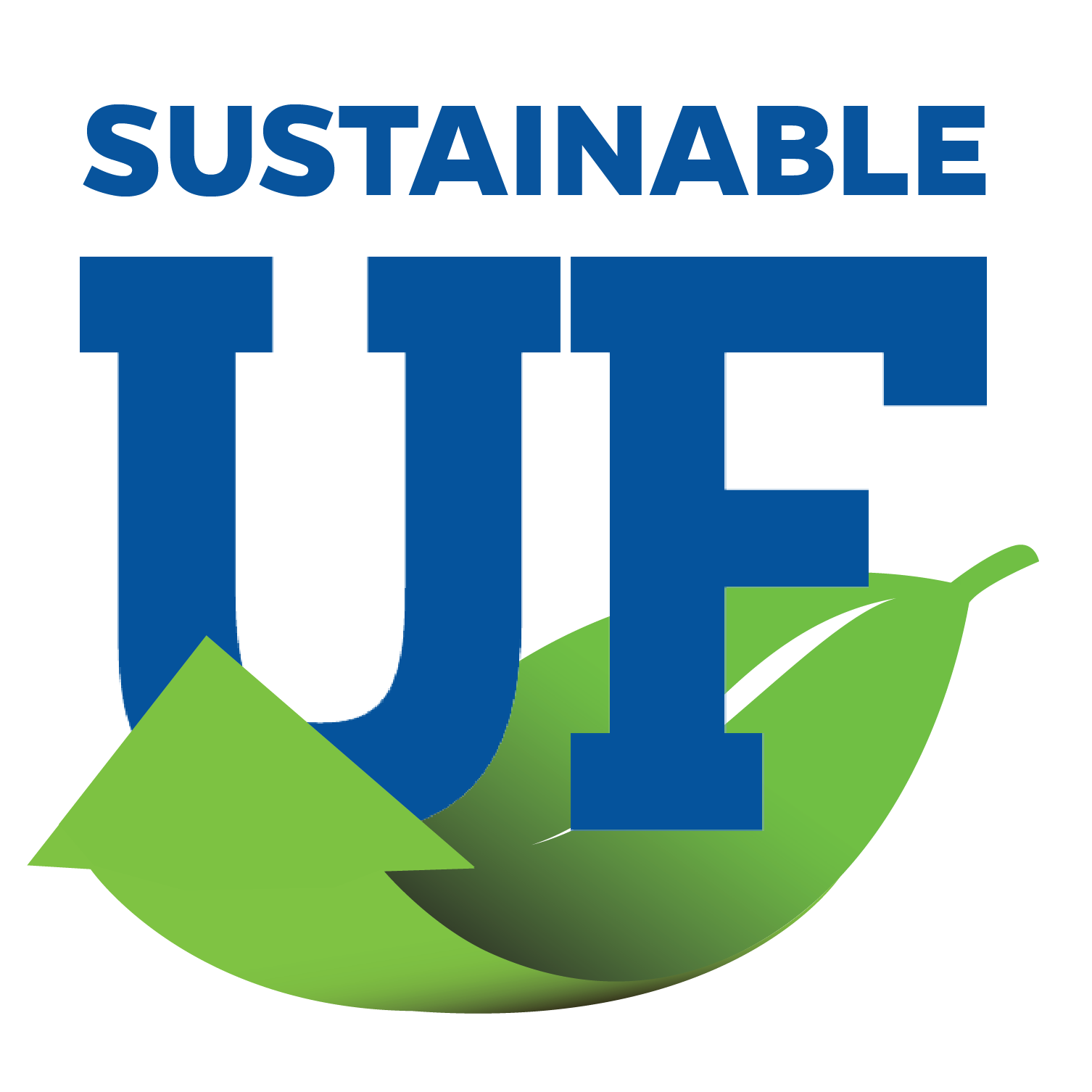 July 2021
Written by Astrid Rojas, Office of Sustainability Communications & Outreach Intern
In collaboration with the UF Thompson Earth Systems Institute.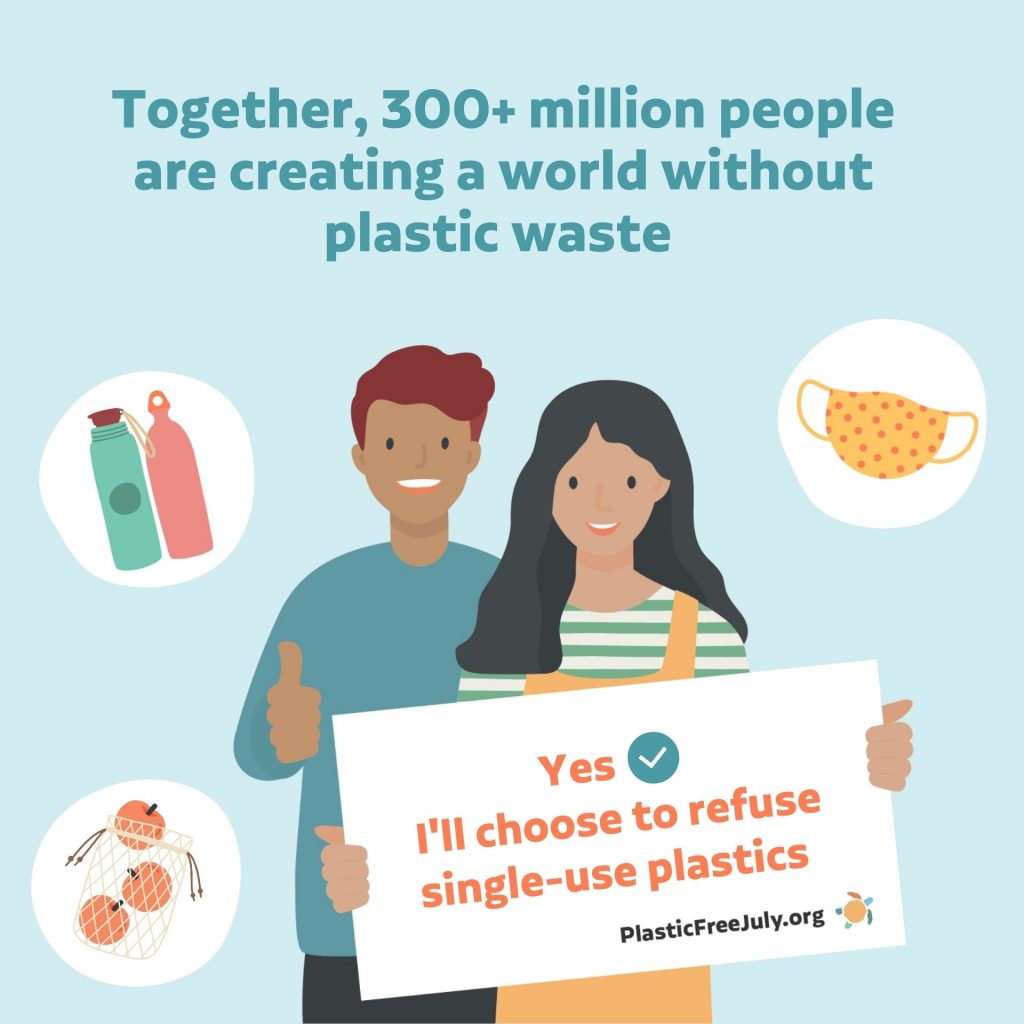 Hey y'all, Astrid here! I'm an Outreach and Communications intern with the Office of Sustainability and I'm here to talk about Plastic Free July! With plastic production expected to almost quadruple by 2050, plastic has become intertwined into our modern life and society. But with the right tools and knowledge, we have the opportunity to break the cycle and contribute to a less wasteful, more sustainable future. Let's dive into July's Action of the Month: Plastic Free July and learn more about the Plastic Free July challenge, the environmental benefits of reducing plastic and ways you can join the plastic-free movement!
First things first….what is Plastic Free July?
Plastic Free July is a global campaign to see a world free of plastic waste. Founded by Rebecca Prince-Ruiz and a small team of local Western Australian government officials in 2011, the campaign has since grown to an impressive 326 million participants!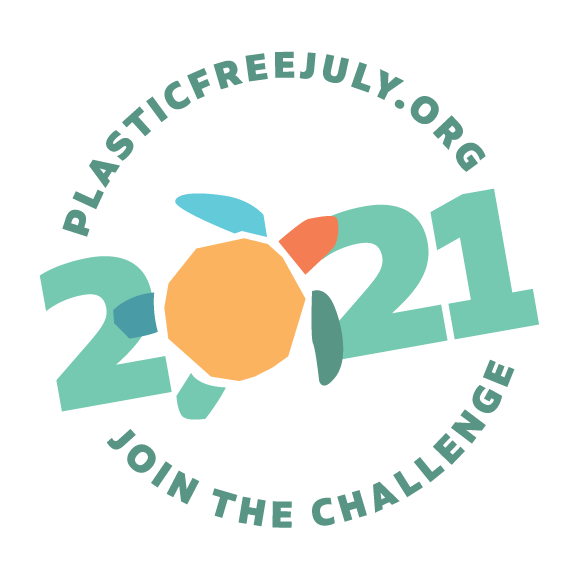 Actions taken by each of those individual participants add up to make a huge impact — in participation in this challenge spanned across 177 countries! Only 9% of all plastic ever produced has been recycled, the remaining 91% is now sitting in a landfill. Worldwide efforts like Plastic Free July help spread awareness in hopes of curbing our planet's exponential increase in plastic use.
The solutions promoted by Plastic Free July can have some significant environmental benefits. According to the EPA, taking steps to reduce and reuse helps:
Prevent pollution related to harvesting raw materials for plastic production
Limit energy needs and greenhouse gases related to producing new materials
Reduce the amount of waste that goes to landfills or incinerators
So how can I participate?
First, start small. Think about the different plastic products and items you use habitually and which ones you can swap out for a reusable alternative. For example, start with a reusable straw, mug, or shopping bags. Key word here is: reusable! Think about what can be reused and refuse what can't be.
There are lots of small steps you can take to reduce your plastic footprint. I recommend focusing on finding swaps that work for you! For more ideas for simple swaps based on your lifestyle, check out this helpful video from the UF Thompson Earth Systems Institute or the Getting Started Guide created by Plastic Free July
For even more ideas on ways to get started, we asked the Sustainable UF staff and interns to share some of their favorite simple swaps:
Isabelle: I started using less plastic in my shower and skincare routine! I swapped my plastic mesh bath sponge for biodegradable loofahs and sponges. I also swapped my skincare products for biodegradable products without micro plastics. This switch is a great way to reduce the amount of micro plastics that can end up in our water supplies and it also reduces the amount of plastics that end up in landfills!
Bryce: My favorite plastic swap that I use on a daily basis is a reusable water bottle! They're great because not only are they trendy and extremely functionable, but they reduce waste by cutting down the amount of plastic water bottles in circulation. They also protect wildlife that are in danger of consuming these single-use plastics.
Chloe: The first plastic swap I started to use regularly were reusable grocery bags, which are more sustainable for multiple reasons. Opting for a material that can be used more than once is one way to reduce waste but it also prevents consequences of using plastic bags specifically. They have proven difficult to recycle, creating long-lasting waste, and pose a threat to wildlife if not disposed of properly. This makes switching to reusable bags a simple but impactful swap!
Natalia: I switched over to reusable produce bags about a year ago and haven't gone back! I recommend this switch for the following reasons:
Reduces the amount of plastic waste. When I took into account how much waste I was producing by plastic produce bags week after week, for years, I was motivated to make the plastic-free switch. Cotton produce bags are convenient and reduce plastic waste because they can be reused time and time again with a quick wash!
Helps keep foods fresh: Cotton produce bags also help your produce last longer, preventing food waste! Thicker skinned produce like potatoes, onions, garlic, and tomatoes benefit from the air circulation that cotton bags provide.
There are lots of small steps you can take to reduce your plastic footprint. The key is finding swaps that work for you! For more ideas for simple swaps based on your lifestyle, check out the Getting Started Guide created by Plastic Free July.
More Ways to Increase Impact with Plastic Free July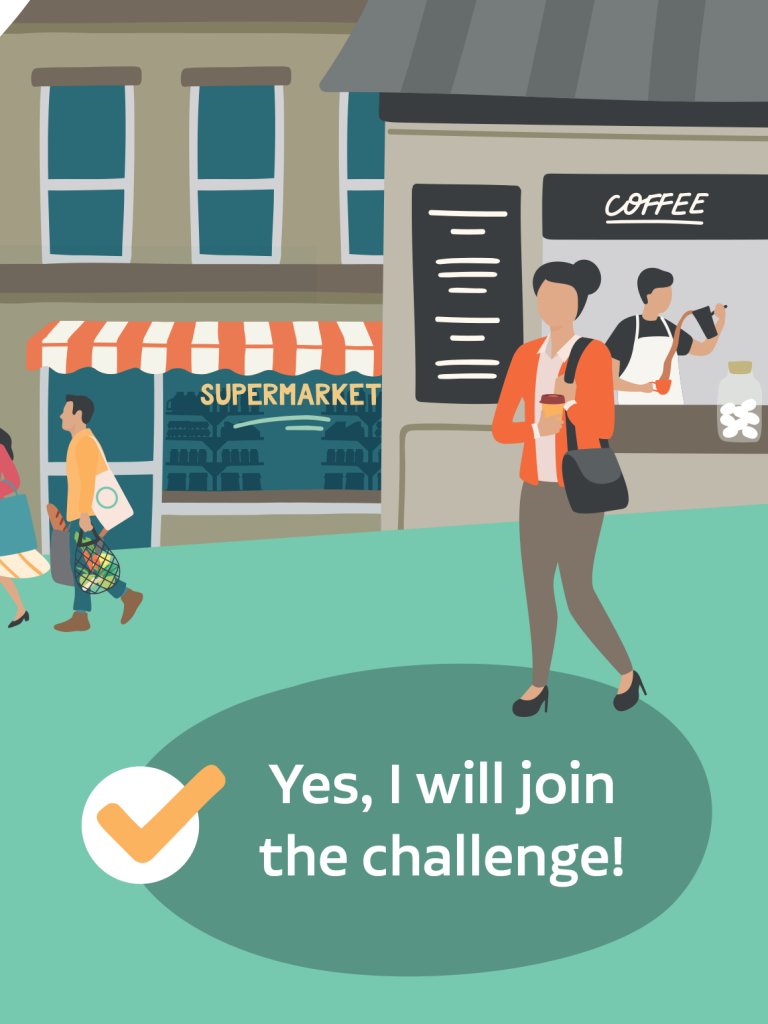 While Plastic Free July challenges individuals and organizations to consider plastic use during one month of the year, it acknowledges that this is only the first step. The Plastic Free July campaign aims to set up a framework for continued plastic reduction including:
Empowering and supporting individuals to make personal changes which often expands into communities and workplaces.
Sharing positive stories to impact a wider audience and inspire others to participate.
Driving systemic and cultural change through community action.
Looking for more ways to increase your impact with Plastic Free Julyi? Check out some the actions shared by past Plastic Free July participants in the 2020 Impact Report:
"Becoming the recycling coordinator at work"
Extend your passion for the planet beyond your personal habits and think about how you bring impact to larger networks, such as your work community! Bringing the Plastic-Free July pledge to five of your coworkers could lead them to bring this mission to five of their family and friends who then can in turn teach five other family and friends. A "drop in the ocean" can quickly become a wave! Click here to see how others have done it.
"Organised a zero waste festival"
With vaccinations and safe gathering increasing for many this summer, consider bringing together some of your closest friends and family for a plastic-free celebration. Who said waste and recycling can't be fun?
Beyond reuse and refuse
Apart from avoiding plastics, another aspect of addressing plastic waste is recycling. However, recycling can be a bit more complicated than most assume. Recycling is often different from county to county, even city to city. Understanding what is recyclable in your area is key to making sure that your plastic waste is recycled and stays out of the landfill.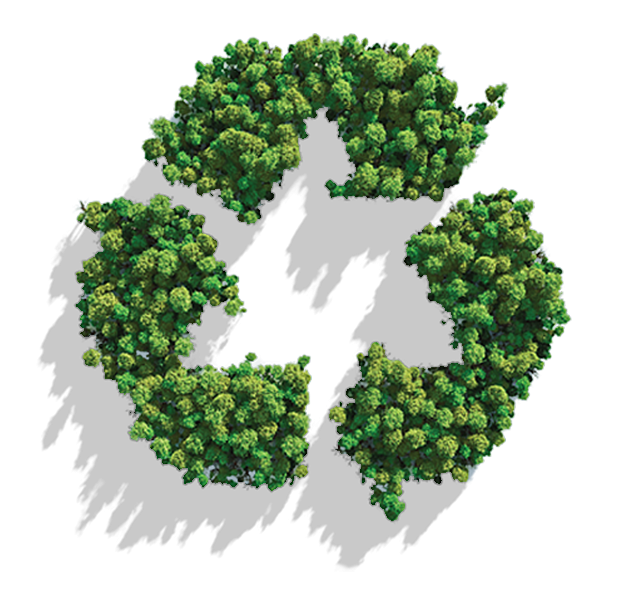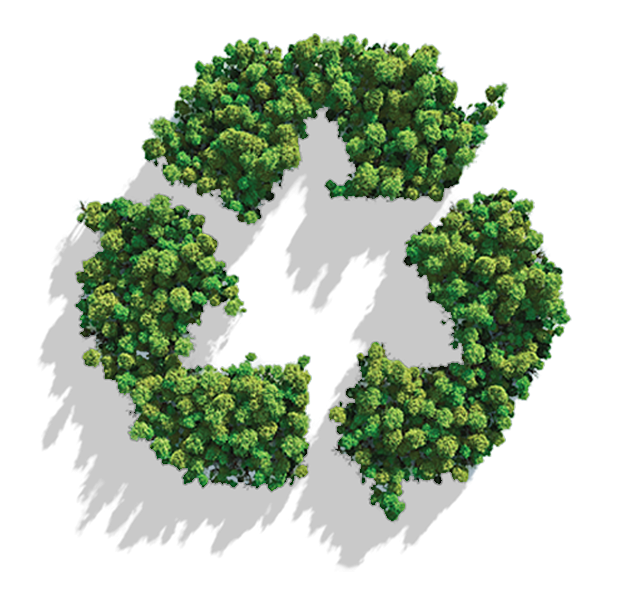 Part of your goal is to avoid wishcycling, or placing items that may appear recyclable but are often not (e.g. plastic drink cups or plastic film) into the recycling bin, which leads to contamination that can ruin or undermine your efforts. I've been guilty of it a few times, especially when traveling to new cities, which is why it's so important to be aware of whether a specific item is or isn't recyclable in your location.
Find local recycling regulations and resources by zip code in this database by Keep America Beautiful. If you're in Gainesville, I recommend visiting this website to see what is recyclable and what is not. Further, here is an easy guide of what you can recycle and where you can recycle at UF.
If you're passionate about combating plastic use and improving recycling, explore ways you can get involved on your college campus! For example, if you're a student, staff or faculty at UF, take the Interaction with Recycling on Campus survey here to help experts improve UF's recycling program!
To summarize:
YOU'RE INVITED to participate in Plastic Free July, keep an eye out for what is and isn't recyclable in your city, and refuse what isn't!
Happy Plastic Free July,
Astrid