Congratulations to the 2021 Champions for Change!
The following people and programs were selected in 2021 to receive Champions for Change awards for their significant contributions in the areas of Sustainability or Health & Well-Being.
---
In the category of Sustainability:
Sustainable Development Goals Faculty Guide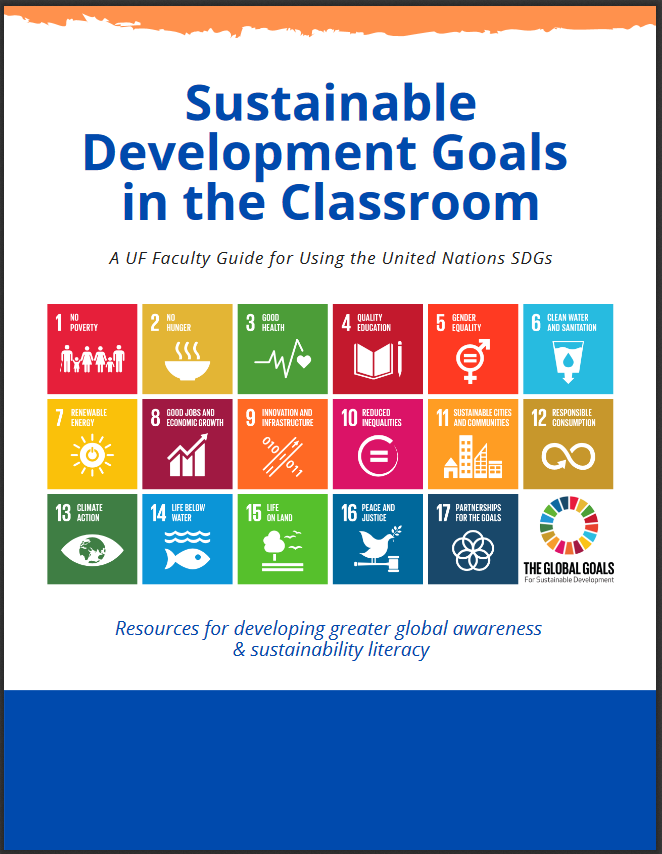 A group of UF faculty and staff came together in 2020-2021 to create UF's first ever Sustainable Development Goals Faculty Guide. The guide is based on the belief that the United Nations Sustainable Development Goals offer a framework for interdisciplinary work to advance sustainability awareness & literacy and shares a collection of resources for UF faculty. The guide is invaluable in supporting the integration of sustainability learning outcomes throughout academic courses and establishing UF as a leader in this area. See the full guide here.
This team was led by Dr. Natalie Coers (CALS) and included Amy Brown (CALS), Dina Liebowitz (CALS), Bahar Armaghani (DCP), Rania Gollakner (UF One Health), Andy Noss (MDP), Glen Galloway (MDP), Matthew Williams (Office of Sustainability), and Fiona Hogan (Office of Sustainability).
Nathan Lindsay
As HVAC Superintendent for UF Department for Housing and Residence Life, Nathan Lindsay spearheads the ongoing effort to conserve energy within student housing facilities that are not fully occupied during the summer months. Through testing location-specific HVAC and door configurations, Nathan and his team have begun developing protocol to achieve optimal conditions in each of residence halls across campus. Nathan and his team then work with maintenance and building services teams across campus to ensure that housing facilities are configured correctly according to occupancy. Though this initiative has not been fully implemented campus-wide, housing has experienced a 45% reduction in electrical usage in one case and averages 37% reduction in electrical usage across facilities while buildings are configured. Nathan says that the initiative will also continue to monitor the potential energy and fiscal savings in other utilities such as chilled water and steam as testing continues.
Kristin Joys, Ph.D.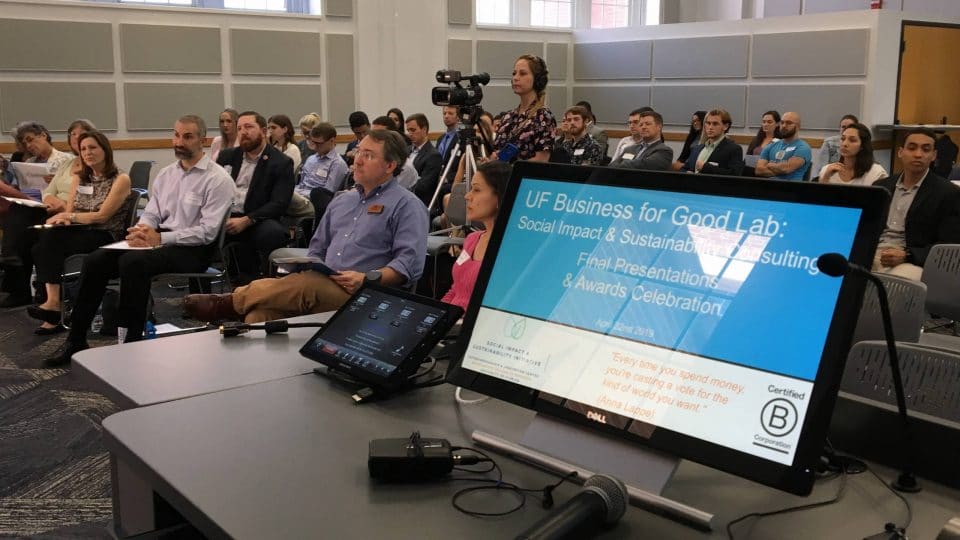 While primarily nominated for launching UF's Business for Good Lab, Kristin Joys has been a champion for social entrepreneurship at UF and beyond for several years. The Business for Good Lab: Sustainable Business Consulting program is just one of the many programs that Dr. Joys has helped create to educate and inspire students on social impact and sustainable business. Since being launched, 132 students have gone through the Business for Good Lab course, helping 24 out of 33 Florida-based companies track enough points to received B Corp Certification – a business standard of verified social and environmental performance. Other notable programs that Dr. Joys has spearheaded include the Social Impact & Sustainability Initiative in the Warrington College of Business and the Young Entrepreneurs for Leadership & Sustainability (YELS) Summer Program for High School students
Save McCarty Woods Campaign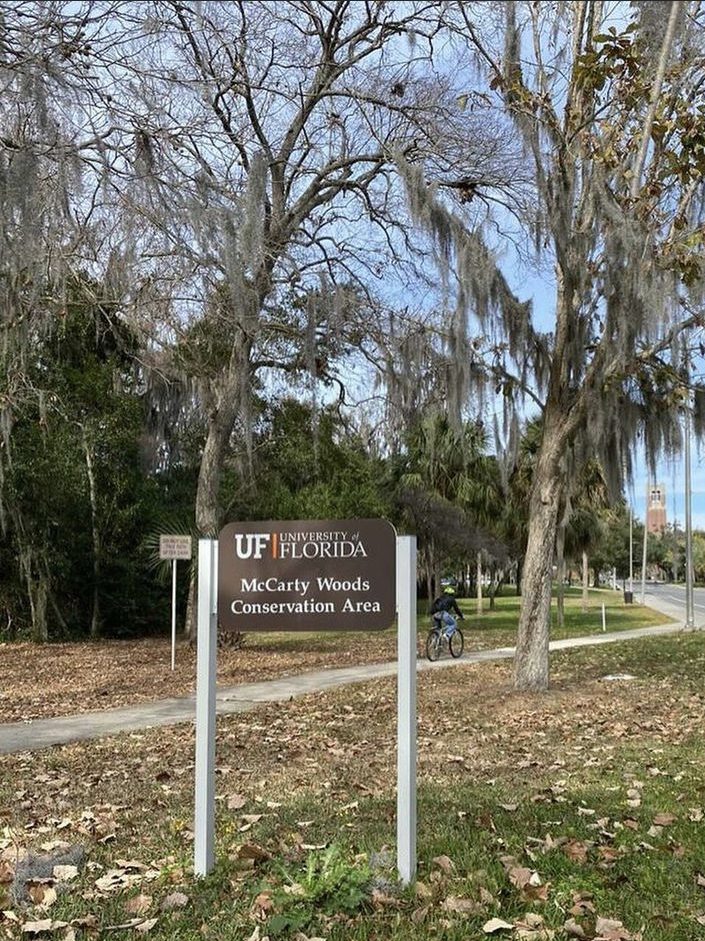 For the Save McCarty Woods Campaign, multiple students collaborated to preserve McCarty Woods conservation area status and prevent it from being developed for academic use. The campaign (@SaveMcCartyWoods on Instagram and Facebook) implemented online petitions, media outreach, communications with UF administration and on-campus demonstrations to increase awareness and support for protecting a biodiverse conservation area. After achieving this goal, the Save McCarty Woods Campaign is working to transition to a more permanent organization whose mission is to advocate for conservation management on campus and increasing student involvement in these efforts.
Brooke Whitaker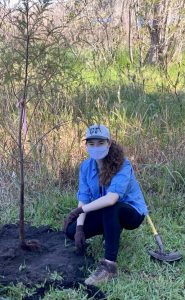 Brooke Whitaker, a senior UF undergraduate student majoring in English and Geography, is receiving recognition for her efforts to commemorate and protect what many UF faculty believe is the oldest known living tree on UF's campus. Given the tree's age relative to a commonly-held starting date for the Anthropocene epoch (1750), Brooke proposed that the tree be renamed UF's "Anthropocene Tree." In Brooke's Honors Thesis, she digs deep into how the 97-foot tall tree was aged, the history of the tree on campus and the significance of longleaf pines to Florida ecosystems (view the StoryMap here). Brooke and her advisor recently presented to UF's Lakes, Vegetation and Landscaping Committee and received unanimous support in moving forward with an application to have an official historical marker placed at the tree.
---
In the category of Health & Wellbeing:
Nekia Jones
According to her colleagues, Nekia Jones is known for going above and beyond her role as Administrative Assistant in the Materials Science and Engineering Department to provide exceptional support for students, faculty and staff. She is responsible for creating a Canvas site to onboard new employees during the COVID-19 pandemic, allowing employees to have a low-stress seamless transition into the department. Nekia was also instrumental in the creation of the Safe Spaces program with the support of the Department Chair and Dr. Ebony Oakfor. In response to the televised death of George Floyd and other members of the black community, the program supports the wellbeing of students and provides a judgement-free zone for students to commune, often with a counselor present. Clearly a champion who is involved in many ways, Nekia is also a key staff representative on the IDEA Coalition, whose mission is to co-create policy changes and implement solutions to increase diversity and access within the department.
Callie Mims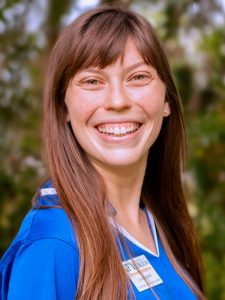 Callie Mims is a 4th year AWARE Ambassador for the UF Counseling & Wellness Center, focused on supporting mental and emotional wellness of college students. During the COVID-19 pandemic, Callie was instrumental in developing the AWARE Live Program. AWARE Live is a series where CWC Aware Ambassadors connect with students on Instagram Live to discuss relevant and timely topics related to mental health. Ambassadors share experiences with coping with mental health, suggest tips, provide strategies, and discuss resources to support collegiate wellness. The AWARE Live episodes are posted on the CWC IGTV channel, with 13 episodes completed in 2020-2021 academic year.
CWC Talks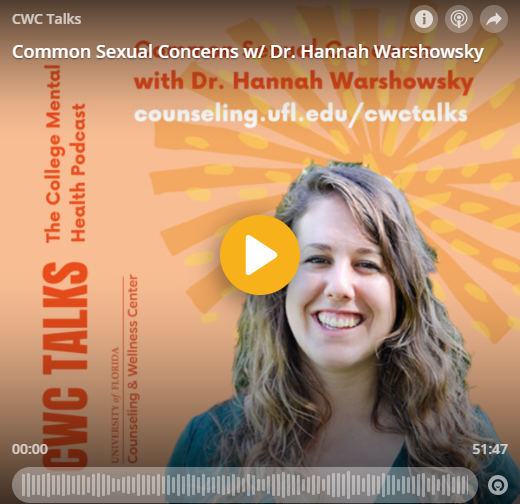 Beginning in June of 2020, the CWC Talks podcast focuses on sharing honest conversations about mental health and wellness on campus and beyond. Over the past several months, the team behind CWC Talks has hosted and recorded 3 seasons including 34 interviews and has 4,328 downloads, 124 subscribers and international reach. The CWC Talks team coordinates guests to share personal experiences and resources on a variety of topics relevant to undergraduate and graduate students. The podcast has encouraged students, parents, faculty, staff and others to have conversations and connect with counseling resources inside and outside UF.
The members of this team includes Adriana Fernandez, Dr. Rosa West, Dr. Sara Nash, Dan Ypsilaniti.
Black Qweens Corner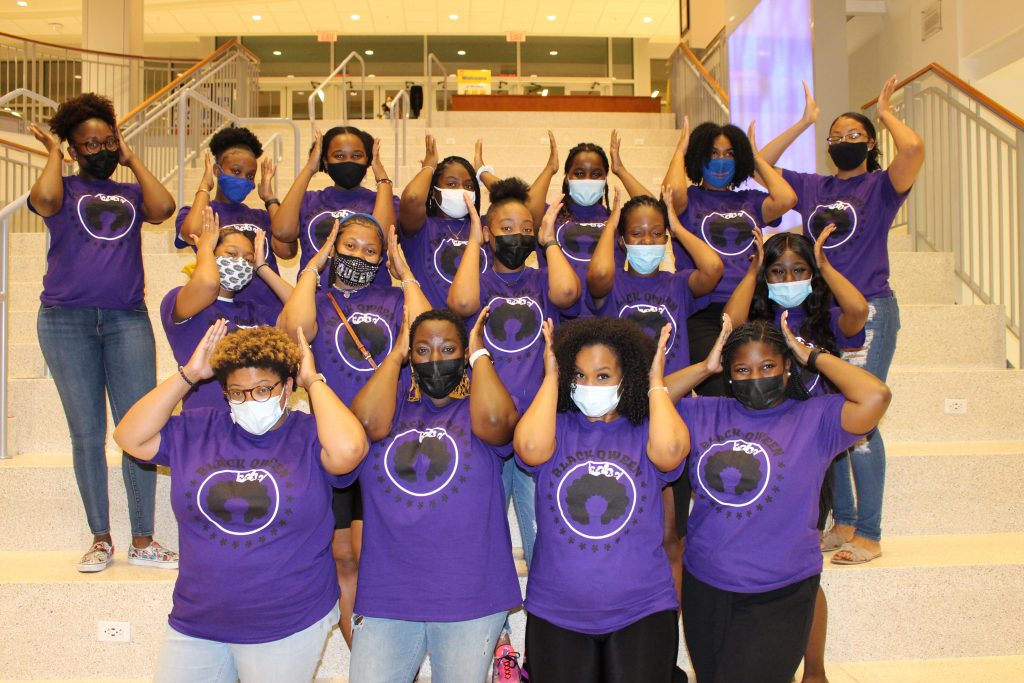 In 2020, a group of UF staff within Student Affairs recognized the gap in resources for black undergraduate women and created Black Qweens Corner in response. Black Qweens Corner aims to provide a safe and empowering space for black undergraduate students to find support through community, healing, mental health, and become educated about various topics regarding black womanhood. Through monthly large group sessions and a small dedicated cohort, the program reached a range of participants from first year students to seniors, and provided mentorship and resources to help them navigate their experiences while at UF and beyond.
The members of this team includes Patricia Jordan, Ashley Cofield, Jerri-Berry Danso, and PJ Jones.
Hélène Huet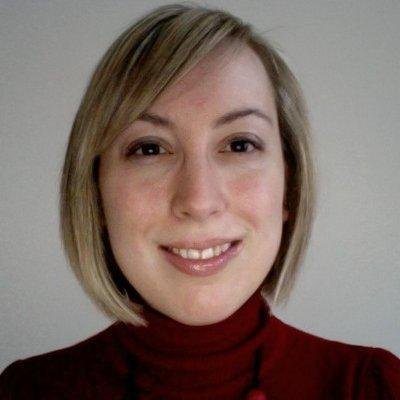 As Co-Chair of the Collective Bargaining Team for the UF United Faculty of Florida, Hélène Huet was instrumental in securing paid parental and medical leave for thousands of UF faculty and staff members across campus. After Dr. Huet and Dr. Lisa Scott presented on the importance of parental & medical leave and offered a bold proposal on how UF could implement these policies at the first meeting to renegotiate in April 2019, Dr. Huet continued to champion the policies at each weekly meeting. Then in Spring of 2020, when UF offered a counter-proposal, Dr. Huet worked to build support for amendments until agreement was reached for a policy that was implemented in January 2021.
---
Learn more about the Champions for Change Awards and the winners from previous years here.