Sustainability Into Practice: Climate Change & Community Resilience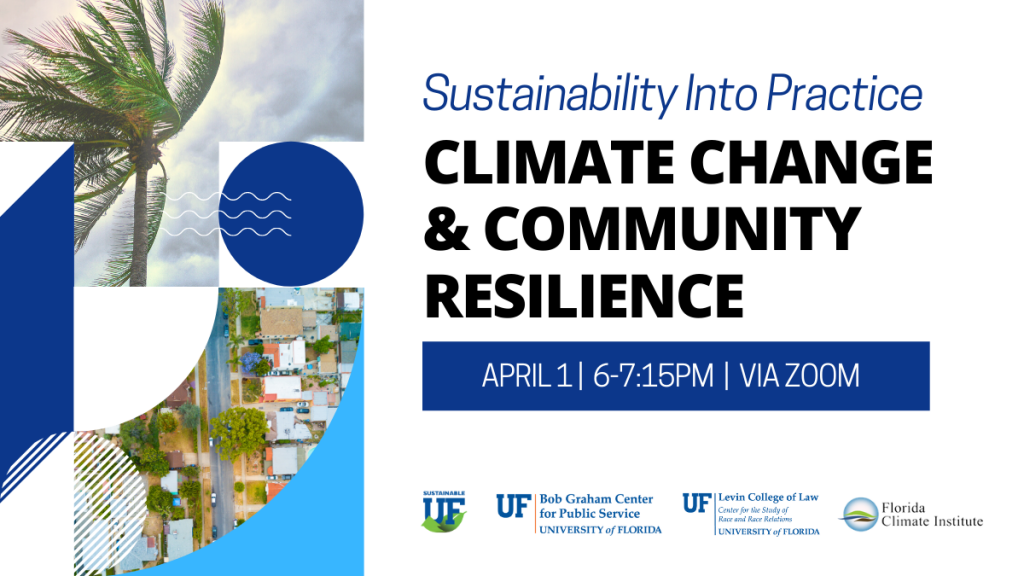 Please join us on April 1 at 6pm for the final piece in the 3 part "Sustainability Into Practice" series, hosted by UF's Office of Sustainability and Bob Graham Center for Public Service, in partnership with the Florida Climate Institute and UF Thompson Earth Systems Institute.
Throughout this series, we've heard from local and national experts on ways that environmental and social issues, such as climate change, housing, human health and racial justice are interconnected in Florida and beyond.
Communities are already feeling the impacts of climate change and many are working to develop robust plans to build up community resilience – defined as the ability of a community to anticipate, adapt, and flourish in the face of change. With climate change impacts such as sea-level rise, severe storms, flooding and increasing temperatures, it is even more crucial to use the lens of resilience to anticipate immediate hazards and long-term effects in ways that center equity and community.
Event attendees will learn ways they can take action in their studies, careers and everyday lives to contribute to a more sustainable future for all.
Moderated by Jason von Meding, Associate Professor, M.E Rinker, Sr. School of Construction Management, Florida Institute for Built Environment Resilience (FIBER)
Panelists:
Lolita Jackson, Executive Director of Communications & Sustainable Cities at Sustainable Development Capital, former Climate Diplomat for NYC Mayor's Office, former Chief of Staff to the NYC Senior Advisor to the Mayor for Recovery, Resiliency & Infrastructure
Marjorie Prokosch – Postdoctoral Associate in UF Disasters, Trust & Social Change Lab, M.S. and Ph.D. Experimental Psychology
Lindsay Kallman – Co-founder and Executive Director for Community Spring Gainesville, Public Health Specialist and Social Justice Organizer