Student Conversations: Careers in Sustainability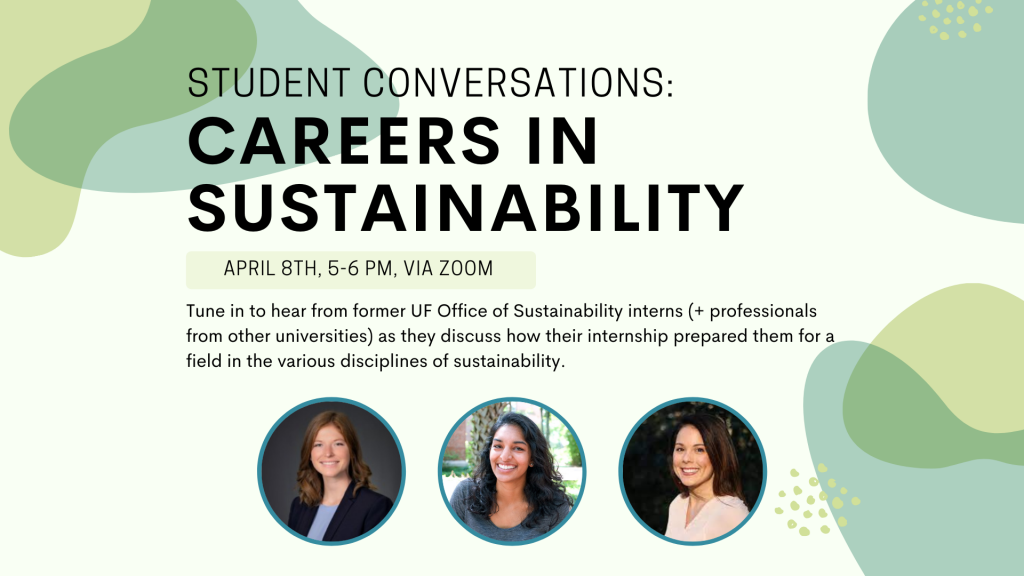 Join us for the next Student Conversations event on April 8th, 5-6pm. In celebration of our natural planet and Earth Day activities, this student-led conversation will focus on the many potential careers available to students interested in working in the field of sustainability. Tune in to hear from former UF Office of Sustainability interns (+ professionals from other universities) as they discuss how their time in various offices prepared them for a field in various disciplines of sustainability.
Guest panelists:
Brittany Branyon: Program Director, Auburn University Cary Center for the Advancement of Philanthropy & Nonprofit Studies. Former intern with the Auburn University Office of Sustainability.
Carson Cooper: Research Analyst, Greater Nashville Regional Council. Former intern with the UF Office of Sustainability.
Maya Patel: Law Student at American University's Washington College of Law, focus on environmental law. Former intern and Strategic Projects Manager with the UF Office of Sustainability.
Event led by the Office of Sustainability Interns. Event will consist of 40 minutes of discussion with guest speakers and 20 minutes for general Q&A.