Action of the Month: Opt to Cycle Once Per Week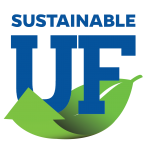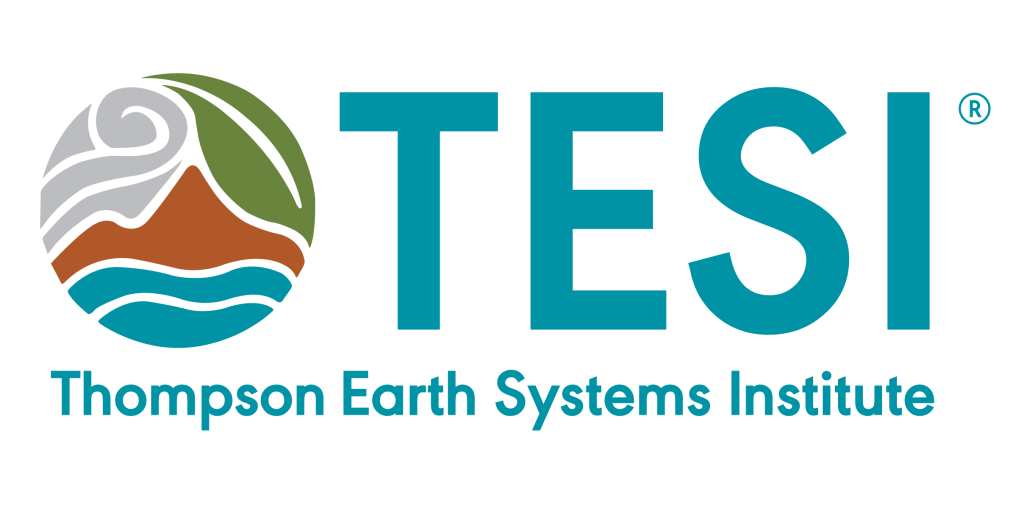 March 2021
Written by Natalia Turkel, Office of Sustainability Intern
In collaboration with the UF Thompson Earth Systems Institute.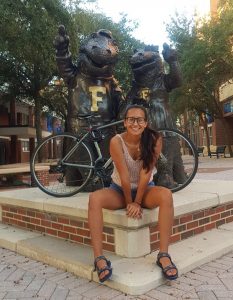 Incorporating cycling into your commute can have great positive benefits for the environment and your health. Learn more from Natalia, a Gator who is all about finding the knowledge and resources to make her cycling journey as safe, convenient, and fun as possible.
Environmental Benefits of Cycling:
Hey everyone, Natalia here! In honor of UF Campus Bike Month in March, I wanted to share more about the tools and resources that helped me start my cycling journey. As an intern with the Office of Sustainability and graduating senior, biking has been my primary form of transportation throughout my four years here at the University of Florida — I absolutely love it! Not only is it a great mood booster, it's also beneficial for the environment and your health.
Opting to cycle instead of drive, even just a few times a week, has many environmental benefits:
Long-term support for cycling can also lead to much larger environmental impact. Bicycles have a smaller footprint than cars in terms of energy to manufacture, roadways and parking infrastructure – all aspects that make them a great option for a sustainable future!
This month, we challenge you to replace one commute each week with cycling. Whether you're riding to work or making a trip to the grocery store, this article will give you tons of resources to feel comfortable and confident on your bike.
Types of Bikes:
As a beginner, one of the first things to consider is what type of bike you'd like to rent or purchase. There are so many different categories of bicycles, and each category has its own unique subsets so I've only showcased the most general and popular types.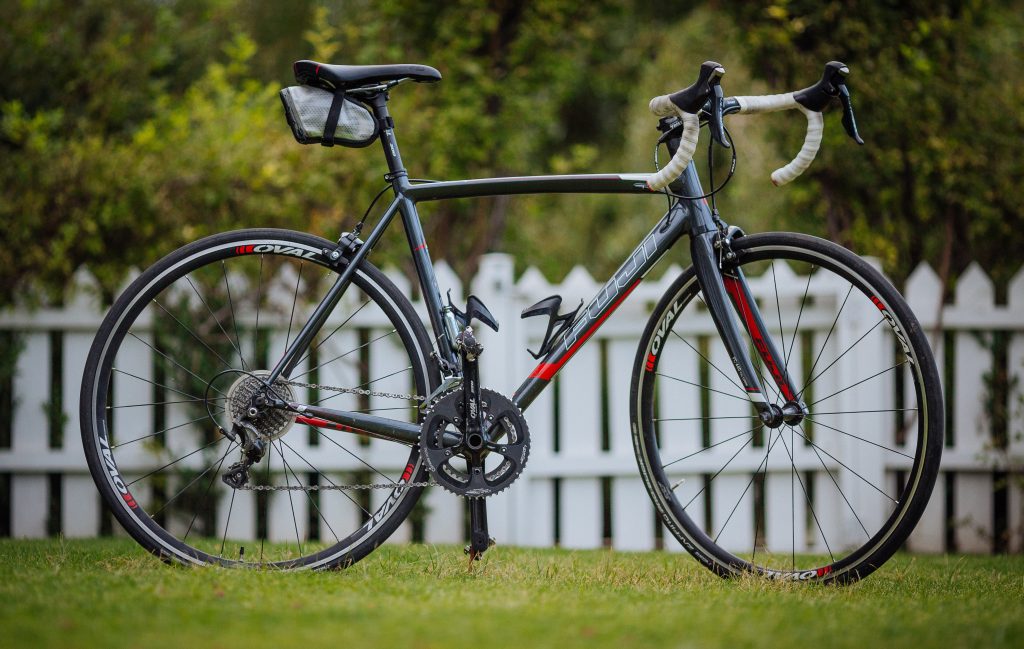 Road Bikes: Road bikes are great for both fitness riding and commuting! They are generally used on pavement, are more lightweight, and have narrow tires and drop handlebars that curl down toward the rear of the bike. Road bikes can take some getting used to but drop handlebars put the rider in a more aerodynamic position.
Mountain Bikes: Mountain bikes are typically used for dirt trails, off-roading, and trails with rocks, roots, and lots of bumps; but by installing smoother tires they can make great commuter bikes. Mountain bikes typically have flat handlebars, wide tires, and some form of suspension to absorb the shock of having a bumpy path. You'll see a lot of these types of bikes when you visit a mountain biking trail such as the one on Loblolly Woods here in Gainesville. If you like the adventure, this bike is for you!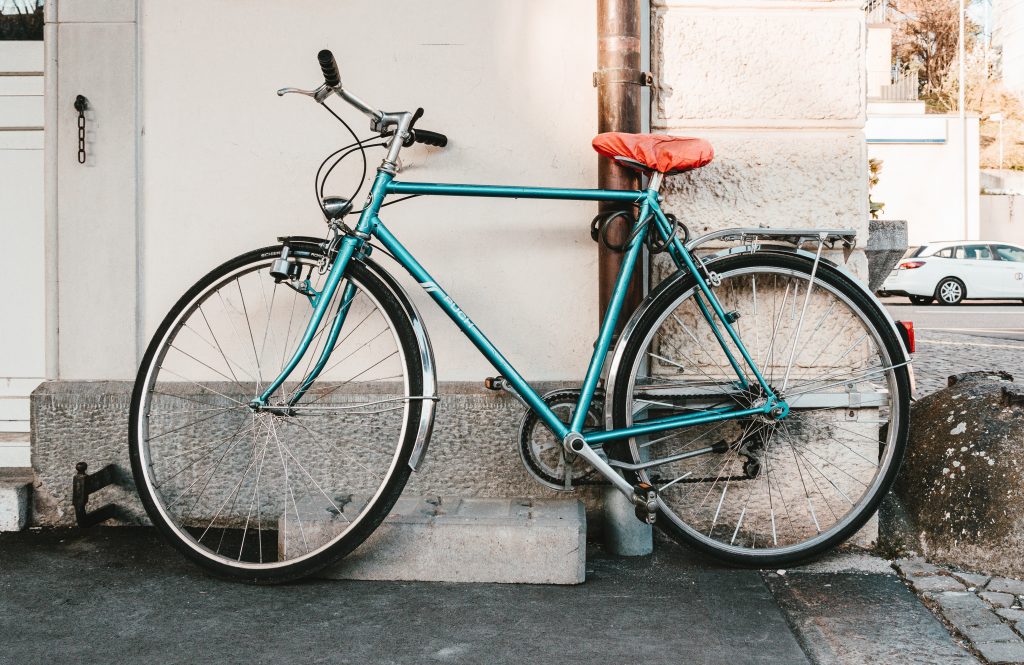 Hybrid/Commuter Bikes: Hybrid bikes blend characteristics of road and mountain bikes into a general-purpose bike that welcomes a range of terrain. This is the type of bicycle that I have! My bike is very light and easy to ride on the road, but can also handle trails with light roots and bumps. However, when I try to ride it on sandy trails it sometimes skids or slides across the sand.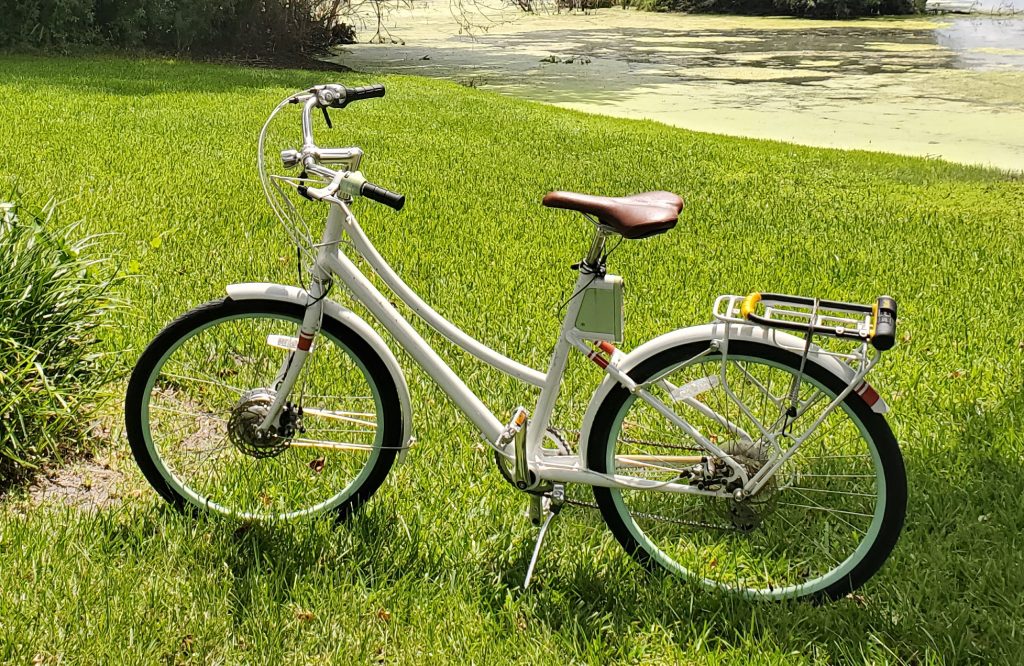 Pedal-Assist Bikes (E-bikes): Pedal-assist e-bikes are a versatile and convenient option for all levels of cyclists. By simply pedaling, the rider engages a small motor that makes cycling a breeze (even uphill). Learning to ride is also easy— the motor shuts off when you stop pedaling, allowing you to slow down safely. They are a bit more of an investment and a bit heavier, but a great way to commute to work or pick up groceries.
Bike Locks:
A bike lock is essential for any cyclist to have. Bikes can be stolen even in the most unexpected of circumstances, and sometimes thieves take parts like the seat, wheels, or accessories. Thieves will typically go for the easiest lock to break, so locking your bike up properly is a great deterrent when others are using lesser locks. Here are some popular and effective types of bike locks:
U-locks: These locks are bulky and rigid, and they have strong defense against hammers and chisels. A u-lock is usually used to secure one wheel and the bike's frame to a fixed object. U-locks come in various different sizes, so be sure to choose one that is as compact as possible and still secures your bicycle properly. The less room inside of the u-lock, the more difficult it will be for thieves to insert a tool to break it.
Chain locks: Chain linked locks are extremely tough and are resistant to hacksaws and chisels. Their downside is that they are heavy to carry and very bulky, so they are best suited for long stationary uses. Chain locks are not as secure as u-locks.
Cable locks & Combination locks: Both of these types of locks are light and easy to carry, and are good for low-risk areas. Their downside is that bolt cutters can cut through them, so I recommend you combine them with a U-lock in order to secure easily removed parts like the seat.
After getting my wheels stolen, I've adapted my locking technique to using both a u-lock and a cable lock to loop through the wheels when I leave my bike locked outdoors.
Cycling Checklist:
With a bike and a lock in hand, you're almost ready to get started on your cycling journey. There are a few more items you should have on hand to make biking a safe, but adventurous experience:
Essentials: Don't forget your helmet and lights!
Bike
Helmet
Front and rear lights
Bell
Lock
Core Gear: Carry with you if you're taking a longer bike ride
Water
Snacks/energy foods
Sunscreen
Small first-aid kit
Eye protection: sunglasses
Medical info in case of emergency (e.g. Cycling ID)
Core Repair Items: Have on your ride, at home, or in the back of your car in case you need them
Spare tube and patch kit
Pump
Tire levers
Multi-tool with allen wrenches
Extra suggestions:
Padded shorts or tights
Sweat-wicking clothing and/or change of clothes
Saddle (I highly recommend getting a cushion for your bike saddle!)
Money/Card on hand
Road Safety & Education:
If you think you might be riding anywhere near pedestrian or vehicle traffic, it's important to familiarize yourself with road safety guidelines and Florida bicycle traffic laws. I recommend checking out these Ten Tips for Successful Cycling from Cycling Savvy, as well as this overview of Bicycle Traffic Law from the Florida Bicycle Organization. Both of these organizations also offer courses and additional educational resources if you want to learn more. This will help you feel more comfortable and confident when you're ready to jump on your bike!
Connect with Fellow Cyclists:
***COVID protocols and safety measures should always be prioritized. These recommendations are stated with the assumption that these groups are adhering to those guidelines!*** (Learn more about COVID guidance for cyclists from the League of American Bicyclists here.)
Whether you're practiced or relatively new, consider riding with a group in your area! Cycling with a group is an enriching and motivating form of exercise, and it can range from recreational rides to preparing for races or tours so there's something for everyone! Regardless of the end-goal, biking with a community lets you:
Improve your cycling skills and knowledge
Meet cyclists of different skill levels
Make cycling friends in your community
Stay motivated to keep riding
Here are some ideas for finding biking community groups in your area:
Local bike shop: A local bike shop is oftentimes the hub for bike meetings and events going on. These shops often host rides that leave from the shop or post information on public group rides. They're a great way to dip your toes into the cycling community, and if you don't see any signs up on the shop windows, just ask! They'll point you in the right direction.
Cycling Club: Cycling clubs offer regular group rides, and typically divide them based on speed or experience levels. These clubs typically require membership fees, but are more consistent with meetups and building community relationships.
UF Cycling Resources:
Did you know: UF was designated a Gold Bicycle Friendly University in 2021 in recognition of UF's efforts in promoting and enabling safe, accessible bicycling on campus?
UF Bikes: UF students, faculty and staff have access to a wide range of cycling resources through UF bike programs and the UF Bikes website. In addition to safety and education resources, UF partners with several campus and community organizations to offers events throughout the year such as the 2021 UF Campus Bike Month! This month includes lots of opportunities to learn more about cycling (such as the Student Conversation event on March 16th) as well as access to direct resources – I got my bike lights & helmet through one of the giveaway events last year!
SG Bike Repair: SG Bike Repair is a service provided by UF Student Government to facilitate a convenient location for students to get their bikes repaired. It's generally free for a bike tune-up, but if you want specific aspects repaired or replaced there may be a cost.
Gator Gears: UF's Gator Gears program provides students with bike rentals. They provide a bicycle, helmet, U-lock, and free repairs with the fee for the duration of the rental period. It's a great way to get cycling without having to pay for the full price of a bike and have to transport it to and from home between semesters.
Congrats on starting your cycling journey!
I hope these tips and resources help you feel confident and comfortable in taking action to cycle more! If you'd like to learn more about sustainability at UF, follow @SustainableUF on Instagram or Facebook. To see previous Action of the Month stories from the UF Thompson Earth Systems Institute, visit their Earth to Florida Newsletter and sign up to receive future issues.
Natalia Turkel
Office of Sustainability Intern