Sustainability Into Practice: Climate Change, Health & Equity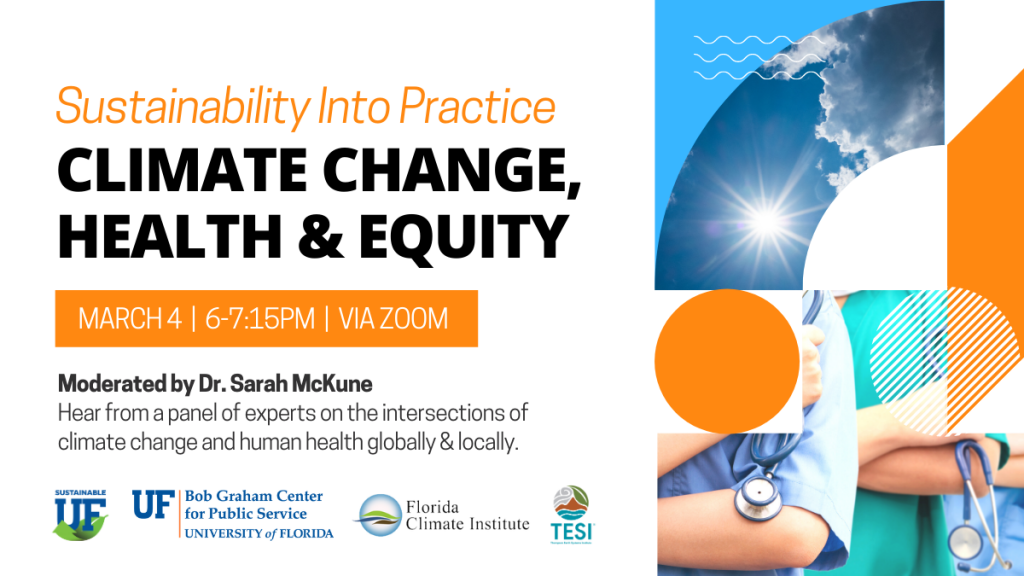 Please join us for the second in a three-part series this spring hosted by UF's Office of Sustainability and the Bob Graham Center for Public Service, in partnership with the Florida Climate Institute and UF Thompson Earth Systems Institute.
Sustainability means looking at the issues facing our world with a new lens – one that embraces three interdependent areas: ecological preservation, economic viability, and social justice.
The past year has clearly illuminated challenges to public health and systemic equity that we must address as we continue to see worsening impacts from climate change on global and local levels. In Florida, extreme temperatures, increased flooding, severe weather and sea level rise have significant implications for human health including exposure to vector-borne diseases, disruptions in food and water systems, and breakdowns of disaster recovery structures. By understanding these complex relationships, we can develop and implement better ways to support the capacity of public health to center equity, manage health impacts, and create a healthy and sustainable future for all.
Join us on Thursday, March 4 at 6 pm to hear from experts on the ways that climate change and health issues, as well as potential solutions, are interconnected. Attendees will learn ways they can take action in their studies, careers and everyday lives to affect larger change.
Moderated by Sarah L. McKune, MPH, PhD
Assistant Professor, Department of Environmental and Global Health, Center for African Studies
Panelists include:
Song Liang, University of Florida Term Professor & Associate Professor, Department of Environmental & Global Health, College of Public Health and Health Professions, & Emerging Pathogens Institute
Sadie Ryan, Associate Professor, Medical Geography, Co-Director, Florida Climate Institute, PI, Quantitative Disease Ecology and Conservation (QDEC) Lab
Other panelists to be announced.
Register in advance here.