Sustainability Into Practice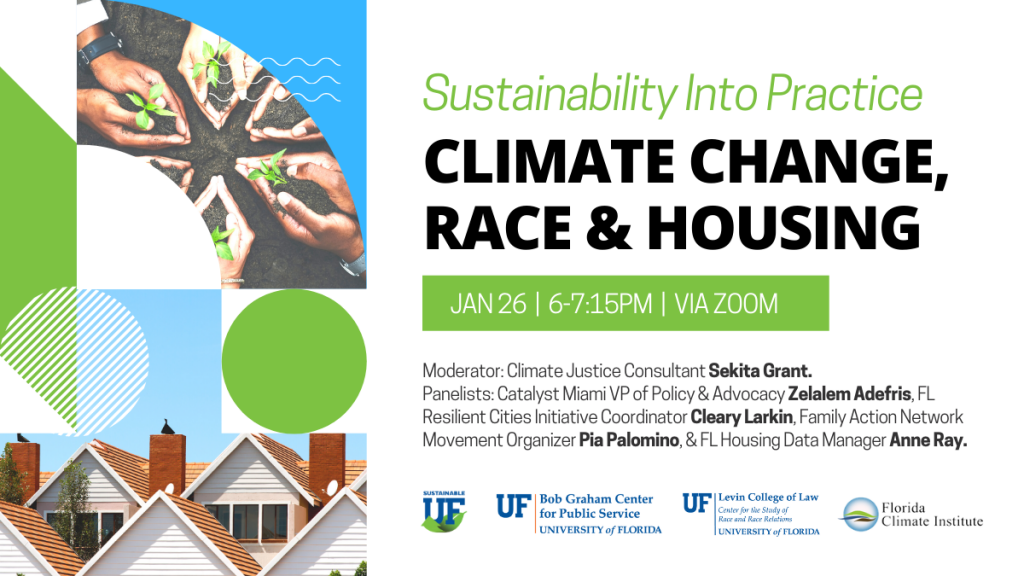 Climate Change, Race and Housing
Please join us for the first in a three-part series this spring hosted by UF's Office of Sustainability and the Bob Graham Center for Public Service, in partnership with the Florida Climate Institute.
Sustainability means looking at the issues and problems facing our world with a new perspective – one that embraces three interdependent areas of concern: ecological preservation, economic viability, and social justice.
As climate change exacerbates existing inequities in housing access, housing affordability and disaster relief, it becomes even more crucial to look at these issues through this interdisciplinary lens. In Florida, climate change impacts like sea level rise, increasing flooding, increasing temperatures and climate migration are disproportionately affecting communities of color and low-income communities. As we will hear more about during this panel, addressing these issues as interconnected can lead to more effective solutions and a more equitable future.
Join us on Tuesday, January 26 at 6 pm to hear from experts on the ways that the impacts of climate change, historical racial injustice and housing equity are connected. Attendees will learn ways they can take action in their studies, careers and everyday lives to affect larger change.
Register here:
https://bit.ly/35cxtzO
Panel moderated by Sekita Grant, Climate Justice Consultant and Environmental Policy Strategist
Panelists include:
This event is in partnership with the Center for the Study of Race and Race Relations at UF's Levin College of Law.