Let's Talk Sustainability! Takeaways From Our First Intern Led Panel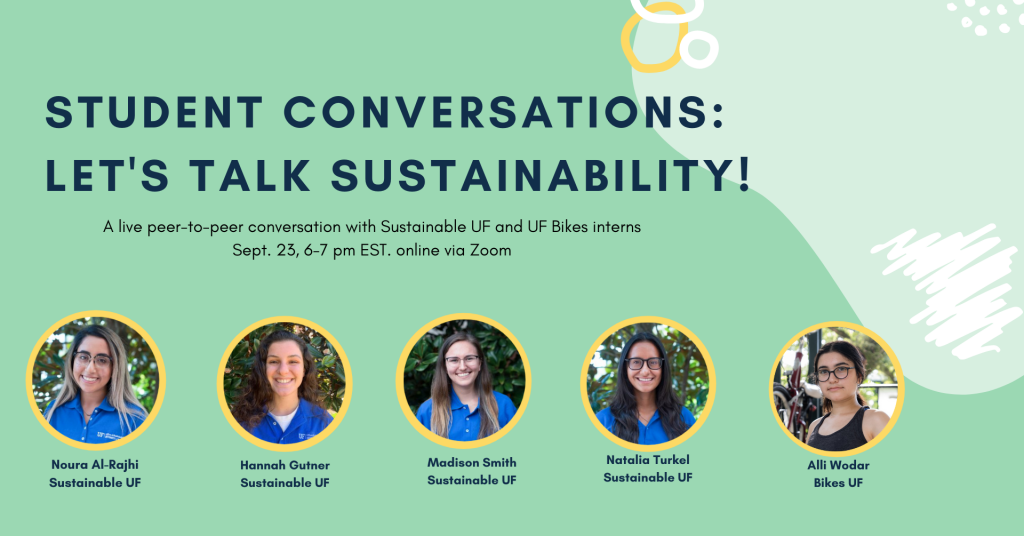 By Sustainable UF Intern: Noura Al-Rajhi
Last week our office and UF Bikes hosted the Student Discussions: Let's Talk Sustainability Panel, a live peer-to-peer discussion led by us interns. If you missed out on the panel, don't worry! We posted the recording below as well as a free toolkit to help guide you on your sustainability journey.
As students ourselves, we were bummed at the fact that we could no longer connect with other gators on campus to talk sustainability, which we typically do at our in-person events. We still wanted to cultivate an engaging environment where we could connect with other students and offer guidance safely. We decided to start a live discussion series on Zoom, where we can do just that!
The event left us interns extremely motivated to continue creating resources to help students with their sustainability journeys as well as working on our own journeys. We thoroughly enjoyed the aspect of an open discussion that cultivated such an organic and engaging conversation with students.
View or download the Free Toolkit created by Sustainable UF Interns.
Here are some of the main takeaways from the panel discussion:
There is no such thing as being perfectly sustainable, students should not let the idea of perfectionism deter their interest in sustainability.
I took the lead on this topic because I think it is important to remind people that there is no one perfect way to be sustainable. You do not need to shop exclusively at places that only sell sustainable goods or even drive a fully electric vehicle. These can be costly and there are many other outlets to implement sustainability. I think it is important to take whatever stereotype or confined ideas you have of what a sustainable lifestyle needs to include and leave it at the landfill.
Find out what you are passionate about and use that to guide your sustainability journey.
All of us interns agree that finding your passion and niche in sustainability makes your journey both motivating and rewarding. Our individual passions are ultimately what led us to this position as sustainable interns as well as pursuing sustainable courses in our academics. For example, our interns Hannah Gutner and Astrid Rojas are passionate about policy and civic engagement. Alli Wodar, a UF Bikes intern, is passionate about alternative transportation while Natalia Turkel is passionate about social sustainability. Alexis Irvin is passionate about sustainability's role in environmental science and animal health. And I am passionate about protecting public lands and conserving natural resources.
The different facets of sustainability can allow students to utilize their diverse backgrounds to effectively bring upon collective change.
This goes hand in hand with finding your passion. There are several outlets to implement sustainability – it is not necessarily restricted to what you eat or how many reusable bags you own. You can implement sustainability through what you are studying. For example, if you are a graphic design major, how can you utilize your skills to practice sustainability? I am a communications major, and I use the power of storytelling and strategic communications to educate people about sustainability. Having people with diverse backgrounds and skillsets is extremely effective when working to drive change. Think about how you can implement the skills you have learned in academia towards sustainability.
Meet people where they are at when communicating about sustainability.
Meeting people where they are at is a strategy I have learned when developing communication tactics to change behavior or perception, especially relevant for topics like climate change and even sustainability. When you are talking to a friend, classmate, or family member, it is important to understand where they are coming from and where they are at in their sustainability journey. You never want to talk down to them or tell them they are wrong for doing whatever it is they are doing. Look for the space where your values intersect with theirs when it comes to sustainability.
Take advantage of the amazing resources UF and the Office of Sustainability provide for students.
Last but not least, we recommend that you utilize all the amazing resources UF has to offer in regard to sustainability. This can taking a sustainability forward course, renting a bike through the Gator Gears program or joining one of the many sustainability-related student organizations. Of course, following us on social media to stay up to date on all things sustainability is a great way to learn more.
Contact the Office of Sustainability:
We are excited to continue hosting more peer-to-peer discussions throughout the semester on ranging topics. If you have a specific topic or idea on what we should discuss next, send us an email at info@sustainability.ufl.edu or message us on social media: