In Support of Diversity, Equity and Justice: Message and Resources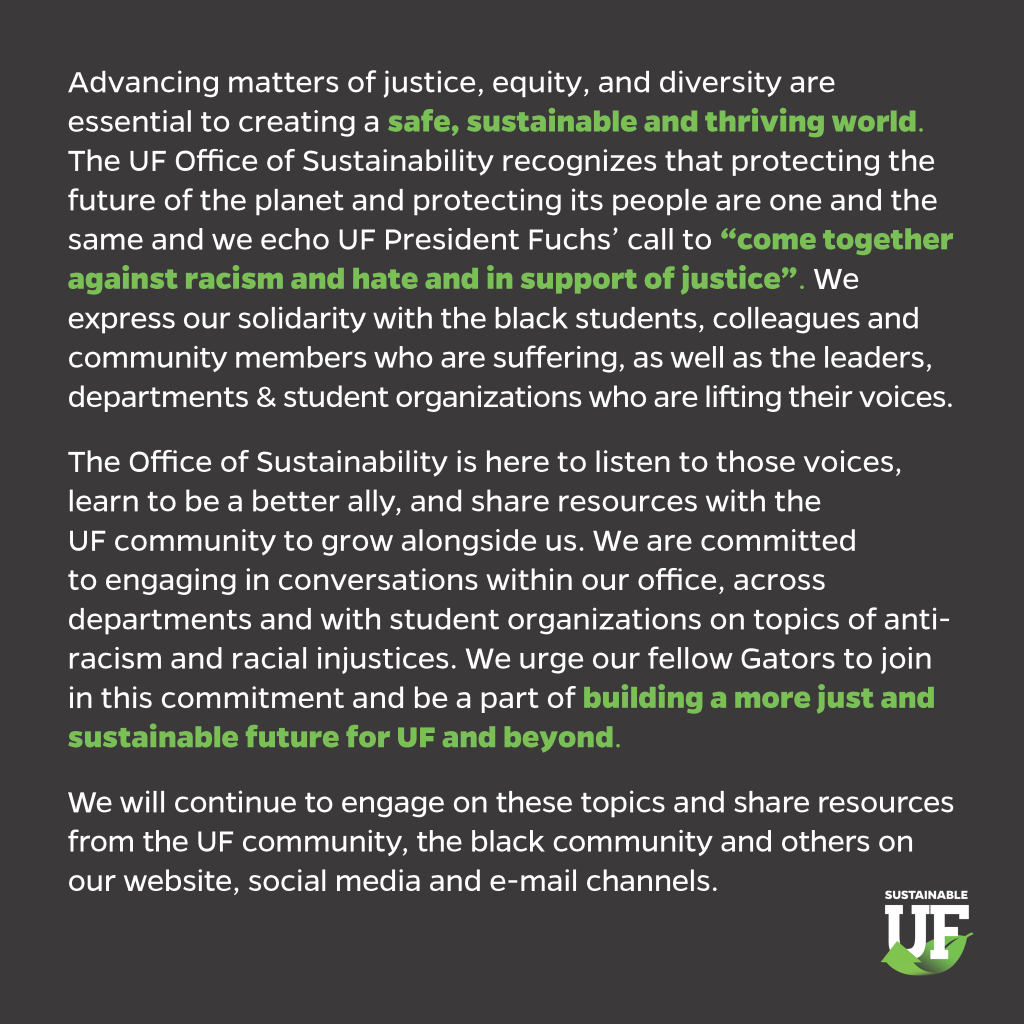 Advancing matters of justice, equity, and diversity are essential to creating a safe, sustainable and thriving world. The UF Office of Sustainability recognizes that protecting the future of the planet and protecting its people are one and the same and we echo UF President Fuchs' call to "come together against racism and hate and in support of justice". We express our solidarity with the black students, colleagues and community members who are suffering, as well as the leaders, departments and student organizations who are lifting their voices.
The Office of Sustainability is here to listen to those voices, learn to be a better ally and share resources with the UF community to grow alongside us. We are committed to engaging in conversations within our office, across departments and with student organizations on topics of anti-racism and racial injustices. We urge our fellow Gators to join in this commitment and be a part of building a more just and sustainable future for UF and beyond.
---
Below are a few of the educational resources that have been shared from UF departments and groups on these topics:
1. Combating Racism Resource List
This resource list was compiled by the Bob Graham Center Student Fellows and includes steps for educating yourself and taking actions locally and nationally. View the list here.
2. The Office of the Chief Diversity Officer
As UF's Chief Diversity Officer, Antonio Farias oversees university-wide efforts to advance inclusion, diversity, equity and access (I.D.E.A.) at UF. Learn more about these efforts here.
3. How to Be an Anti-Racist by former UF professor Ibram X. Kendi
Available as an E-Book through the UF Libraries
Uncommon Reads course through UF Honors (note: this course may be full at this moment. Please follow UF Honors for updates on the availability of the course.)
4. African American History Project
The African American History Project (AAHP) through the Samuel Proctor Oral History Program is a collection of interviews conducted with African Americans throughout Alachua County, Florida, and the wider South. Learn more about AAHP here.
5. Education in Action Check List
This resource list was composed by UF Division of Student Affairs and includes "ways to take action beyond social media". View the full list here.
6. Understanding Connections between Environmental and Social Justice
We plan to continue to engage in these topics and share resources from the UF community, the Black community and others on our website, social media and e-mail channels.