Fresh from Florida Mural Unveiled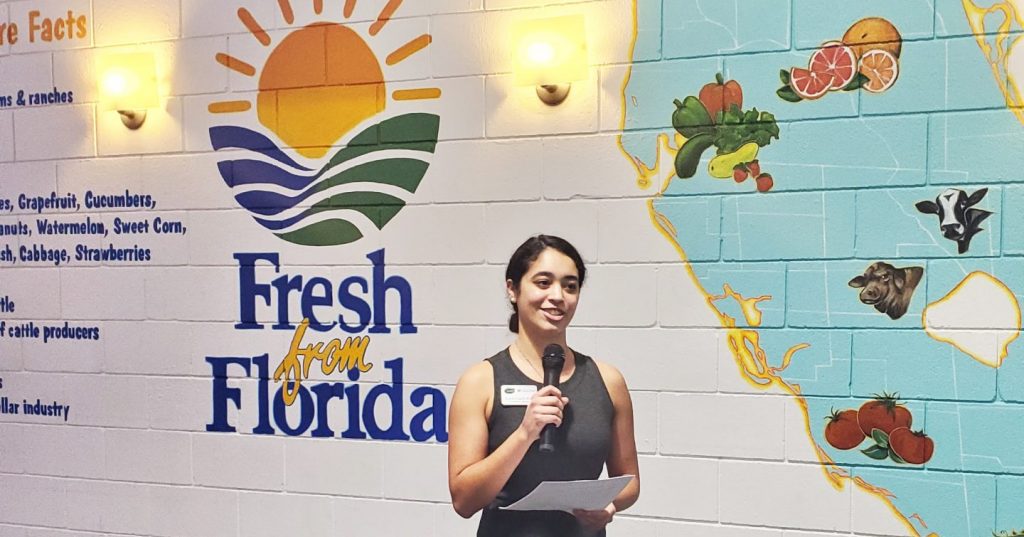 By Christi-Anne Weatherly
Sustainable UF Intern and Contributing Writer
*3/23/2020: Currently the dining halls have limited hours and are serving to-go only. Please visit https://gatordining.com/ for updated hours and menus and review UF updates and safety precautions before visiting a dining hall on campus. Please enjoy photos of the mural unveiling ceremony below the article!
A new mural celebrating Florida agriculture and Gator Dining Services' Fresh from Florida partners was unveiled on January 16 at 5 pm.
Gator Dining hosted a party at Fresh Food Company to present the mural, which showcases the farms and vendors around the state that supply food for all UF dining halls. The mural depicts a map of Florida, and the locations of the origins of the meats and produce sourced.
The vendors that are currently featured include Traders Hill Farms and the Sweetwater Organic Coffee Company.
The mural demonstrates the "relationships Gator Dining Services has built with local producers and connects our guests to Florida's agriculture industry," said Gator Dining Services sustainability manager Kayla Caselli-Bido.
The mural was painted by the creative collaborative team "Visionary FAM," composed of artists Carrie and Jesus Martinez.
Gator Dining Services wanted to continue with the mural's local theme by hiring Gainesville-based artists, and "therefore contributing to Gainesville's local economy," Caselli-Bido said.
The paint used in the mural was recycled from Alachua County's Leveda Brown Environmental Park and Transfer Station.
"What is unique about this mural is that it is an evolving work of art that will change periodically," Carrie Martinez said.
In addition to the shape of the state of Florida and the current vendors already painted on the wall, detachable signs were also created to be painted as more vendors become partners with the university.
"The physical act of adding vendor's logos to the mural will serve as an opportunity to symbolize the start of Gator Dining Services' relationship with future and current vendors."
Carrie Martinez said that she thinks Florida has such an abundant farming and agriculture industry "that is so much more than oranges."
"It's exciting to know that the mural is teaching the value of community and inspiring conscious consumerism."
During your next visit to the Fresh Food Company*, admire the mural for yourself and see which Fresh from Florida farms and vendors have been added since January. Learn more about Gator Dining's partnership with Fresh from Florida as well as other sustainability initiatives at https://gatordining.com/sustainability/.