Listening Session for UF Climate Action Plan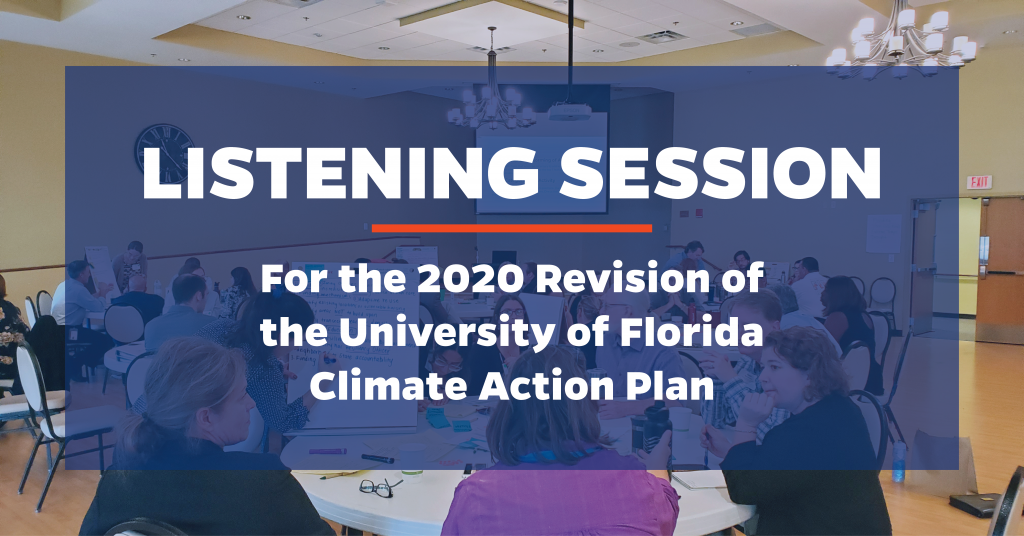 The University of Florida Office of Sustainability is beginning the process of revising the UF Climate Action Plan and would like to hear from the campus community. On Wednesday, February 19, 6-7:30pm, in the Rion Ballroom East, there will be interactive listening session to allow for members of the campus community to learn more about the 2020 Climate Action Plan revision process and engage other participants in discussion. This listening session will comprise of a short presentation about the campus carbon footprint from the UF Director of the Office of Sustainability followed by breakout discussions. The discussions will focus on specific areas and actions for campus emissions reductions such as the built environment, energy, transportation, offsets, financing, and resilience. All members of the University of Florida community are encouraged to attend this free event.
Venue and event details
There is no cost to attend this event.
Water and tea will be available during the event.
Waste will be recycled or composted where appropriate.
Please remember to bring your reusable water bottle.
Please consider alternative forms of transportation if possible (carpool, bus, bike, walk). There are several RTS routes go directly to the Reitz Union. If you need to drive, there is parking available in the Reitz Union garage (free after 4:30pm) and Garage 14 (free after 3:30pm).
The J. Wayne Reitz Union is ADA accessible and is certified LEED Gold.
This event has received a Green-Level Certification through the Sustainable Event Certification Program.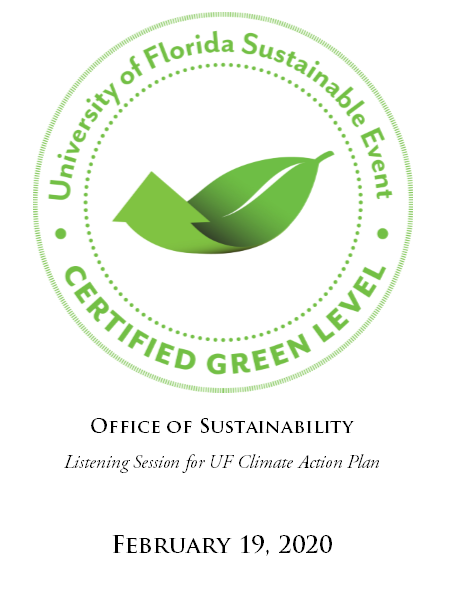 If you have questions about this event, please contact the Office of Sustainability at info@sustainability.ufl.edu.