Clean-Upalooza: Campus Earth Week 2019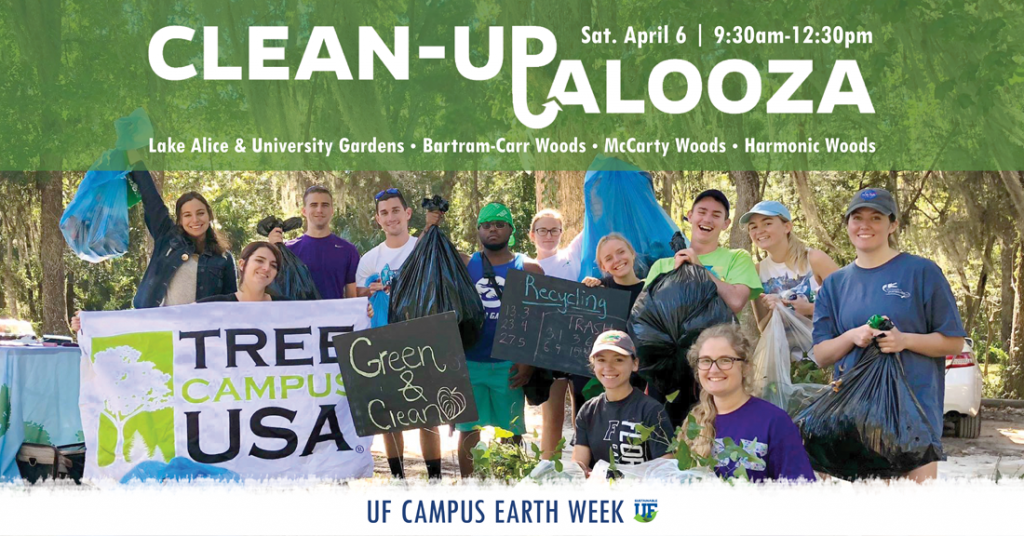 Saturday, April 6
9:30 am – 12:30 pm
4 Locations (Read more below)
This is not your average Green & Clean event! For the inaugural Cleanupalooza as part of Campus Earth Week 2019, we will be hosting clean-ups at FOUR natural areas around campus – Lake Alice & University Gardens, Bartram-Carr Woods, McCarty Woods and Harmonic Woods. We need YOUR help to make this the biggest clean-up and invasive species removal ever held at the University of Florida!
Ready to volunteer? Sign up as an individual, or even a whole student organization, below. Plus, the first 25 volunteers to sign up are guaranteed a free T-shirt the day of!
Volunteer Sign Up for Clean-Upalooza
During this event, volunteers will be a part of UF's ongoing Tree Campus USA efforts to keep the natural areas free of litter and invasive species.
Info for Volunteers:
Please wear clothes that you don't mind if they get dirty or wet, closed-toe shoes, and bring work gloves if you have them (we have some to share). As for all outdoor adventures, please bring weather-appropriate clothes, water, sunscreen if needed, etc. The service event will take place rain or shine. Sustainable UF will also provide some snacks but we ask that you bring your own full water bottle. Join the Facebook event here for more details and updates. If you have any questions, please e-mail us!
Want to receive additional announcements about this event as they are announced? Sign up for our e-newsletter here!