Solar Gators raise awareness of renewable energy
By Christi-Anne Weatherly
Intern & Contributing Writer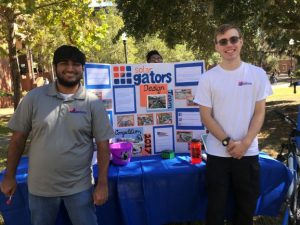 The Solar Gators is a student design team at the University of Florida that aims to raise awareness of the power of renewable energy by designing and building a solar-powered race car from scratch. The team, which is composed of mostly engineering students, takes part in the annual Formula Sun Grand Prix (FSGP) competition against other collegiate solar car teams from around the country.
The competition consists of a track race, according to Solar Gators member, second year electrical engineering major, Stephen Thomas. "The goal of the race is endurance, so the most miles in a specific allotted amount of time," Thomas said.
The current Solar Gators are a relatively new team, forming just two years ago and has built two cars in that time. While a large chunk of their budget comes from the Department of Mechanical and Aerospace Engineering, a lot of their car components are donated to them by various companies that work with them and teach the members new ways to improve their cars.
The Solar Gators take about 15-20 members to FSGP every year, the most recent one being in Nebraska at Hastings Speedway. They were able to make 11 laps around the track within the allotted time. "The number one team got like 300 laps so we're not really that in that stage yet," said Solar Gators member second year mechanical engineering major, James Stevens. "Most first and second year teams don't even make it on the track, because you have to pass and extensive inspection process before you're allowed on there."
Students looking to get involved with Solar Gators should visit their Facebook page or their website at https://www.ufsolargators.org/. They hold weekly meetings on Mondays and Thursdays at 6 p.m., typically in Matherly Hall.