Sustainable Commuter Spotlight: Matthew Fuentes
By Christi-Anne Weatherly, Intern & Contributing Writer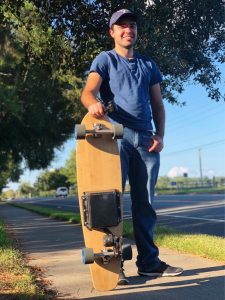 When fourth-year sociology major Matthew Fuentes first started at UF, he quickly realized that he needed a better way of getting around other than just walking. He considered getting a scooter or a bicycle, but the bike could be difficult to store and he didn't want to have to keep fueling up a scooter.
As an alternative, Fuentes looked into Boosted Boards: electric skateboards that have recently grown in popularity as a quick way to get around campus. The downside? A hefty price tag, with Boosted Boards' most economical model, the Boosted Mini S, retailing online for $749.
Undeterred, Fuentes – a self-described 'tinkerer' – decided to build his own version of an e-skateboard.
Fuentes has always been interested in how things worked, even as a little boy, he said. In middle school he learned how to work with electricity and fiddled with remote-controlled cars. In high school, he built his first computer.
"My tinkering hobby is rather strange because none of my family members are into it," Fuentes said. "I pretty much taught myself."
Fuentes said he loves using his board because he doesn't have to worry about getting caught in the heat of the Florida sun as much on his way to class, he can take the board with him wherever he goes, and he can get around much faster than many other modes of transportation.
"Electric skateboards are the best way to get around. Most efficient too," Fuentes said.
Riding the e-board every day is much more sustainable than Fuentes' other ride: a gas-guzzling 2001 diesel Dodge Ram 2500 that spits out black smoke constantly, he said. The truck was handed down to Fuentes from his father and having to fix it all the time helped him learn how to work with motors and engines, and in turn, helped him to build the skateboard.
"I don't have to change the oil on my skateboard, or grease any fittings," Fuentes said. "Using the skateboard as my daily [mode of transportation] means I don't have to pay for fuel."
Learn more about alternative transportation modes at our annual Sustainable Transportation Fair on Wednesday, October 31 from 10 am – 2 pm. Click here for more details!