Student takes advantage of Gainesville's bike friendly atmosphere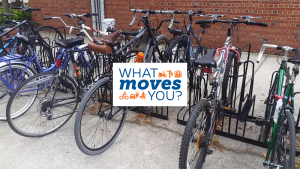 By Karlyn Marcy
Contributing Writer; Intern, Office of Sustainability
Biking seven or eight miles in a day is not unusual for Carolyn Batt.
The public relations junior can be spotted riding on campus to class, the gym or even to the grocery store when she quickly needs a thing or two. Batt's father helped introduce her to cycling and helped her find the perfect set of wheels, a trek road bike.
"Not only is it great exercise, but it's a more environmentally friendly way of getting around campus. Gainesville is a super bike friendly town, so it's a shame more people don't take advantage of it. You also avoid traffic," Batt said.
Batt said that the amount of money she saves on gas is one of the biggest benefits of bike commuting over driving.
In addition to riding her bike and using other sustainable forms of transportation, like taking the bus, Batt practices sustainable efforts such as recycling and vegetarianism, which can significantly reduce an individual's carbon footprint.
"Gainesville is a fun town to bike in because of the hills. I'm from Savannah (GA), and it's completely flat. Biking in Gainesville really allows you to just go and have fun."
---