Waste
UF is striving to be a Zero Waste campus. To help us reach this goal, the UF Office of Sustainability and Facilities Services are working together to assess our waste stream and implement comprehensive waste reduction and recycling programs for UF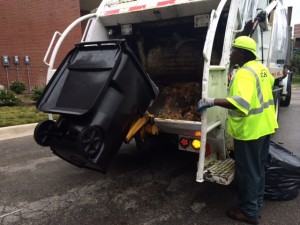 With current initiatives, UF achieves a waste recycling rate of nearly 40%, or over 6,000 tons of material annually. Throughout campus, divisions are doing their part to divert waste streams. For example, all yard waste generated on campus is re-purposed into mulch at a local recovery facility, dining services collects cooking-oil waste for recycling, and animal bedding in the Vet school is being decontaminated and composted for commercial forestry.
All of these efforts are an important part of waste reduction at UF, but none of them is possible without the cooperation and commitment of individuals. To help UF reach its goal of Zero Waste, it is important that everyone do their part to divert waste streams. You can help reduce waste by remembering that we need not only to recycle, but also think about how we can lower our consumption of disposable goods, reuse or share items, and purchase items with recycled content.
What can YOU do?
Learn what you can – and can't – recycle in your local waste system. Remember: Just because an item has the arrow 'recycling' logo, does NOT mean that is accepted at your local facility! Recycling varies widely by county, state, and country. You can find information about the items accepted in Alachua County by visiting the website here.
Test your recycling knowledge! Take this quick quiz to find out how much you know about recycling on campus.
Look for our semesterly Collection Day event – usually held during the last week of each semester. This is an opportunity for all members of the campus community to bring unwanted household items, hazardous or electronic waste, and other items to be recycled or disposed of properly.