Transportation
The commutes that each of us make to, from, and around campus contribute to traffic, inefficiency and carbon emissions. UF has made great strides in reducing the need for single occupancy vehicle travel, and there are many affordable transportation options for students, staff, and faculty. Help us by committing to using alternative transportation whenever possible!
UF continues to improve transportation by working towards the following goals:
In collaboration with the City of Gainesville, increasing the Regional Transit System (RTS) system to accommodate more locations and service times to move faculty and staff to and from the UF campus.
Increasing the number and quality of bikeways around the campus and improve the bicycling infrastructure to include bicycle parking and other facilities for bicyclists.
In cooperation with the City of Gainesville, creating safe and comfortable areas to bicycle and walk on and near campus. Did you know that Gainesville is number 37 on the list of 50 most bike-friendly cities in the U.S.?  Or that it is #6 on this list of top cities in the US to bike commute?
Through the Office of Sustainability's annual One Less Car program, encouraging students, staff and faculty to explore alternative modes of transportation, and incentivising their efforts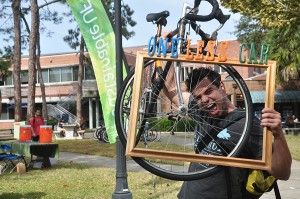 What Moves You? Campaign
The What Moves You? campaign – formerly One Less Car – was developed by the Office of Sustainability and in partnership with Transportation and Parking Services, encourages Gators to be a part of the Sustainable UF movement by reducing single-occupancy car trips.
Using alternative transportation saves money and reduces your impact on the planet, whether it is by walking, biking, taking a bus, or carpooling. By choosing to walk, bike, bus or carpool, we can reduce the number of cars on the road, and thus reduce air and noise pollution, time lost in traffic, and save money on gas. The benefits are numerous including to your health. Read about sustainable transportation alternatives here.