Collection Day
Sustainable UF's Collection Day is your one stop drop-off event! Students, faculty and staff are invited to stop by the NW corner of the O'Connell Center parking lot* (near the entrance at 2nd Avenue) on Thursday, December 5th any time between 7:30 am – 1:00 pm to conveniently drop off any unwanted items, including:
*Parking is lifted in Green decal and "Any Decal" zones on reading days. Orange decal restrictions remain in place.
---
Household Items/Miscellaneous Supplies
To be donated to Habitat for Humanity or Repurpose Project:
Small appliances/electronics (in working condition)
Furniture
Kitchenware
Working tools
Misc. household items and decor
NOTE: No mattresses/box springs, please.
Gently Used Clothing
To benefit UF HealthStreet.
The following items are of high need:
Men's clothing (all sizes)
Plus-size women's clothing
Adult Shoes or Flip-flops
Socks, Belts, Jackets, Sweaters (all sizes)
NOTE: No intimates, swimwear, medical equipment or toys, please.
Non-Perishable Food Donations
To benefit the UF Field & Fork Pantry.
The following items are of high need:

Grains (pasta, popcorn, rice, cereal, etc.)
Proteins (peanut butter, canned tuna/chicken, beans, etc.)
School/Office Supplies
To benefit Alachua County Tools for Schools:
Crayons/Markers
Scissors
Glue/Glue sticks
Pencils/Pens
Highlighters
Rulers
Paper (all kinds)
Envelopes
Staplers
Rubber bands & paper clips
NOTE: No binders, please.
NEW! Personal or Business Documents for Secure Shredding
Provided free of charge by our partner, Shred-It.

Personal paperwork, documents, mail, etc.
Office paperwork and documents  (Please be sure to adhere to all UF document retention policies)
Personal* Household Hazardous or Electronic Waste
These items will be taken to the Alachua County Hazardous Waste Collection Center for proper recycling or disposal:
Automotive fluids
Pesticides/fertilizers
Paint
Household chemicals
Cooking oil
Fluorescent light bulbs
Car batteries
Old or broken electronics (TVs, computers, speakers, VCRs/CD players, cell phones, etc.)
WE CANNOT ACCEPT: Tires, trash or recyclables, scrap metal/construction debris, Styrofoam packaging.
*Personal household and residence hall waste only. No University Laboratory or shop waste. Transport all materials in a secure and safe container. If there is a possibility of spilling, please take it directly to the Alachua County Hazardous Waste Collection Center. If you have any questions regarding Household Hazardous Waste, please call (352)-334-0440.
All University chemical and hazardous waste is to be handled by UF Environmental Health and Safety. Contact EH&S at 352-392-8400 for assistance.
University-owned Assets & IT Equipment in small quantities:
Approved survey paperwork is still required for any "attractive" item with a decal, so please bring it with you!
Anything without a decal (furniture and peripherals) may be dropped off without a form.
NOTE: Large quantities of items should be taken directly to the Surplus Warehouse.
Collection Day Location: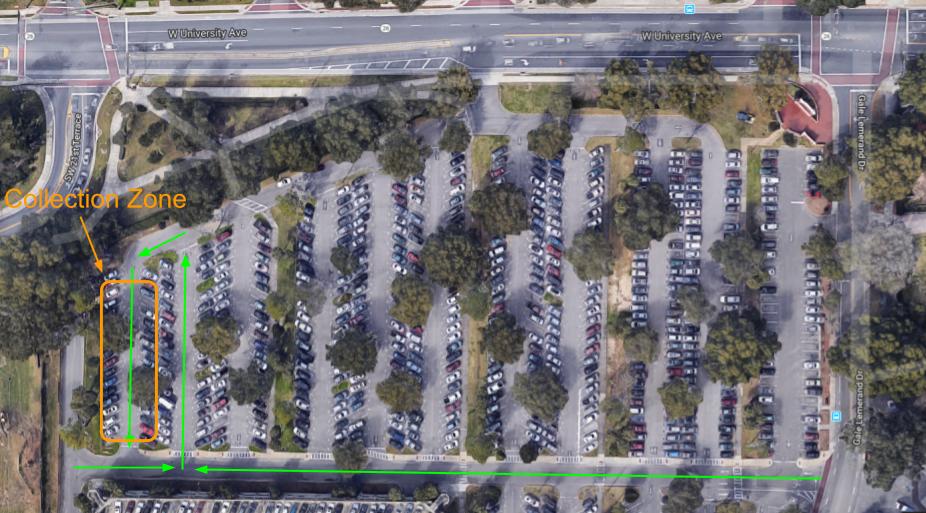 Map of drop-off location and traffic pattern for Collection Day (NW corner of the O'Connell Center parking lot, near the 2nd Avenue entrance)