Collection Day
Collection Day is your one-stop drop-off event for unwanted items at the end of the semester! This event makes it quick and convenient to drop off unwanted household items, clothing, hazardous waste, old or broken electronics, furniture, appliances, school supplies, and non-perishable food items.
Usable items will be donated for use in the community, and damaged goods, hazardous waste, and electronic equipment will be recycled or disposed of safely and responsibly by our partnering organizations. Last year, food donations were be donated to the campus Field & Fork pantry, and clothing, furniture, and household items were given to Habitat for Humanity. Partners vary by year and can be found below. Collection Day is open to all students, faculty, and staff.
---
Household Items/Miscellaneous Supplies
To be donated to Habitat for Humanity or Repurpose Project:
Small appliances/electronics (in working condition)
Furniture
Kitchenware
Working tools
Misc. household items and decor
NOTE: No mattresses/box springs, please.
Gently Used Clothing
To benefit UF HealthStreet. The following items are of high need:
Men's clothing (all sizes)
Plus-size women's clothing
Adult Shoes or Flip-flops
Socks, Belts, Jackets, Sweaters (all sizes)
NOTE: No intimates, swimwear, medical equipment or toys, please.
Non-Perishable Food Donations
To benefit the UF Field & Fork Pantry. The following items are of high need:
Grains (pasta, popcorn, rice, cereal, etc.)
Proteins (peanut butter, canned tuna/chicken, beans, etc.)
School/Office Supplies
To benefit Alachua County Tools for Schools:
Crayons/Markers
Scissors
Glue/Glue sticks
Pencils/Pens
Highlighters
Rulers
Paper (all kinds)
Envelopes
Staplers
Rubber bands & paper clips
NOTE: No binders, please.
NEW! Personal or Business Documents for Secure Shredding
Provided free of charge by our partner, Shred-It.
Personal paperwork, documents, mail, etc.
Office paperwork and documents  (Please be sure to adhere to all UF document retention policies)
Personal* Household Hazardous or Electronic Waste
These items will be taken to the Alachua County Hazardous Waste Collection Center for proper recycling or disposal:
Automotive fluids
Pesticides/fertilizers
Paint
Household chemicals
Cooking oil
Fluorescent light bulbs
Car batteries
Old or broken electronics (TVs, computers, speakers, VCRs/CD players, cell phones, etc.)
WE CANNOT ACCEPT: Tires, trash or recyclables, scrap metal/construction debris, Styrofoam packaging.
*Personal household and residence hall waste only.
 No University Laboratory or shop waste. Transport all materials in a secure and safe container. If there is a possibility of spilling, please take it directly to the Alachua County Hazardous Waste Collection Center. If you have any questions regarding Household Hazardous Waste, please call (352)-334-0440. All University chemical and hazardous waste is to be handled by UF Environmental Health and Safety. Contact EH&S at 352-392-8400 for assistance.
University-owned Assets & IT Equipment in small quantities:
Approved survey paperwork is still required for any "attractive" item with a decal, so please bring it with you!
Anything without a decal (furniture and peripherals) may be dropped off without a form.
NOTE: Large quantities of items should be taken directly to the Surplus Warehouse.
Collection Day Location: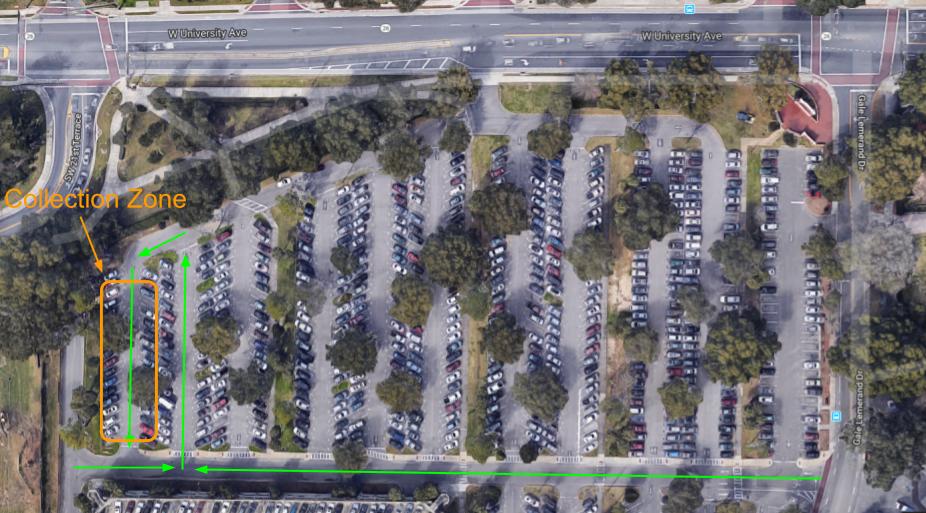 Map of drop-off location and traffic pattern for Collection Day (NW corner of the O'Connell Center parking lot, near the 2nd Avenue entrance)