Save the Date: UF Bike to Campus Day 2019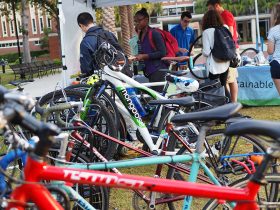 Join Sustainable UF and UF TAPS for Bike to Campus Day on Wednesday, October 16, 7:30-11AM. We'll be set up on the Plaza of the Americas to welcome bike commuters with a free breakfast and information about bike programming on campus. Look for the tent with the bike racks next to it for a convenient place to stop and refuel for the day!
Bike to Campus day will have refreshments, information about Gator Go: Bikes, UPD Bike Registration and Light giveaway. This event is intended to welcome those who ride their bikes to campus as well as spread awareness of other campus bike resources.
Follow the Facebook Event for updates as the event gets closer!