Stewardship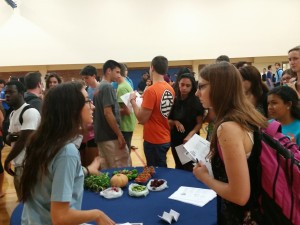 The university encourages all members of the Gator Nation to take responsibility for the environmental, economic, and social consequences of their individual and collective actions. This mindset will help create a culture shift and the creation of common/collective norms that support sustainability. It will highlight the need for sustainability to become part of everyday life and operations for the UF community – for the campus to be a living laboratory for sustainable practices and behaviors.
The Office of Sustainability is a resource that works to build and strengthen the networks that are needed to create a sustainable UF. In addition to our many programs and campaigns at the institutional level, the Green Team Network supports employees in their efforts to make UF a model of sustainability in higher education. The office also hosts the Sustainability Hut, a movable sustainability education tool that provides an opportunity for the campus community to gain knowledge, ask questions and give feedback on different topics of sustainability through weekly, interactive activities.
In addition to the Office of Sustainability, the joint-standing Sustainability Committee, numerous student organizations across campus, Student Government, and the Student Senate support a culture of sustainability at UF. The senate initiated an agency for sustainability, Gators Going Green, and passed a 2007 resolution honoring the office and its commitment to promoting sustainability. The fraternities and sororities support sustainability through their Greeks Going Green campaign.