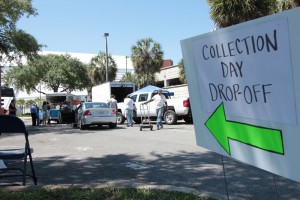 The University of Florida has set a goal to reach Zero Waste. Perhaps, the most important key to achieving this goal is waste reduction. This means re-evaluating our needs and our purchases to ensure we are not generating more waste than necessary. We can consider the full life of products before we purchase; many products are not be able to be repaired, recycled or re-purposed. We all need to think about closing the loop and eliminating waste by reusing and sharing goods as much as possible. Finally, when we make purchases, we can purchase products containing recycled material thereby creating markets for such materials.
Here are just a few of the many ways to reduce, reuse, and rethink your waste:
UF has developed the Think Before You Ink program to help you find ways to reduce costs, consolidate messages, and develop more sustainable paper habits.
UF Surplus Property reduces the unnecessary purchase of electronic equipment and other goods, such as office furniture, by making unwanted, but still usable materials available from the Surplus Warehouse. Reduce your production of electronic waste through preventative maintenance on existing equipment and recirculation of used equipment via the Surplus Property program.
UF's Sustainable Purchasing Directive supports campus sustainability and provides guidelines, information, and resources in procuring products that will minimize negative impacts on society and the environment to the greatest extent practicable. The directive suggests best practices and strategies for waste reduction through purchasing, leasing, renting, as well as product take-back strategies.
Refill printer toner cartridges and buy remanufactured ones. UF's contract vendor, Mr. Paper, offers a take-back and refilling service.
Utilize best practices for reducing envelope waste resulting from inter-departmental mailings.
Share printers where practical in order to reduce the need for personal printers and encourage judicious printing. The PrintSmart initiative is designed to help departments save money on scanning, faxing, printing and copying, and includes a department assessment to determine what type of multifunctional device (MFD) best meets a unit's needs.
Try reducing the number of personal trash cans in shared work spaces. Instead, strategically place larger trash cans in a convenient location and pair these with recycling bins. This arrangement not only encourages recycling, it also reduces the workload for cleaning staff and reduces the number of plastic garbage bags being sent to the landfill.
Donate It. If you have an item that is not managed by Asset Management/Surplus Property, consider donating it to a local charity, such as Tools for Schools. For everyday office supplies, consider using the "UF online swap meet." This site provides a place for UF staff and faculty to share or trade unneeded or unwanted office supplies. The Office of Sustainability also hosts an annual Collection Day in the spring, where members of the UF community can bring their unwanted items, household goods, electronic or hazardous waste, furniture and more.
As of fall 2011, Gator Dining Services successfully removed all foam products and switched to compostable or reusable alternatives from the over 40 dining locations on campus. To have an even bigger impact, opt for the reusable containers for your personal food and beverages. When you bring your own reusable coffee mug to campus Starbucks location, or your Gator Dining cup for soft drinks, you receive a discount. They also offer a reusable to-go container for food at the dining halls.
The Student Composting Cooperative (SCC) is a student-run cooperative organized by the BioEnergy and Sustainable Technology (BEST) Laboratory. The SCC was started in order to educate UF students about the importance of food waste composting and to give them an opportunity to compost their own food waste. Because many college students live in dorms or apartments, household composting is not an option. The SCC maintains several composters to allow these students to compost food waste.
Work with Environmental Health and Safety to track and safely dispose of all hazardous waste created by your department.  The UF ChemSwap provides a list of free research chemicals currently available to laboratories on the UF main campus and at PK Yonge School. The free chemicals are delivered with an MSDS by an EH&S staff member directly to your lab. All the chemicals are in the original, unopened container.