Recycling at UF
The University Facilities Services (FS) Recycling and Solid Waste Management manages the collection and disposal of all solid waste generated through University operations, including medical waste. It also manages the university's recycling program and provides collection and recycling services for paper, corrugated cardboard, glass, aluminum, and plastic, scrap metal, wooden pallets, concrete, masonry, yard waste and other materials.
Since 2008, the Office of Sustainability and Facilities Services have worked to install recycling bins throughout main campus. Bins for plastic, aluminum and glass in faculty, staff, and graduate student work areas have been placed in buildings and new outdoor recycling bins, including paper collection bins, are being added across campus each year, and indoor bins for student and public areas are being piloted.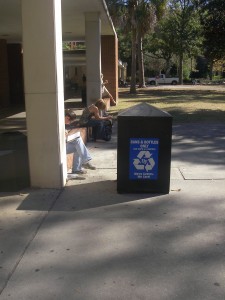 University housing provides recycling in the residence halls on campus. Housing also hosts a move-out program that works with local area charities to collect and distribute re-usable furniture and supplies. The goals of the program are three-fold: to assist local charitable agencies, to reduce the amount of usable items deposited in the local landfill during this period, and to support residents moving from residence halls. For more information on this, contact Housing and Residence Education.
For students, faculty, and staff off-campus, the City of Gainesville Recycling Resource Guide may also be useful.
From paper and aluminum to ink cartridges, electronic waste and furniture, UF has developed a comprehensive guide to help you discover what can – and can't – be recycled on campus. Visit recycling.ufl.edu for the most up-to-date information on the various accepted materials and collection points for recycling.