Service, Outreach & Extension
It is in the university's Leadership Values Statement: "Choosing to be a member of the University of Florida community involves supporting the land grant mission to develop leaders and citizens. Community members are integral components in leadership for positive change through meaningful, reciprocal contributions within the campus, local, and global communities." Accordingly, UF staff, faculty, and students should seek out opportunities to serve the wider community. The Office of Community Relations and the Center for Leadership and Service offer numerous resources to Gators who would like to get more involved in the community.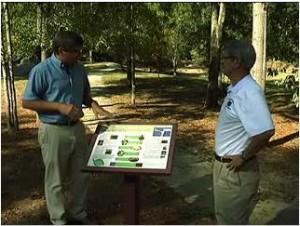 As a state land grant university, UF also has a special obligation to meet the demand for sustainable living practices for the residents of Florida's 67 counties. IFAS/Extension has many award winning resources that facilitate sustainable living including the Florida Yards & Neighborhoods program, Integrated Pest Management Florida, the Program for Resource Efficient Communities, the Bushnell Center for Urban Sustainability in Pinellas County, and the Solutions for Your Life website.
The Green Team Network serves as a supportive community for sustainable change at the department and unit level at UF. By actively participating in the meetings, trainings, and gatherings, individuals have the opportunity to learn and share experiences with fellow Green Team members and help UF realize its vision for a sustainable UF.
In 2012, Human Resource Services added a Diversity & Inclusion Award to the Superior Accomplishment Awards Program. Like the other awards, this category is recognized at both the divisional and university level. The award recognizes an employee who demonstrates exemplary conduct that fosters full participation by diverse faculty, students and staff, creates a climate of inclusion on campus or in the community, and promotes diversity to enhance educational, research or other work outcomes. The 2012 winner was Dr. Michael A. Crary, a professor in Speech, Language & Hearing Sciences. He excels at including diversity in the staff and collaborators in his research lab and surrounds himself with people of all races, nationalities, ages, etc. in his research. His commitment includes taking the next step and embracing these different cultures by creating a family-like atmosphere among his students and creating a home-away-from home that eases culture shock and helps students learn about other parts of the world.
Getting involved in the Gainesville community is easy too. The City of Gainesville Sustainability Portal is provided as a resource to learn about and make it easier to get involved with the efforts to make this a more livable and sustainable city.
Gainesville Connect provides a great resource on our community's initiatives, organizations, news, and efforts towards sustainability and innovation that make our region unique. It's also a great way to find how to make a difference and get involved.