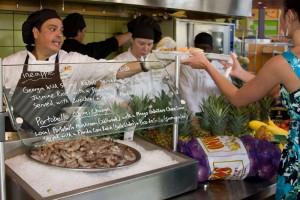 Gator Dining Services is working to incorporate sustainability into their food offerings and their business practices.  Both dining halls on campus – the Fresh Food Company and Gator Corner Dining Center – and the catering service are now sourcing locally grown food and offering vegan and vegetarian options at every meal. In 2014, UF was voted the Most Vegan-Friendly Large College by Peta2.
All convenience stores on campus offer natural and organic groceries and snacks. GDS offers fair trade certified and locally roasted coffee in locations across campus, locally-made ice cream and cage-free eggs in dining halls, and seafood recommended by Monterey Bay Aquarium's Seafood Watch program. Gator Dining also educates students through nutritional kiosks in the dining halls, and by labeling local and sustainable food choices. Initiatives such as tray-less dining, reusable to-go containers, and offering discounts to those who bring reusable cups and mugs for soft drinks and coffee are helping to reduce waste.
As of fall 2011, all dining locations on campus – from the dining halls and catering, to the national partners – are foam free. To learn more about these  and other efforts, as well as the ways GDS is engaging staff and customers on sustainability, visit their "Green Thread" webpage.
---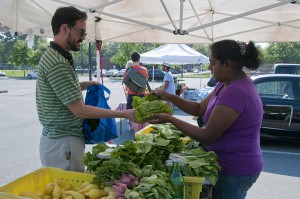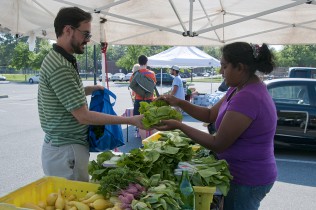 Gator Community Supported Agriculture (CSA) Program
In a Community Supported Agriculture (CSA) program, local consumers become farm members by paying a given amount of money at the beginning of the season, either as a lump sum or as installments. The cost depends on the length of the season and the variety and quantity of products provided. The up-front payment helps buy the seed and other inputs necessary for the season, gives the farmer immediate income and in many cases eliminates the need for operating loans. By committing to a price and paying at the beginning of the season, the members support the costs of production up front, as well as share in bounty and risks of the harvest. CSAs decrease the need for ongoing marketing by the producer. This allows the farmer to concentrate on land stewardship and growing good food.
In return for your membership and commitment, farmers provide fresh vegetables, fruits, and other farm products directly to consumer-members. Vegetables and fruits are available throughout the growing season, and a variety of other farm products may be distributed at different times throughout the year. As a consumer-member, you eat healthy food, know where it comes from and how it is grown, and share a connection to the land with the farmers who feed you. Find out more about the Gator CSA Program by visiting the CSA information page.
---
Campus Gardening
UF offers a number of opportunities for students to grow their own food on campus. University of Florida students, faculty and staff are encouraged to become a part of the Student Agricultural Gardens. Located across from Lake Alice on Museum Road, it is ideal for students interested in learning about sustainable and urban agriculture while being part of a cooperatively managed farm. Although the space used to be designated as individual plots for rent, the gardens have actually come under the umbrella of the UF Community Farm and will be cooperatively managed by student clubs, classes, and UF Community Farm members. If you're interested in becoming part of the UF Community Farm, please check out the Gator Gardening Club page or e-mail Tori, the Farm Manager at torideutch@ufl.edu for more information.