Curriculum Development
Prairie Project
The Prairie Project at UF draws together cohorts of faculty from diverse fields across the university to learn about environmental issues and sustainability. Based on a national program started at Emory University and endorsed by the Association for the Advancement of Sustainability in Higher Education (AASHE), the program kicks off with a workshop that provides the foundation for the development of new courses or course materials and to build a skill set for leaders in the effort to infuse sustainability concepts into university curricula across the institution.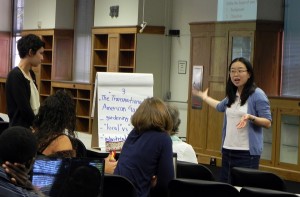 The lectures, discussions, outdoor time, and workshop materials highlight connections among environmental dimensions of the area, the campus, and broader national and international issues of sustainability. Participants from the program are expected to attend follow-up meetings to report on their progress and share their learning experiences.
The long-term goals of the Prairie Project are:
"Green the Curriculum" to introduce and reinforce the theme of environmental and social sustainability throughout students' educational experiences
Support and assist faculty in curricular innovation, and promote interaction that enables faculty to collaborate around issues of sustainability
Provide students with environmental "competencies" that they can take into future leadership roles, such as problem-solving techniques, interdisciplinary research methods, and collaborative skills
Integrate environmental issues with campus stewardship to gain an understanding that the classroom extends to the entire campus—including facilities, grounds, and the built environment
Encourage service learning experiences that extend academic studies of environmental sustainability into the community
For more information on how to get involved with the Prairie Project, contact our office.