Buildings & Grounds
The UF Campus Master Plan outlines strategies for land use and responsible stewardship of resources that support the university's mission.
UF maintains 31 conservation areas on campus and 60 acres dedicated to teaching students and the public about ecology and biodiversity.
All new construction on campus and any renovations have to adhere to a minimum of Leadership in Energy and Environmental Design (LEED) Gold standards, and UF boasts the first LEED Platinum facility in the state, the Heavener Football Complex.
As of April 2014, the UF campus has 3 Platinum, 27 Gold, 12 Silver, 14 Certified, and 18 Registered LEED buildings for a total of 74.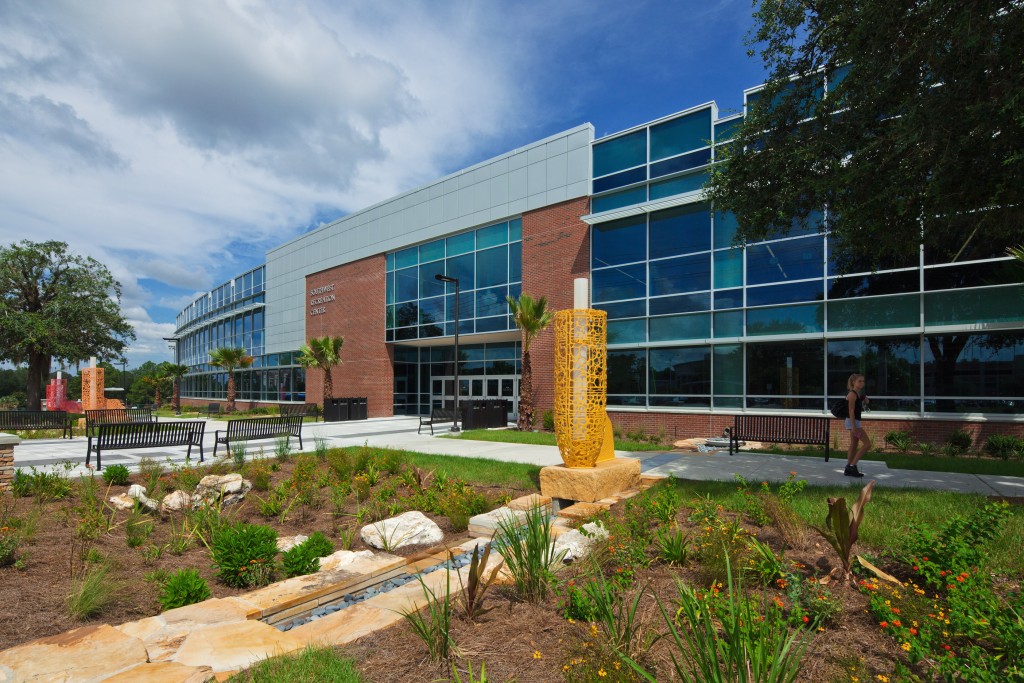 The University of Florida's Facilities, Planning and Construction Department (FPC) is also renovating existing buildings to LEED certified standards. Thirty-two buildings across campus are a part of the UF Portfolio Pilot Program for LEED Existing Buildings (EB), the first such portfolio on a college campus. FPC has offered numerous training opportunities in sustainable design and LEED construction through case studies and tours. In addition, the FPC website allows users to monitor the performance of the LEED buildings on campus and see first-hand how they are performing.
The University of Florida Historic District comprises nineteen academic buildings and dormitories all constructed before 1939. The Collegiate Gothic style of these buildings, rooted in the ideal of medieval English universities, was meant to suggest ancient traditions of learning and the permanence of the institution. In 1989 the central campus area was placed on the National Register, adding eight more buildings to the register listing. Landscaping for the campus began in 1905 designed to integrate the various buildings into a unified visual scheme. When the central green of the campus was dedicated as the Plaza of the Americas in the 1930s, the university was noted for its towering pines, stately oaks, palms and shrubs of all types.
The College of Design, Construction and Planning has developed an interdisciplinary undergraduate Bachelor of Science in Sustainability and the Built Environment, intended to train UF students interested in sustainability and the built environment through a series of interdisciplinary and disciplinary lectures, studios, seminars and internships. Through IFAS, the university also has a number of programs where research, application, and education about sustainable land and resource use are available.  A few examples include the Center for Public Issues Education, the Florida Partnership for Water, Agriculture & Community Sustainability, the Integrated Pest Management (IPM) Florida Program, and the Program for Resource Efficient Communities (PREC).
Health and Safety
Health, safety and sustainability have become a focus for UF Building Services. They have been testing and implementing a number of ergonomically designed cleaning tools and more healthy and environmentally-safe cleaning products and supplies, including vacuum cleaners that are "Green Label" approved by the Carpet and Rug Institute and chemicals/paper products certified by Green Seal. Current bathroom paper products on campus are 100% recycled paper with a minimum 20% post-consumer waste. When possible, Building Services will always choose a product that is safe for the environment and ergonomically beneficial to their staff. The Building Services department now also covers recycling, energy conservation, and other sustainability tips in their training.
In addition, UF's Environmental Health and Safety (EH&S) Department provides campus laboratories and support services with a safe, EPA and NRC approved method for disposing of hazardous and chemical wastes. Some of the other important work they do is pest control, codes enforcement, ADA compliance, and risk management. The Office of Sustainability is working with EH&S to improve laboratory recycling and reduce energy use of laboratory equipment when possible as part of our Chomp Down on Energy campaign.
Give Us Your Feedback or Report Issues

If you note an outage or other issue with buildings or grounds on campus, please report it to Work Management at (352) 392-1121.